Madagascar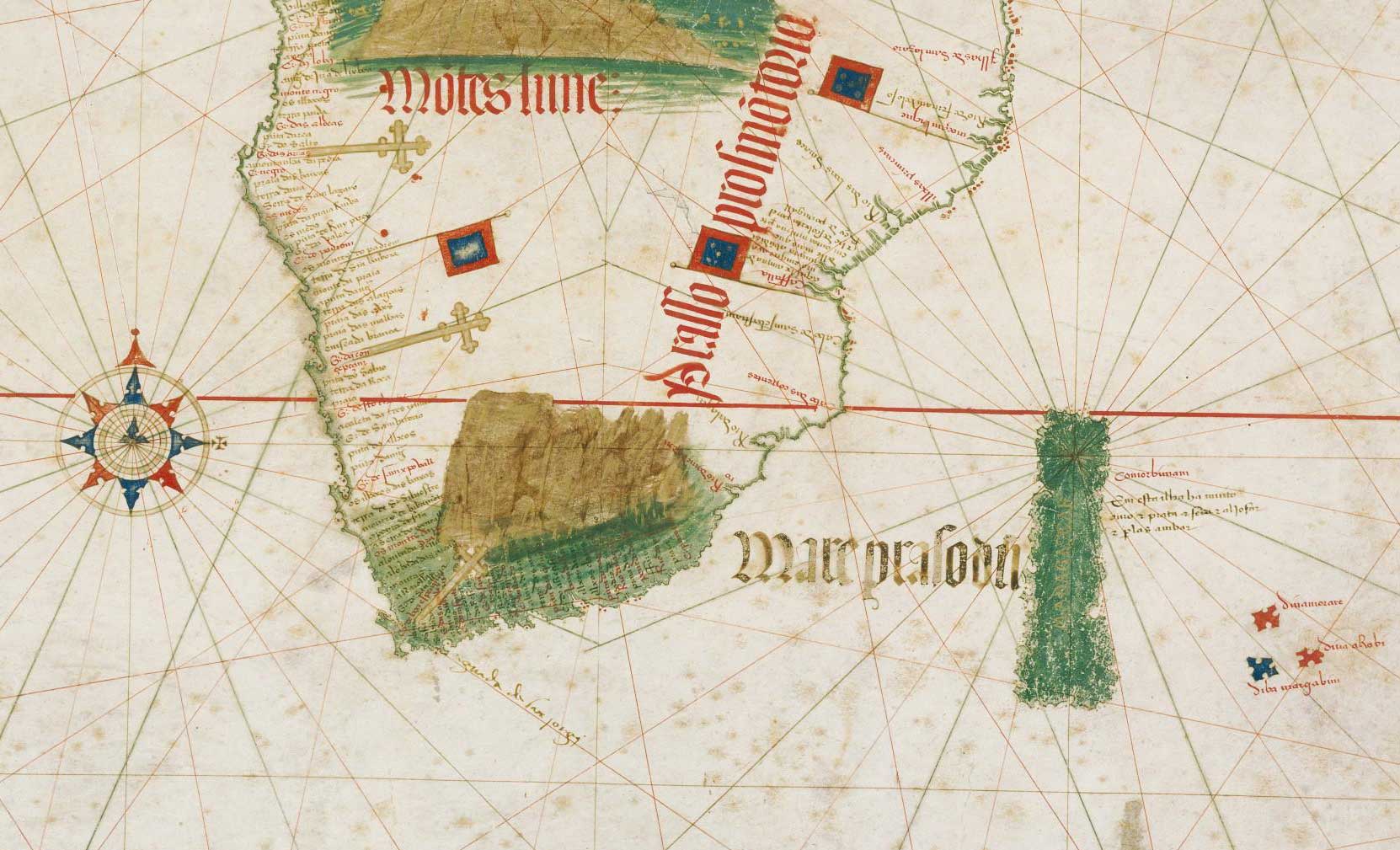 Cantino Planisphere-Mascareignes. This extract shows Madagascar and the Mascarene Islands.
Cantino planisphere
unknown Portuguese cartographer
Modena, Italy: unknown Portuguese cartographer, 1502
Wikipedia
---
Phebol
Pays aussi chimerique que Theleme.
François Rabelais [ca. 1483–1553]
Le Rabelais moderne, ou les Œuvres de Rabelais mises à la portée de la plupart des lecteurs
p. 163
François-Marie de Marsy [1714-1763], editor
Amsterdam: J.-F. Bernard, 1752
Google Books
---
Phebol
Pays aussi chimérique que Théleme, selon de Marsy. Mais Phebol est une île du golfe Arabique, selon Aristote, De mundo, et selon le Dict. poet. d'Étienne, qui cite cet auteur ancien à ce mot. Nous avons dit que Thélème étoit le Saint-Maur-des-fossés.
François Rabelais [ca. 1483–1553]
Œuvres de Rabelais (Edition Variorum)
p. 284
Charles Esmangart [1736-1793], editor
Paris: Chez Dalibon, 1823
Google Books
---
Phebol
Phebol est l'ancien nom d'une ile du golfe arabique.
François Rabelais [ca. 1483–1553]
Œuvres de F. Rabelais
p. 310
L. Jacob (pseud. of Paul Lacroix) [1806–1884], editor
Paris: Charpentier, 1840
---
Phebol
Arist. de Mundo c. 3.
François Rabelais [ca. 1483–1553]
Gargantua and Pantagruel
William Francis Smith [1842–1919], translator
London, 1893
---
Taprobane and Phebol
Taprobane, however, [or Ceilon] beyond the Indies, which is obliquely situated towards the habitable part of the globe, and the island called Phebol, which is situated towards the Arabic gulf, are not inferior in magnitude to the Britanic islands.
[The editor quotes the investigations of Captain Horsbourgh, who concludes: "I should suppose that no other than Madagascar will apply to Aristotle's description of the large island called by him Phebol."
---
Phebol
D'après Aristote, De Mundo, 3, c'est le nom d'une île du golfe d'Arabie.
François Rabelais [ca. 1483–1553]
Oeuvres. Tome Cinquieme: Tiers Livre
p. 368
Abel Lefranc [1863-1952], editor
Paris: Librairie Ancienne Honoré Champion, 1931
Archive.org
---
Madagascar
Archeologists place the first arrival of humans on the island at around 300 BC, when seafarers from Borneo, arrived in their outrigger canoes. The feat represented the western-most branch of the great Austronesian expansion. Medieval Arab navigators and geographers may have known about Madagascar. Various names labelled the island off the southern coast of Ophir (Africa): Phebol, Cernea, Menuthias, Medruthis, Sherbezat, Camarcada, and the Island of the Moon.
Madagascar gets its current name from Marco Polo, the fourteenth-century Italian explorer, who described an African island of untold wealth called "Madeigascar" in his memoirs. Polo heard about the island second-hand during his travels in Asia. Most scholars believe that he was writing about Mogadishu, the port located in present-day Somalia. Nevertheless, the name Madagascar was attached to the island by Italian cartographers during the Renaissance.
---