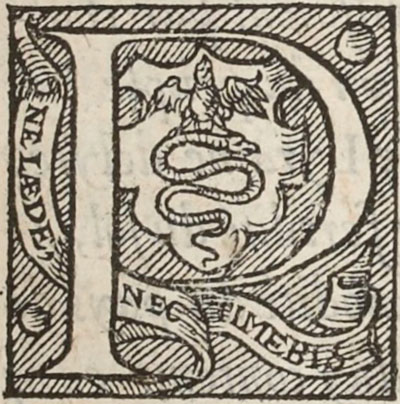 antagruelion appears in a novel known as The Third Book (Le Tiers Livre in French), being the third book of the heroic deeds and sayings of the giant kings Gargantua and Pantagruel. The Third Book was written by François Rabelais, doctor in medicine, and published in Paris in 1546.[1] A second edition appeared in 1552, "revised and corrected by the author, according to the antique censure." [2] Rabelais died in Paris the next year around the age of 60 or 70. The herb Pantagruelion occupies chapters 46 and 47 in the 1546 edition and Chapters 49, 50, 51 and 52 in the 1552 edition, considered definitive and the basis for this website.
In Chapter 49, heroic king Pantagruel is preparing his fleet for a voyage. The narrator of the novel enumerates the members of the expedition. He notes the loading of provisions needed for a long and hazardous voyage. Among other things, the narrator saw the loading of a great abundance of the herb Pantagruelion, green and raw, as well as confected and prepared.
At this point The Third Book veers in its course.
Chapter 50 : How the celebrated Pantagruelion should be prepared and put to use.
Chapter 51 : Why it is called Pantagrelion, and the admirable virtues thereof.
Chapter 52 : How a certain kind of Pantagruelion cannot be consumed by fire.
The end of the third book of the heroic deeds and sayings of the good Pantagruel.
---
1. Rabelais, François (1494?–1553), Tiers Livre des faictz et dictz Heroïques du noble Pantagruel: composez par M. Franç. Rabelais docteur en Medicine, & Calloïer des Isles Hieres. L'auteur susdict supplie les Lecteurs benevoles, soy reserver a rire au soixante & dixhuytiesme livre. Paris: Chrestien Wechel, 1546. Gallica
2. Rabelais, François (1494?–1553), Le Tiers Livre des Faicts et Dicts Heroïques du bon Pantagruel: Composé par M. Fran. Rabelais docteur en Medicine. Reveu, & corrigé par l'Autheur, sus la censure antique. L'Autheur susdict supplie les Lecteurs benevoles, soy reserver a rire au soixante & dixhuytiesme Livre. Paris: Michel Fezandat, 1552. Gallica