Original French: les amples Thalameges,
Modern French: les amples Thalamèges,
---
Thalamegos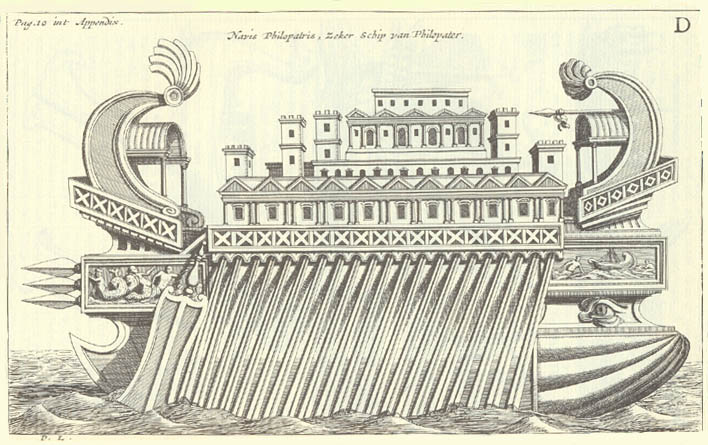 Thalamegos
Nicolaes Witsen
Aeloude and hedendaegsche Scheepsbouw en Bestier
1671
---
thalameges
C'est ainsi qu'on lit dans l'édition de 1552, et qu'on doit lire au lieu de telamons, que portent les édition de Le Duchat et de M. D. L. Telamon n'a jamais signifié un navire, tandis qu'on trouve dans Suétone thalamegus, pour vaisseau de parade et de plaisir, en usage en Égypte, dans les promenades des rois et des grands sur l'eau. Il y avoit une belle chambre avec un lit, et de là son nom; car θάλαμοζ en grec signifie chambre à coucher et cale de vaisseau.
François Rabelais [ca. 1483–1553]
Œuvres de Rabelais (Edition Variorum)
p. 282
Charles Esmangart [1736-1793], editor
Paris: Chez Dalibon, 1823
Google Books
---
les amples telamons
Vaisseau de parade. Alias, thalameges
François Rabelais [ca. 1483–1553]
Œuvres de F. Rabelais
p. 310
L. Jacob (pseud. of Paul Lacroix) [1806–1884], editor
Paris: Charpentier, 1840
---
Thalamege
Néologismes; du grec θαλαμηγοι, gondoles égyptiennes dans lesquelles étaient aménagées des chambres.
François Rabelais [ca. 1483–1553]
Oeuvres. Tome Cinquieme: Tiers Livre
p. 367
Abel Lefranc [1863-1952], editor
Paris: Librairie Ancienne Honoré Champion, 1931
Archive.org
---
Thalamege
the heaviest Egyptian passenger-gondolas
François Rabelais [ca. 1483–1553]
Complete works of Rabelais
Jacques LeClercq [1891–1971], translator
New York: Modern Library, 1936
---
Thalamèges
Voir Quart livre, I, n. 2, p. 537; ce mot remplace en 1546 Telamons (var. b).
François Rabelais [ca. 1483–1553]
Œuvres complètes
p. 508, n. 5
Mireille Huchon, editor
Paris: Gallimard, 1994
---
thalameges
Edition A: les amples telamon
François Rabelais [ca. 1483–1553]
Le Tiers Livre
Michael A. Screech, editor
Paris-Genève: Librarie Droz, 1964
---