Original French: Iris, a l'arc en ciel, en ſes fleurs:
Modern French: Iris, à l'arc en ciel, en ses fleurs:
---
---
Notes
Iris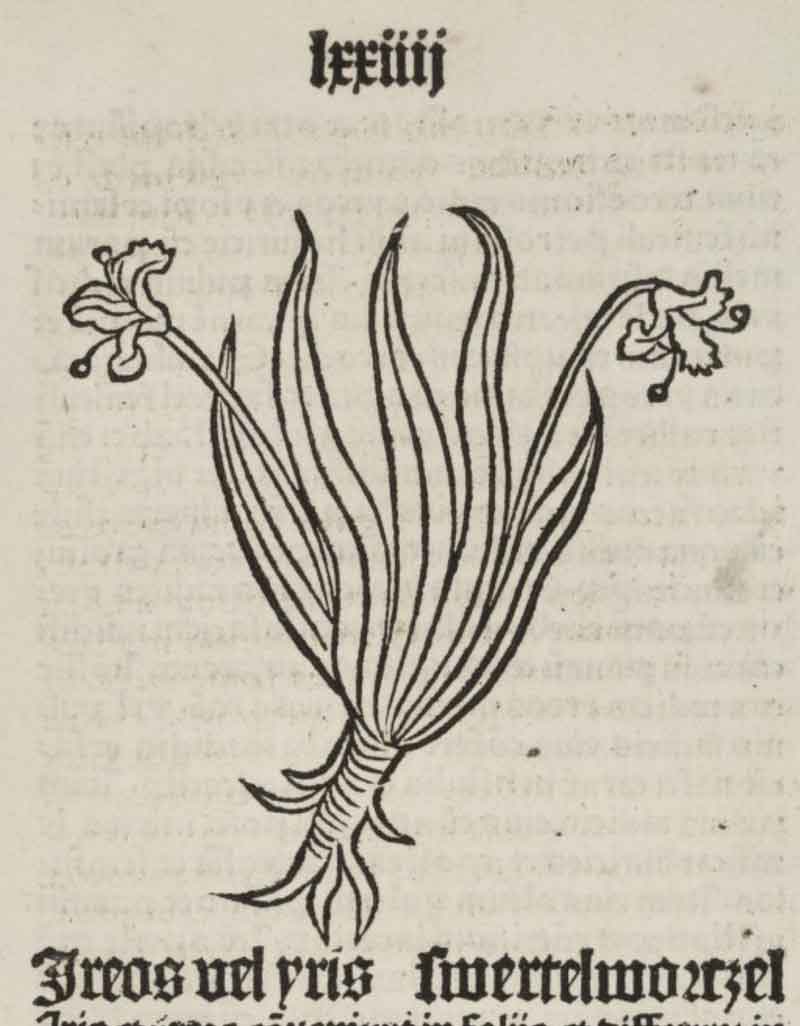 Plate 74
Peter Schöffer [ca. 1425–ca. 1502.]
[R]ogatu plurimo[rum] inopu[m] num[m]o[rum] egentiu[m] appotecas refuta[n]tiu[m] occasione illa, q[uia] necessaria ibide[m] ad corp[us] egru[m] specta[n]tia su[n]t cara simplicia et composita
Mainz, 1484
Botanicus
---
Iris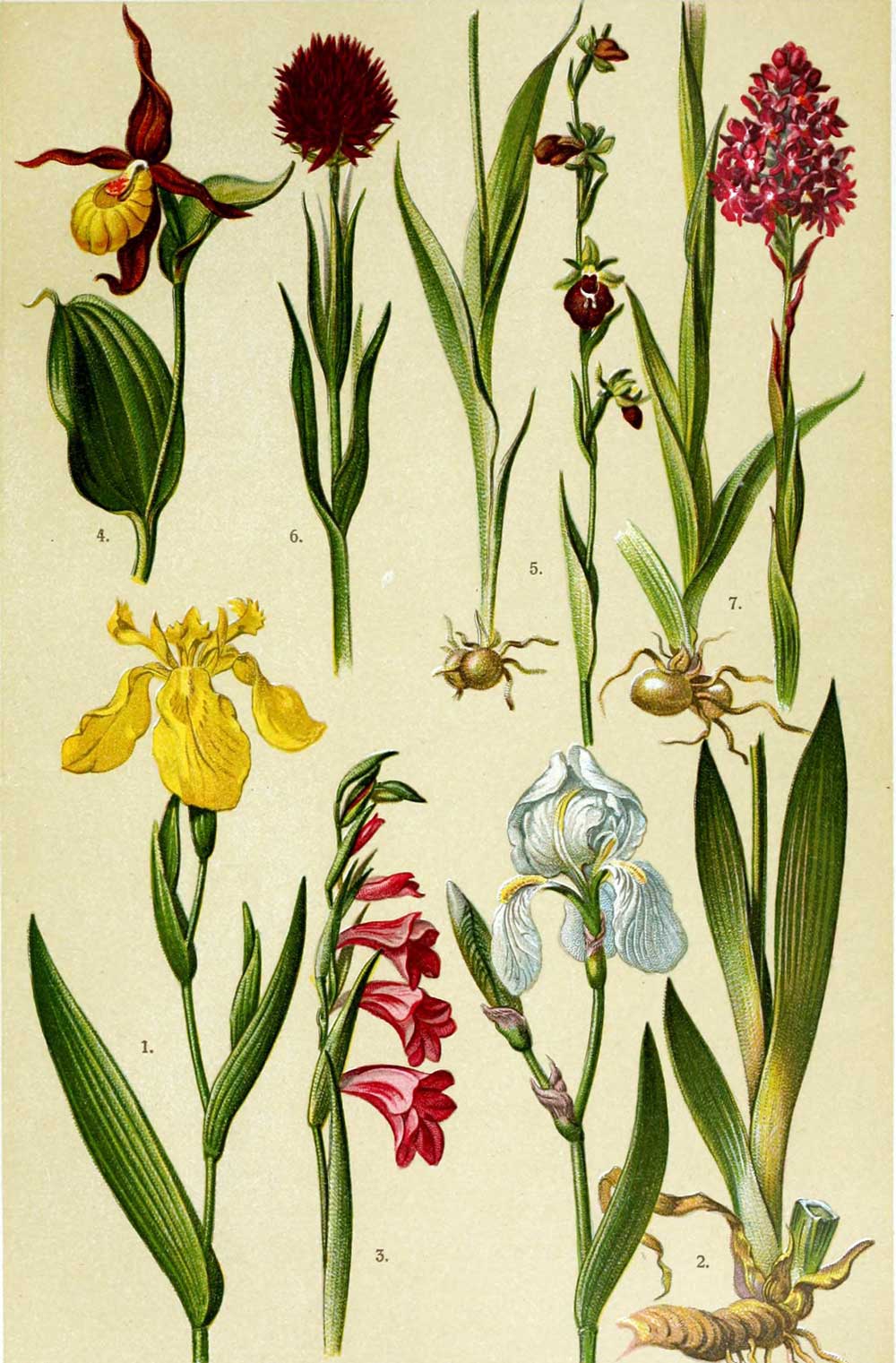 Iris germanica L. [as Iris florentina L.]
Florentine Iris, German iris, Orris root
Carl Hoffmann
Botanischer Bilderatlas nach dem natürlichem Pflanzensystem
t. 22, fig. 2
E. Dennert [co-author],
Stuttgart: Schweizerbart, 1911
Archive.org
---
Iris
Pliny xxi. 7, § 19.
François Rabelais [ca. 1483–1553]
The Five Books and Minor Writings. Volume 1: Books I-III
William Francis Smith [1842–1919], translator
London: Alexader P. Watt, 1893
Archive.org
---
iris
Illa quoque non omittenda differentia est, et odoratorum multa nihil adtinere ad coronamenta, ut irim atque saliuncam, quamquam nobilissimi odoris utramque. sed iris radice tantum commendatur,
unguentis nascens et medicinae. laudatissima in Illyrico, et ibi quoque non in maritimis, sed in silvestribus Drinonis et Naronae, proxima in Macedonia longissima haec et candicans et exilis. tertium locum habet Africana, amplissima inter omnes gustuque amarissima, Illyrica quoque duorum generum est: raphanitis a similitudine, quae et melior, rhizotomos. subrufa optima, quae sternumenta tractatu movet, caulem habet cubitalem, erectum. floret versicolori specie, sicut arcus caelestis, unde et nomen. non inprobatur et Pisidica. effossuri tribus ante mensibus mulsa aqua circumfusa hoc veluti placamento terrae blandiuntur, circumscriptam mucrone gladii orbe triplici cum legerunt, protinus in caelum adtollunt. natura est fervens, tractataque pusulas ambusti modo facit. praecipitur ante omnia ut casti legant. teredines non sicca modo verum et in terra celerrime sentit. optimum antea irinum Leucade et Elide ferebatur,—iampridem enim et seritur—, nunc e Pamphylia, sed Cilicium maxime laudatur atque e septentrionalibus.
This distinction too must not be forgotten, that many flowers, in spite of their perfume, are of no use for chaplets, for example, the iris and Celtic nard, although both have an exquisite perfume. But the iris is valued only for its root, being grown for unguents and for medicine. The most highly esteemed is found in Illyria, and even there not in the coastal districts, but in the woody parts near the Drinon and around Narona. Next after it comes the Macedonian iris, which is white, thin and very long. Third in estimation comes the African iris, which is the largest of all and the bitterest to the taste. The Illyrian moreover is of two kinds: raphanitis, so called from its likeness to the radish, which is the better kind, and rhizotomos. The best, which is reddish, causes sneezing if handled, and has an upright stem a cubit high. The flower is multi-coloured, like the rainbow; hence the name "iris." The Pisidian variety, too, is by no means despised. Those who are going to dig it up pour hydromel around it three months previously. This is as it were a libation to please the earth. Then they draw three circles round it with the point of a sword, gather it and at once raise it heaven-wards. It is hot by nature, and when handled raises blisters like those of a burn. It is especially enjoined that those who gather it should be chaste. Not only when dried, but also when in the ground, it is very easily subject to worms. Previously the best iris oil used to be brought from Leucas and Elis—for it has been planted there a long time—now the best comes from Pamphylia, but the Cilician too is highly praised, as is also that coming from the northern parts.
Pliny the Elder [23–79 AD]
The Natural History. Volume 6: Books 20–23
21.19
William Henry Samuel Jones [1876–1963], translator
Cambridge, Massachusetts: Harvard University Press, 1951
Loeb Classical Library
---
iris
Ἴριζ, allusion aux couleurs diaprées de la fleur, qui rappellent l'arc-en-ceil ou écharpe d'Iris, messagère de Junon: «Floret diversi coloris specie, sicut arcus cælestis, unde et nomen», Pline, XXI, 19. — C'est probablement Iris florentina, L., peut-être aussi quelque espèce africaine, I. alata Lmk., I. mauritanica Clusius, I. stylosa Desf., I. juncea, Poir. (Paul Delaunay)
François Rabelais [ca. 1483–1553]
Oeuvres. Tome Cinquieme: Tiers Livre. Édition critique
p. 355
Abel Lefranc [1863-1952], editor
Paris: Librairie Ancienne Honoré Champion, 1931
Archive.org
---
pas similitude
Toutes ces plantes, dans De latinis nominibus, sauf pour le delphinium.
François Rabelais [ca. 1483–1553]
Le Tiers Livre. Edition critique
Michael A. Screech [b. 1926], editor
Paris-Genève: Librarie Droz, 1964
---
Iris
Évoque l'arc-en-ciel ou écharpe d'Iris (Pline, XXI, xix).
François Rabelais [ca. 1483–1553]
Œuvres complètes
p. 505, n. 5
Mireille Huchon, editor
Paris: Gallimard, 1994
---
iris
iris [adopted from Greek i'rij, stem i'rid-. The senses (except 3 and 6) correspond to those of the Greek word; so also French iris.]
Greek mythology. The goddess who acted as the messenger of the gods, and was held to display as her sign, or appear as, the rainbow; hence, allusively, a messenger.
1593 Shakespeare 2 Henry VI, iii. ii. 407 Wheresoere thou art in this worlds Globe, Ille haue an Iris that shall finde thee out.
In botany A genus of plants, the type of the natural order Iridaceæ, natives of Europe, N. Africa, and the temperate regions of Asia and America; most of the species have tuberous (less commonly bulbous or fibrous) roots, sword-shaped equitant leaves, and showy flowers; formerly often called Fleur-de-lis or Flower-de-luce.
1562 William Turner A new herball, the seconde parte ii. 23 a, Iris is knowen both of the Grecianes and Latines by that name; it is called… in Englishe flour de lyce.
1578 Henry Lyte, tr. Dodoens' Niewe herball or historie of plantes ii. xxxv. 192 There be many kindes of Iris, or floure Deluce.
1578 Lyte Dodoens, ii. xxxv. 192 The stincking Iris, and the yellow Iris.
1578 Lyte Dodoens 193 The Irides or flower Deluces do most commonly flower about May.
1667 John Milton Paradise Lost iv. 698 Each beauteous flour, Iris all hues, Roses, and Gessamin.
---