Original French: comme feist Artemiſia les cẽdres de Mauſolus ſon mary,
Modern French: comme feist Artemisia les cendres de Mausolus son mary,
---
---
Notes
Artemisia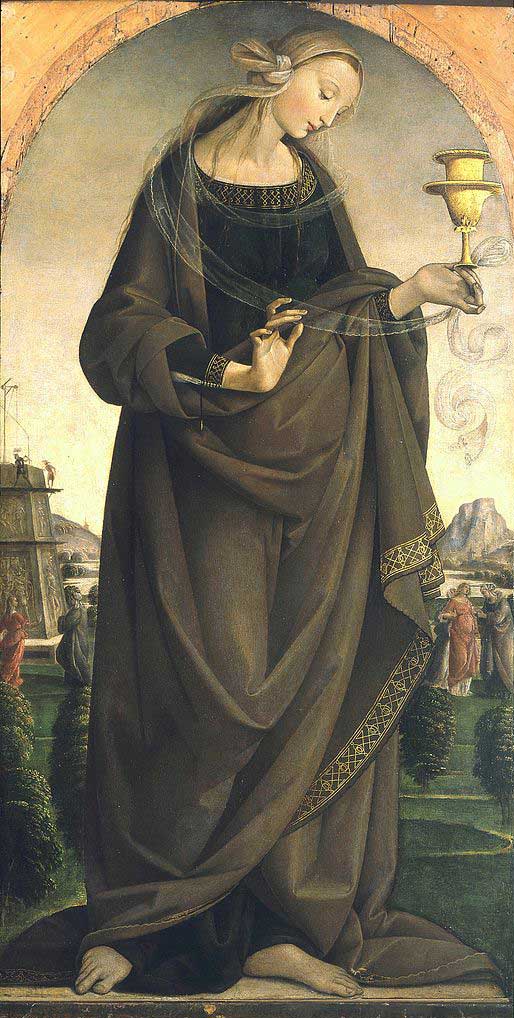 Master of the Story of Griselda (fl. 1490),
Artemisia
. Umbria, Italy.
Wikipedia
---
Mausolus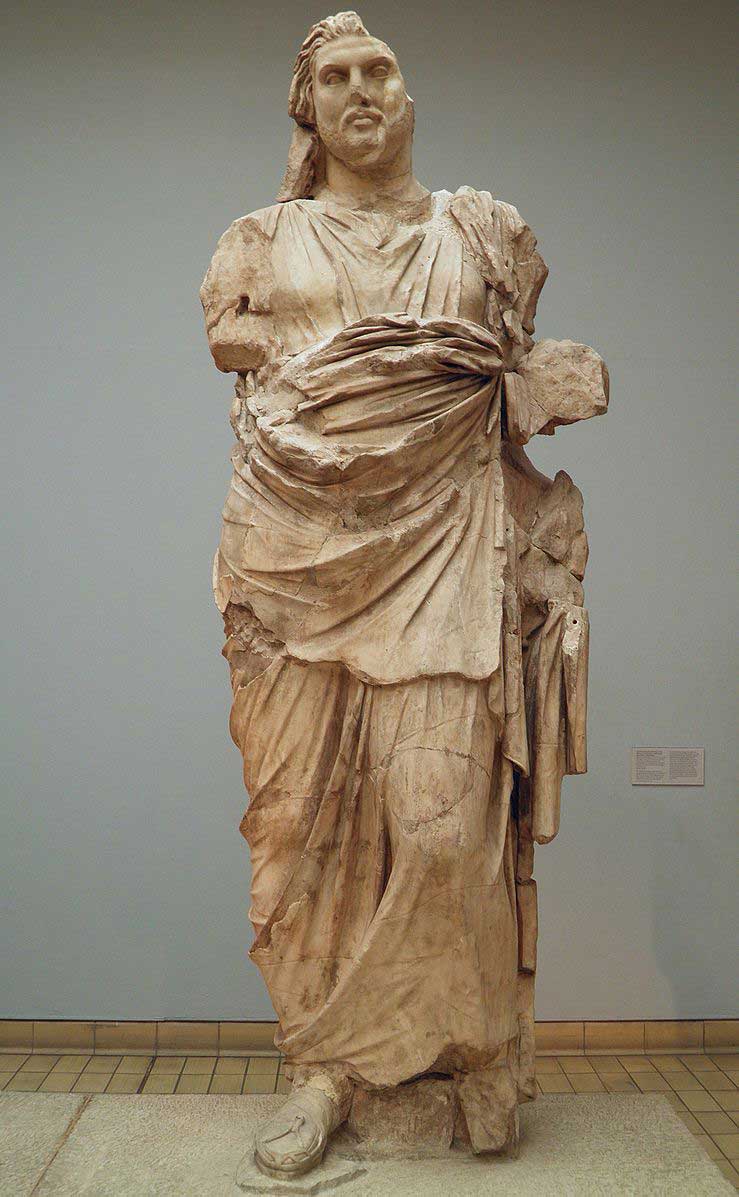 Colossal statue of a man, traditionnally identified with Maussollos, king of Caria, ca. 350 BC, from the north side of the Mausoleum, Mausoleum at Halicarnassus, British Museum
---
The story of Artemisia
Book 10, Chapter 18.  Artemisia is said to have loved her husband with a love surpassing all the tales of passion and beyond one's conception of human affection. Now Mausolus, as Marcus Tullius tells us [Tusc. Disp. iii. 75], was king of the land of Caria; according to some Greek historians he was governor of a province, the official whom the Greeks term a satrap. When this Mausolus had met his end amid the lamentations and in the arms of his wife [in 353 BC], and had been buried with a magnificent funeral, Artemisia, inflamed with grief and with longing for her spouse, mingled his bones and ashes with spices, ground them into the form of a powder, put them in water, and drank them; and she is said to have given many other proofs of the violence of her passion. For perpetuating the memory of her husband, she also erected, with great expenditure of labour, that highly celebrated tomb1, among the seven wonders of the world.2
1. The famous Mausoleum at Halicarnassus, adorned by Scopas, Bryaxis, Timotheus and Leochares with sculptures, the remains of which are now in the British Museum. It was a square building, 140 feet high, surrounded by Ionic columns. It stood upon a lofty base and was surmounted by a pyramid of steps ending in a platform, on which was a fourhorse chariot. The term mausoleum was applied by the Romans to large and magnificent tombs such as the mausoleum of Augustus and that of Hadrian.

2. The other six "wonders" were: The walls and hanging gardens of Babylon; the temple of Diana at Ephesus; the statue of Olympian Zeus by Phidias; the Pyramids; and the Pharos, or lighthouse, at Alexandria.
Gelius, Aulus (130-180),
Attic Nights. Volume II: Books 6-13
. John Carew Rolfe, translator. Cambridge, Massachusetts: Harvard University Press, 1927. 10.18, p. 261.
Loeb Classical Library
---
Artemisia
Voiez Aulu-Gelle, l. 10 chap 18.
Rabelais, François (1483?–1553),
Œuvres de Maitre François Rabelais. Publiées sous le titre de : Faits et dits du géant Gargantua et de son fils Pantagruel, avec la Prognostication pantagrueline, l'épître de Limosin, la Crême philosophale et deux épîtres à deux vieilles de moeurs et d'humeurs différentes. Nouvelle édition, où l'on a ajouté des remarques historiques et critiques. Tome Troisieme
. Jacob Le Duchat (1658–1735), editor. Amsterdam: Henri Bordesius, 1711. p. 268.
Google Books
---
Artemisia
See Aulus Gellius, l. x. c. xviii.
Rabelais, François (1483?–1553), The Works of Francis Rabelais, M.D. The Third Book. Now carefully revised, and compared throughout with the late new edition of M. Le du Chat. John Ozell (d. 1743), editor. London: J. Brindley, 1737.
---
Artemisia
Aul. Gell x. 13, § 3.
Rabelais, François (1483?–1553),
The Five Books and Minor Writings. Volume 1: Books I-III
. William Francis Smith (1842–1919), translator. London: Alexader P. Watt, 1893.
Internet Archive
---
Artemisia
Ce trait est rapporté par Aulu-Gelle, X, 18; mais Rabelais y ajoute, de son cru, le vin blanc: «Artemisia…, ossa cineremque ejus mixta odoribus contusaque in faciem pulveris, aquæ indidit, ebibitque».
Rabelais, François (1483?–1553),
Oeuvres. Édition critique. Tome Cinquieme: Tiers Livre
. Abel Lefranc (1863-1952), editor. Paris: Librairie Ancienne Honoré Champion, 1931. p. 371.
Internet Archive
---
Mausolus
Artemisia, widow of Mausolus, King of Caria, drank his ashes in water; and the tomb she built for him — the Mausoleum — was one of the seven wonders of the world!
Rabelais, François (1483?–1553), Complete works of Rabelais. Jacques LeClercq (1891–1971), translator. New York: Modern Library, 1936.
---
Artemisia
Aulu-Gelle, X, 18 (LD)
Rabelais, François (1483?–1553), Le Tiers Livre. Edition critique. Michael Andrew Screech (1926-2018), editor. Paris-Genève: Librarie Droz, 1964.
---
Artemisia
Selon Aulu-Gelle, Nuits attiques, X, xviii, Artémise but les cendres de son mari dans l'eau.
Rabelais, François (1483?–1553), Œuvres complètes. Mireille Huchon, editor. Paris: Gallimard, 1994. p. 510, n. 5.
---
Artemisia
D'après Aulu-Gelle, X, 18. C'est Rabelais qui ajoute du vin blanc à la recette.
Rabelais, François (1483?–1553), Le Tiers Livre. Edition critique. Jean Céard, editor. Librarie Général Français, 1995. p. 470.
---
mausoleum
mausoleum [adopted from Latin mausoleum, adaptation of Greek mauswleion, formed on Mauswloj Mausolus.]
The magnificent tomb of Mausolus, King of Caria, erected in the middle of the 4th century b.c. at Halicarnassus by his queen Artemisia, and accounted one of the seven wonders of the world.
1546 Thomas Langley, translator An abridgement of the notable woorke of Polidore Vergil… iii. vii. 71 b, Mausoleum that was the Tombe of Mausolus kynge of Caria.
---
Artemisia
Artemisia [Latin, adopted from Greek artemisia, formed on Artemij the goddess Diana.]
A genus of plants (N.O. Compositæ), distinguished by a peculiarly bitter or aromatic taste, including the Common Wormwood, Mugwort, and Southernwood.
1398 John de Trevisa Bartholomeus De proprietatibus rerus xvii. xvi. (1495) 613 Artemisia is callyd moder of herbes and was somtyme halowed… to the goddesse that hyghte Arthemis.
---
Artemisia I of Caria
Artemisia I of Caria (fl. 480 BC) was a Greek queen of the ancient Greek city-state of Halicarnassus and of the nearby islands of Kos, Nisyros and Kalymnos, within the Achaemenid satrapy of Caria, in about 480 BC. She fought as an ally of Xerxes I, King of Persia against the independent Greek city states during the second Persian invasion of Greece.[3] She personally commanded her contribution of five ships at the naval battle of Artemisium and in the naval Battle of Salamis in 480 BC. She is mostly known through the writings of Herodotus, himself a native of Halicarnassus, who praises her courage and the respect in which Xerxes held her.
Another Artemisia also is well-known, Artemisia II of Caria, satrap of Caria and builder of the Mausoleum at Halicarnassus in the 4th century BC.
---
Artemisia II of Caria
Artemisia II of Caria (Greek: Ἀρτεμισία; died 350 BC) was a naval strategist, commander and the sister (and later spouse) and the successor of Mausolus, ruler of Caria. Mausolus was a satrap of the Achaemenid Empire, yet enjoyed the status of king or dynast of the Hecatomnid dynasty. After the death of her brother/husband, Artemisia reigned for two years, from 353 to 351 BCE. Her ascension to the throne prompted a revolt in some of the island and coastal cities under her command due to their objection to a female ruler. Her administration was conducted on the same principles as that of her husband; in particular, she supported the oligarchical party on the island of Rhodes.
Because of Artemisia's grief for her brother-husband, and the extravagant and bizarre forms it took, she became to later ages "a lasting example of chaste widowhood and of the purest and rarest kind of love", in the words of Giovanni Boccaccio. In art, she was usually shown in the process of consuming his ashes, mixed in a drink.
Boccaccio, Giovanni (2003). Chapter 57. De mulieribus claris [On Famous Women]. Translated by Brown, Virginia. Harvard University Press. pp. 115–118.
---