Original French: les aultres a la Herpe,
Modern French: les aultres à la Herpe,
---
Lyra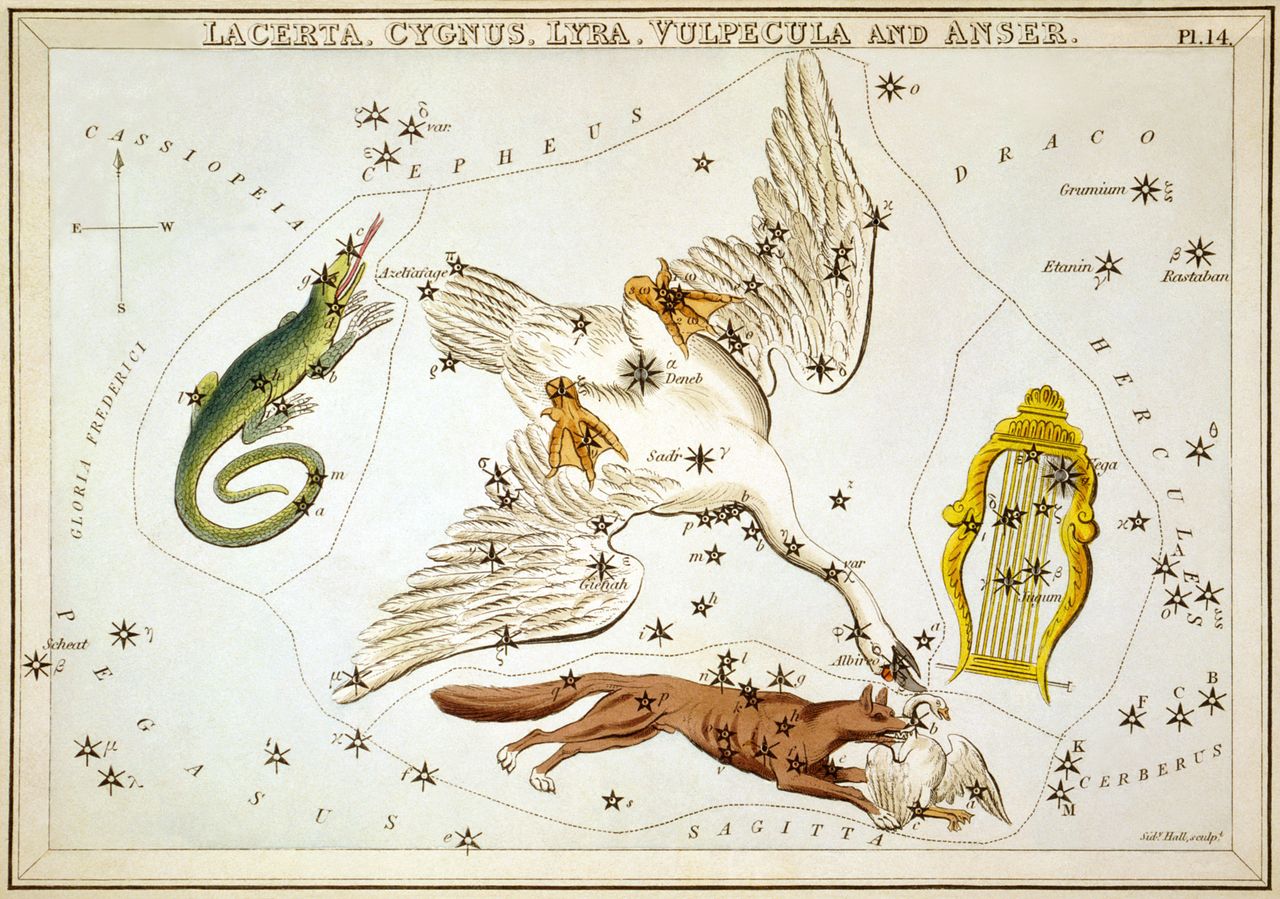 Lacerta, Cygnus, Lyra, Vulpecula and Anser
Sidney Hall [1788–1831]
Urania's Mirror; or, a view of the Heavens
1824
Wikipedia
---
Lyra
Lyra (from Greek λύρα) is a small constellation. It is one of 48 listed by the 2nd century astronomer Ptolemy, and is one of the 88 constellations recognized by the International Astronomical Union. Lyra was often represented on star maps as a vulture or an eagle carrying a lyre, and hence sometimes referred to as Aquila Cadens or Vultur Cadens. Beginning at the north, Lyra is bordered by Draco, Hercules, Vulpecula, and Cygnus. Lyra is visible from the northern hemisphere from spring through autumn, and nearly overhead, in temperate latitudes, during the summer months. From the southern hemisphere, it is visible low in the northern sky during the winter months.
Vega, Lyra's brightest star is one of the brightest stars in the night sky, and forms a corner of the famed Summer Triangle asterism.
In Greek mythology, Lyra represents the lyre of Orpheus. Made by Apollo from a tortoise shell, it was said to be the first lyre ever produced. Orpheus's music was said to be so great that even inanimate objects such as trees, streams, and rocks could be charmed. Joining Jason and the Argonauts, his music was able to quell the voices of the dangerous Sirens, who sang tempting songs to the Argonauts.[3]
At one point, Orpheus married Eurydice, a nymph. While fleeing from an attack by Aristaeus, she stepped on a snake that bit her, killing her. To reclaim her, Orpheus entered the Underworld, where the music from his lyre charmed Hades. Hades relented and let Orpheus bring Eurydice back, on the condition that he never once look back until outside. Unfortunately, near the very end, Orpheus faltered and looked back, causing Eurydice to be left in the Underworld forever. Orpheus spent the rest of his life strumming his lyre while wandering aimlessly through the land, rejecting all marriage offers from women.[3]
There are two competing myths relating to the death of Orpheus. According to Eratosthenes, Orpheus failed to make a necessary sacrifice to Dionysus due to his regard for Apollo as the supreme deity instead. Dionysus then sent his followers to rip Orpheus apart. Ovid tells a rather different story, saying that women, in retribution for Orpheus's rejection of marriage offers, ganged up and threw stones and spears. At first, his music charmed them as well, but eventually their numbers and clamor overwhelmed his music and he was hit by the spears. Both myths then state that his lyre was placed in the sky by the muses.[3]
---