Original French: les aultres à la Courõne,
Modern French: les aultres à la Couronne,
---
---
Notes
Corona Borealias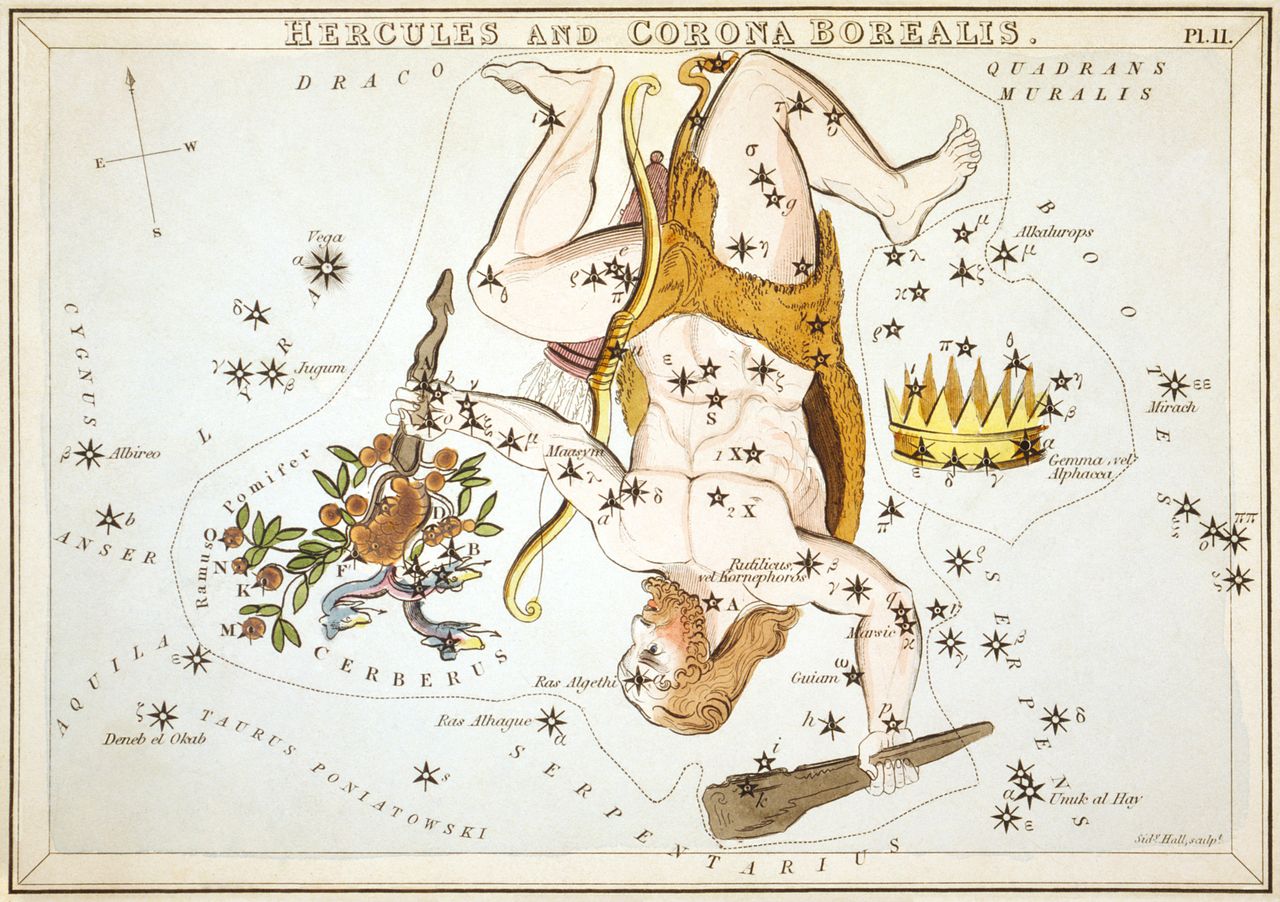 Hall, Sidney (1788–1831),
Urania's Mirror; or, a view of the Heavens
. 1824.
Wikipedia
---
Corona Borealis
Corona Borealis is a small constellation in the Northern Celestial Hemisphere. It is one of the 48 constellations listed by the 2nd-century astronomer Ptolemy, and remains one of the 88 modern constellations. Its brightest stars form a semicircular arc. Its Latin name, inspired by its shape, means "northern crown". In classical mythology Corona Borealis generally represented the crown given by the god Dionysus to the Cretan princess Ariadne and set by him in the heavens. Other cultures likened the pattern to a circle of elders, an eagle's nest, a bear's den, or even a smokehole. Ptolemy also listed a southern counterpart, Corona Australis, with a similar pattern.
In Greek mythology, Corona Borealis was linked to the legend of Theseus and the minotaur. It was generally considered to represent a crown given by Dionysus to Ariadne, the daughter of Minos of Crete, after she had been abandoned by the Athenian prince Theseus. When she wore the crown at her marriage to Dionysus, he placed it in the heavens to commemorate their wedding. An alternate version has the besotted Dionysus give the crown to Ariadne, who in turn gives it to Theseus after he arrives in Crete to kill the minotaur that the Cretans have demanded tribute from Athens to feed. The hero uses the crown's light to escape the labyrinth after disposing of the creature, and Dionysus later sets it in the heavens. The Latin author Hyginus linked it to a crown or wreath worn by Bacchus (Dionysus) to disguise his appearance when first approaching Mount Olympus and revealing himself to the gods, having been previously hidden as yet another child of Jupiter's trysts with a mortal, in this case Semele. Corona Borealis was one of the 48 constellations mentioned in the Almagest of classical astronomer Ptolemy.
---