Original French: des ſœurs fatales, filles de Neceſsité.
Modern French: des soeurs fatales, filles de Necessité.
---
Also mentioned in Chapter 50:
---
Notes
fatal sisters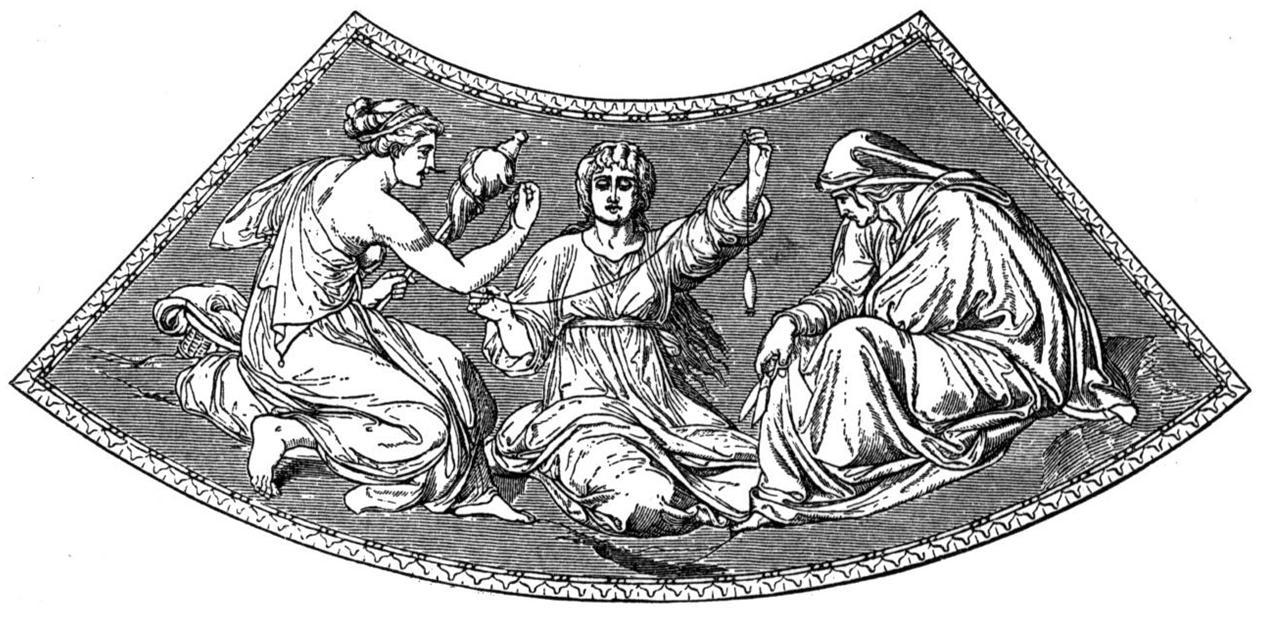 ---
sœurs fatales
Les Parques sont normalement considérée comme les filles du Jour et de la Nuit, ou bien de Démogorgon (Boccace, De genealogia deorum, I, V). Rabelais suit les mythologues platoniciens, pour qui elles sont plutôt les filles de la Nécessité (cf. Gyraldi, Syntagma de deis gentium, Bâle, 1555, 202 seq.) — Rabelais reprend au QL (Prol. 275) l'idée que les dieux olympiens sont liés par les décisions du Destin. Comme Lucien, dont il s'inspire partiellement, Rabelais sait que cette idée comporte des difficultés métaphysiques difficiles à résoudre (QL, Prol,. 219 seq.). Au QL, Rabelais exploite ce thème afin de prêcher modération classique et humilité chrétienne (ER, I, « Some Stoic Elements », 91 seq.). Ici, Rabelais semble sourtout vouloir se moquer du pessimisme de Pline, qui voit dans l'ingéniosité humaine un rival témeeraire de la majesté divine (cf. plus haut, VIII, 10 et note).
Rabelais, François (1483?–1553), Le Tiers Livre. Edition critique. Michael Andrew Screech (1926-2018), editor. Paris-Genève: Librarie Droz, 1964.
---
sœurs fatales
Also mentioned by Rabelais in Chapter 50 of the Tiers Livre:
---
Moirai
In Greek mythology, the Moirai (Ancient Greek: Μοῖραι, "apportioners", Latinized as Moerae) — often known in English as the Fates — were the white-robed incarnations of destiny (Roman equivalent: Parcae, euphemistically the "sparing ones", or Fata; also analogous to the Germanic Norns). Their number became fixed at three: Clotho (spinner), Lachesis (allotter) and Atropos (unturnable).
They controlled the metaphorical thread of life of every mortal from birth to death. They were independent, at the helm of necessity, directed fate, and watched that the fate assigned to every being by eternal laws might take its course without obstruction. The gods and men had to submit to them, although Zeus's relationship with them is a matter of debate: some sources say he is the only one who can command them (the Zeus Moiragetes), yet others suggest he was also bound to the Moirai's dictates. In the Homeric poems Moira or Aisa, is related with the limit and end of life, and Zeus appears as the guider of destiny. In the Theogony of Hesiod, the three Moirai are personified, and are acting over the gods. Later they are daughters of Zeus and Themis, who was the embodiment of divine order and law. In Plato's Republic the Three Fates are daughters of Ananke (necessity).
It seems that Moira is related with Tekmor (proof, ordinance) and with Ananke (destiny, necessity), who were primeval goddesses in mythical cosmogonies. The ancient Greek writers might call this power Moira or Ananke, and even the gods could not alter what was ordained.[4] The concept of a universal principle of natural order has been compared to similar concepts in other cultures like the Vedic Rta, the Avestan Asha (Arta) and the Egyptian Maat.
---