Original French: les Paſtophores reueſtuz,
Modern French: les Pastophores revestuz,
---
pastapharian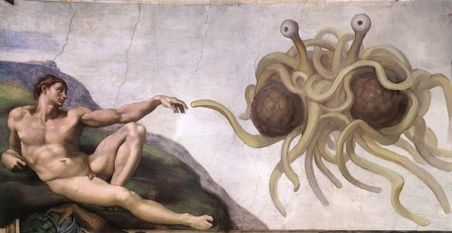 Flying Spaghetti Monster
---
Certains Pastaphores
Vous leurs favorisez (dist Iuppiter) à ce que ie voy bel messer Priapus. Ainsi n'estes à tous favorable. Car veu que tant ilz couvoient perpetuer leur nom & memoire, ce seroit bien leur meilleur estre ainsi après leur vie en pierres dures & marbrines convertiz, que retourner en terre & pourriture. Icy darrière vers ceste mer Tyrrhene & lieux circumvoisins de l'Appennin voyez vo' quelles tragedies sont excitées par certains Pastophores.
---
Pastophores
Translated by Urquhart as "the pastophorian priests." Ozell notes, "Only Pastophores in French. The were the pontiffs among the Egyptians, in the temple of Serapis. [greek] "pallidum sacerdotale, a cope. Pallium Veneris quod ferebant in Egypto sacerdotes cæteris honoratiores." The place of their abode was close to the temple, and called the Pastophorium. Ruff. Eccles Hist l. ii. c. xxiii. 'Item Hieron. in Esa. pastopho.ium, inquit, est thalamus, in que habitat præpositus templi.'"
François Rabelais [ca. 1483–1553]
The Works of Francis Rabelais, M.D.
John Ozell [d. 1743], editor
London: J. Brindley, 1737
---
Pastophores
Terme d'archæologie. Prêtes qui portaient le lit de Vénus dans certaines cérémonies. Ils pratiquaient la médecine en Egypte. — Autres prêtes chargés de lever le voile qui, à la porte des tempoles égyptiens, cachait la divinité. (Du grec pastas lit ou pastos voile, et phêrd je porte.
C. – M. Gattel
Dictionnaire universel de la langue française
Paris: Pagnerre, 1844
Google Books
---
pastophores
Pontifes. Cf. ch. XLVII, n. 4.
François Rabelais [ca. 1483–1553]
Oeuvres. Tome Cinquieme: Tiers Livre
p. 366
Abel Lefranc [1863-1952], editor
Paris: Librairie Ancienne Honoré Champion, 1931
Archive.org
---
Isiacques and Pastaphores
Les prêtes d'Isis étaient vêtus de lin; Juvénal, Satires, VI, 532, les appelle «grex liniger»; voir aussi Ovide, Métamorphoses, I, 767. Les pastophores portaient dans les châsses les images des dieux : ils représent les prêtes, revêtus de l'aube.
François Rabelais [ca. 1483–1553]
Le Tiers Livre
p. 464
Jean Céard, editor
Librarie Général Français, 1995
---
pastophor
pastophor, pastophorus. [adopted from French pastophore, adaptation of Latin pastophorus, adopted from Greek pastoforoj, formed on pastoj a shrine, +roj carrying. More usually in Latin form.]
One of the order of priests who carried shrines of the gods in procession, as frequently represented in Egyptian art.
1658 Phillips, Pastophories, (Greek) the most honourable order of Priests among the Egyptians.
1706 Phillips (ed. Kersey), Pastophori, certain Priests, whose Business it was, at solemn Festivals, to carry the Shrine of the Deity.
1891 translation De La Saussaye's History of Scotch Relig. l. 437 Singers, pastophores, hierodules and others.
---