Original French: aux eſcholiers de Navarre,
Modern French: aux escholiers de Navarre,
---
---
Notes
Collège de Navarre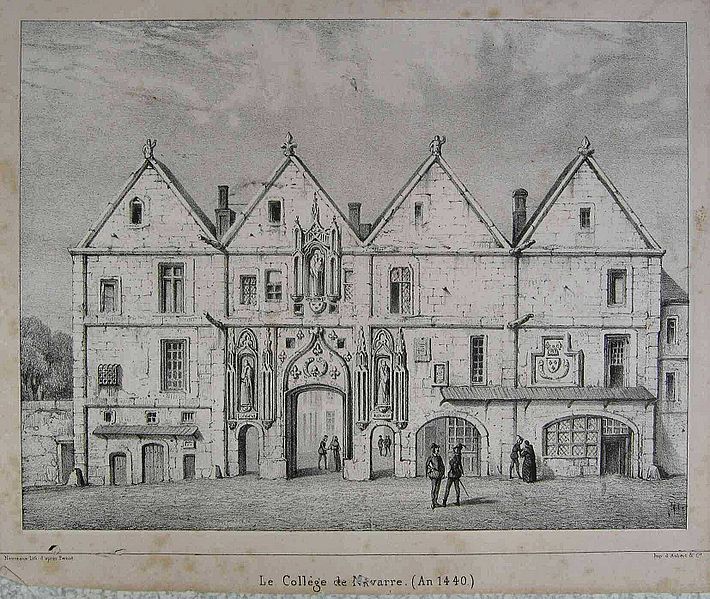 Collège de Navarre (an 1440)
Lithographie Nouveaux d'après Pernot
---
College of Navarre
Cf. Pantagruel 16b; 18, n.5.
Rabelais, François (ca. 1483–1553),
The Five Books and Minor Writings. Volume 1: Books I-III
. William Francis Smith (1842–1919), translator. London: Alexader P. Watt, 1893.
Internet Archive
---
Navarre
Sur ce collège, voir l. II, ch. XVI, n. 7.
Rabelais, François (ca. 1483–1553),
Oeuvres. Édition critique. Tome Cinquieme: Tiers Livre
. Abel Lefranc (1863-1952), editor. Paris: Librairie Ancienne Honoré Champion, 1931. p. 360.
Internet Archive
---
Navarre
L'un des collèges plus fameux de la Montagne Sainte-Geneviève [en Paris], au Moyen Age; il avait été fondé par Jeanne deNavarre en 1309.
Rabelais, François (ca. 1483–1553), Le Tiers Livre. Pierre Michel, editor. Paris: Gallimard, 1966. p. 569.
---
escholiers de Navarre
Voir Pantagruel, XVI, p. 272 et n. 10.
Rabelais, François (ca. 1483–1553), Œuvres complètes. Mireille Huchon, editor. Paris: Gallimard, 1994. p. 505, n. 22.
---
Collège de Navarre
Le collège de Navarre a été fondé en 1304 à Paris grâce à Jeanne Ire de Navarre. Épouse de Philippe le Bel, elle lègue son hôtel de la rue Saint-André-des-Arts pour y établir un collège destiné à recevoir des étudiants de sa province.
Le royaume de Navarre est un royaume médiéval fondé en 824 par les Vascons, dont le premier roi est Eneko Arista, premier d'une lignée de seize rois basques qui régneront sur le Royaume jusqu'en 1234. Attaquée depuis trois siècles au nord des Pyrénées, dans le duché de Vasconie par les Francs, et au sud par les Wisigoths, puis les Omeyyades (musulmans), la Vasconie est réduite au petit Royaume de Pampelune, terres ancestrales du Saltus Vasconum.
La Haute-Navarre fut conquise en 1512 par le royaume d'Aragon — et fut intégrée en 1516 dans l'actuel royaume d'Espagne — et l'autre partie (Basse-Navarre), restée indépendante, fut unie à la couronne de France à partir de 1589 – d'où le titre de « roi de France et de Navarre » que portait Henri IV.
La langue vernaculaire des Navarrais était le basque. Le gascon fut utilisé par quelques populations citadines au nord et le castillan dans l'extrême sud (Tudela) de la Navarre actuelle.
---
Navarrese
Navarrese. [formed on Navarre a province of northern Spain, formerly a kingdom which included part of south-west France.]
The people of Navarre; a native or inhabitant of Navarre. Of or pertaining to Navarre.
[1699 J. Stevens tr. Mariana's Gen. Hist. Spain viii. iii. 122 At this time the Count of Toulouse, came in with fresh supplies to assist the Navarrois. ]
1846 R. Ford Gatherings from Spain xiii. 147 The Navarrese drink their Peralta, the Basques their Chacolet.
1855 C. M. Yonge Lances of Lynwood xiv. 219 The swarthy Navarrese mountaineer.
1915 C. C. Martindale In God's Army I. 122 His servant, Miguel, was a Navarrese of bad character.
1932 E. Hemingway Death in Afternoon xii. 125 Navarrese bulls are almost a different race, smaller and usually of a reddish color.
---