Original French: Myrobalans, que les Arabes appellent
Modern French: Myrobalans, que les Arabes appellent
---
---
1. Estienne, Charles (1504–1564), De Latinis et Graecis nominibus arborum, fruticum, herbarum, piscium & avium liber : ex Aristotele, Theophrasto, Dioscoride, Galeno, Nicandro, Athenaeo, Oppiano, Aeliano, Plinio, Hermolao Barbaro, et Joanne Ruellio : cum Gallica eorum nominum appellatione. Paris: 1544. Gallica
2. .
---
Notes
Bel citronium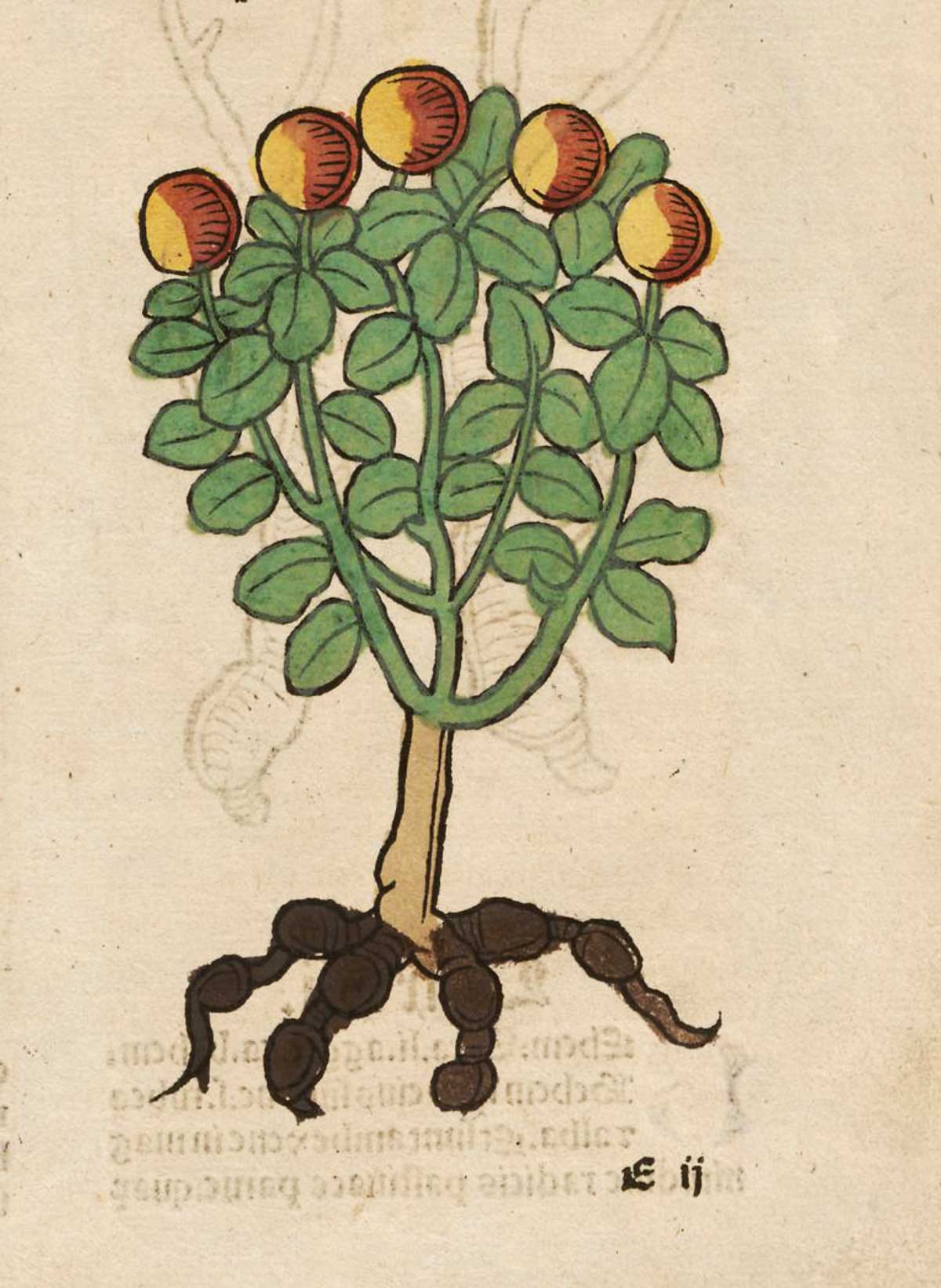 ---
Mirabolani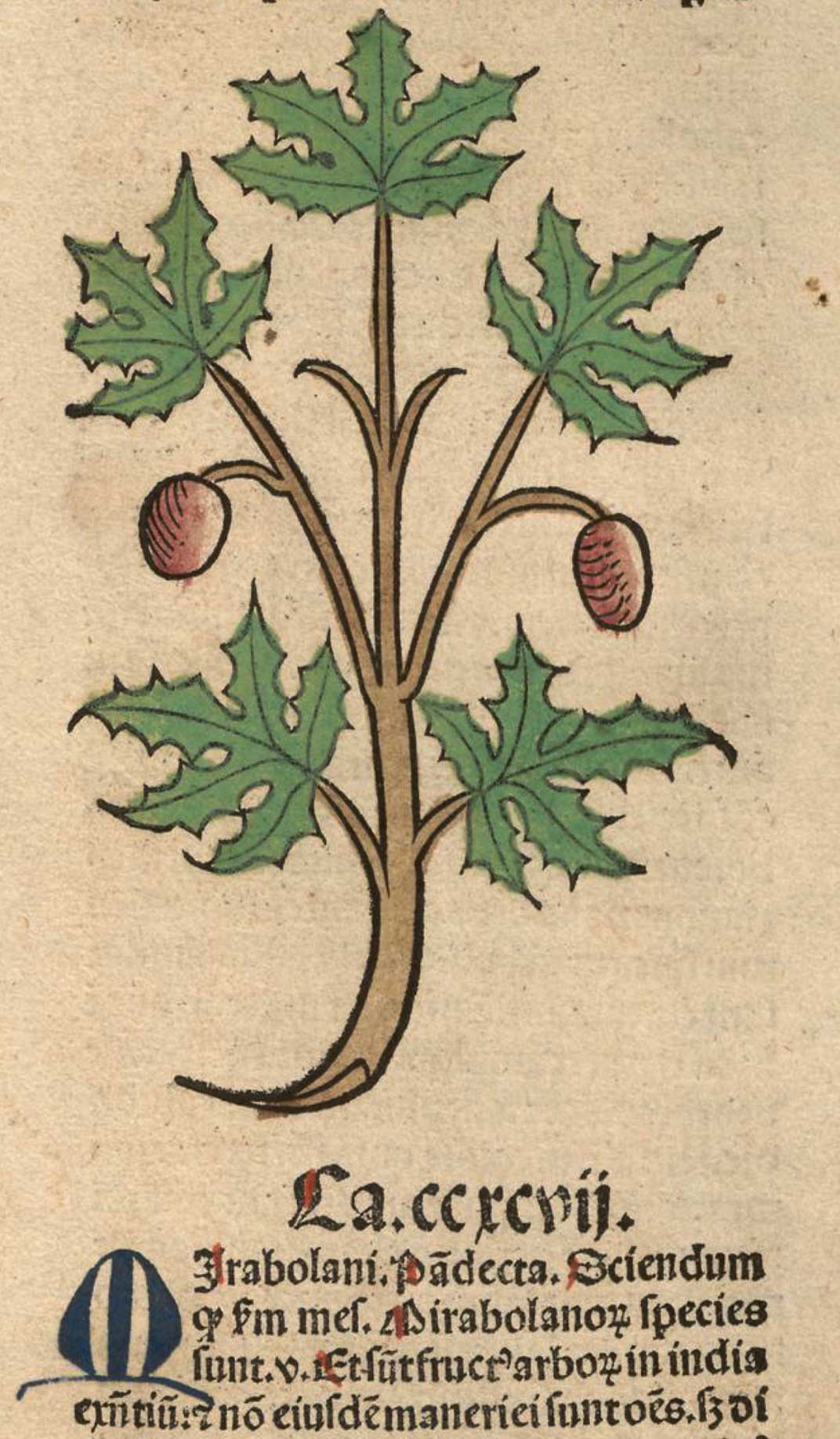 ---
Bel citronium (text)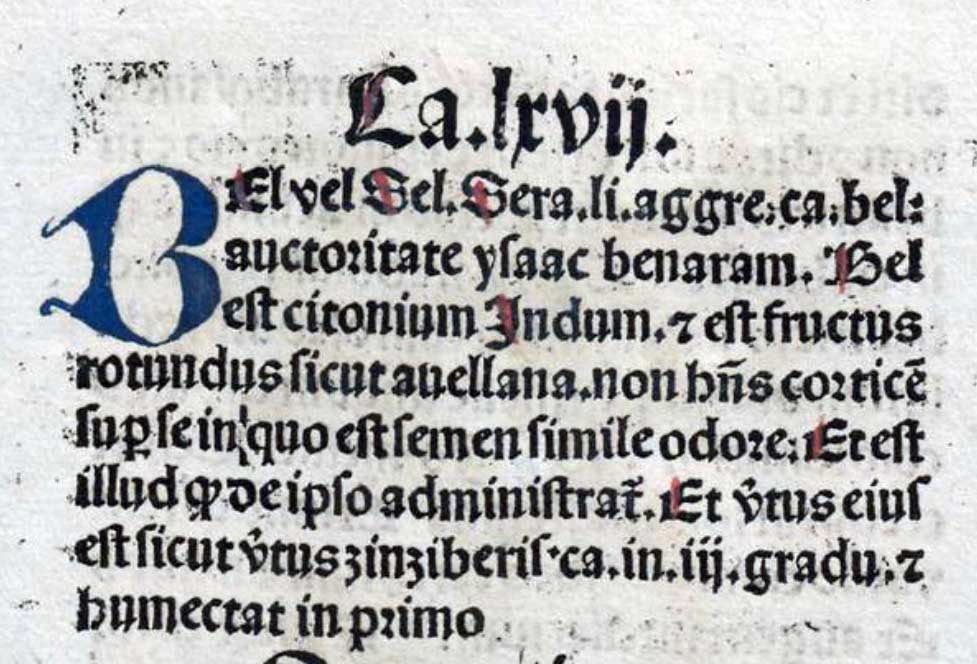 ---
Balanus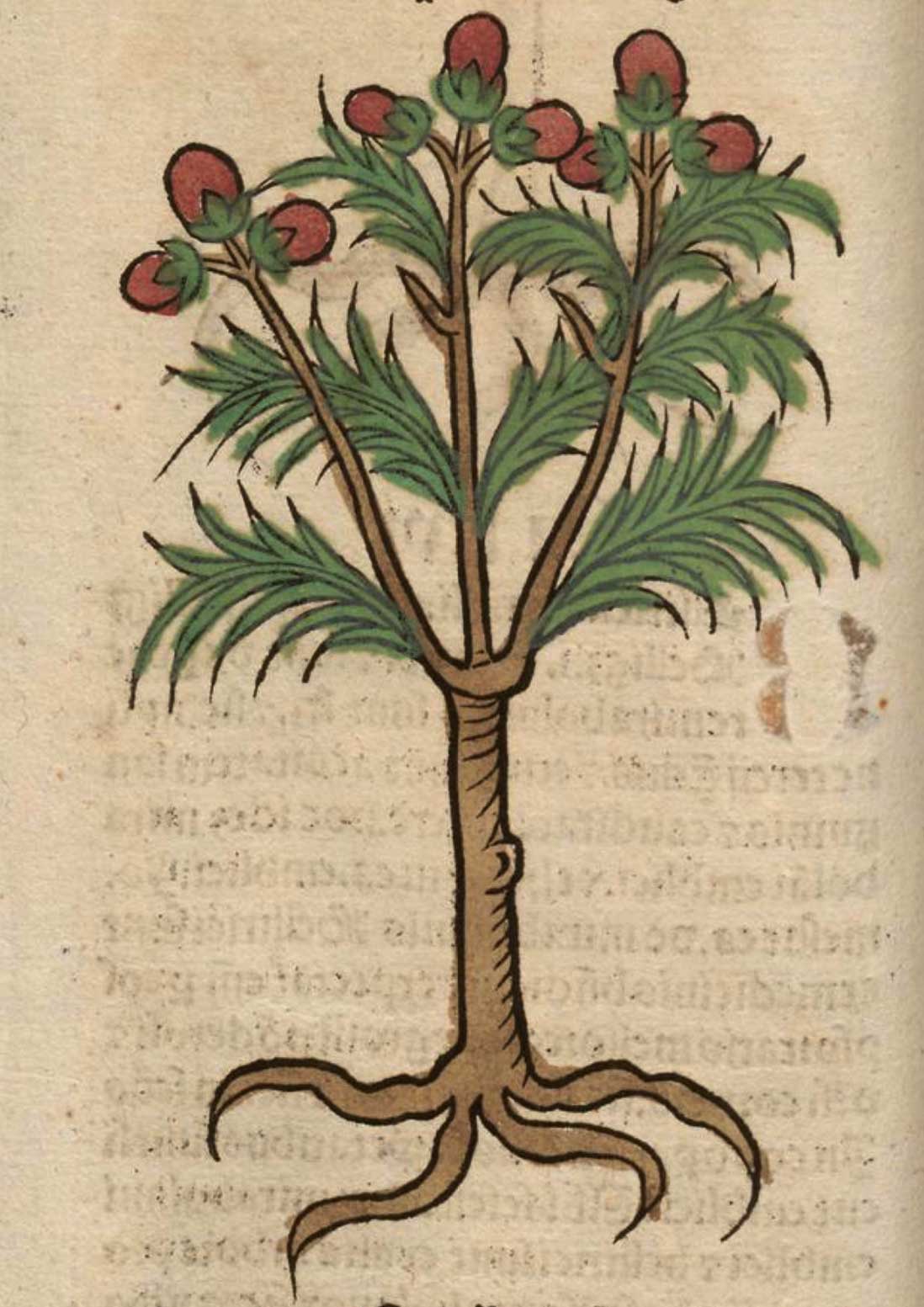 ---
Balanus (text)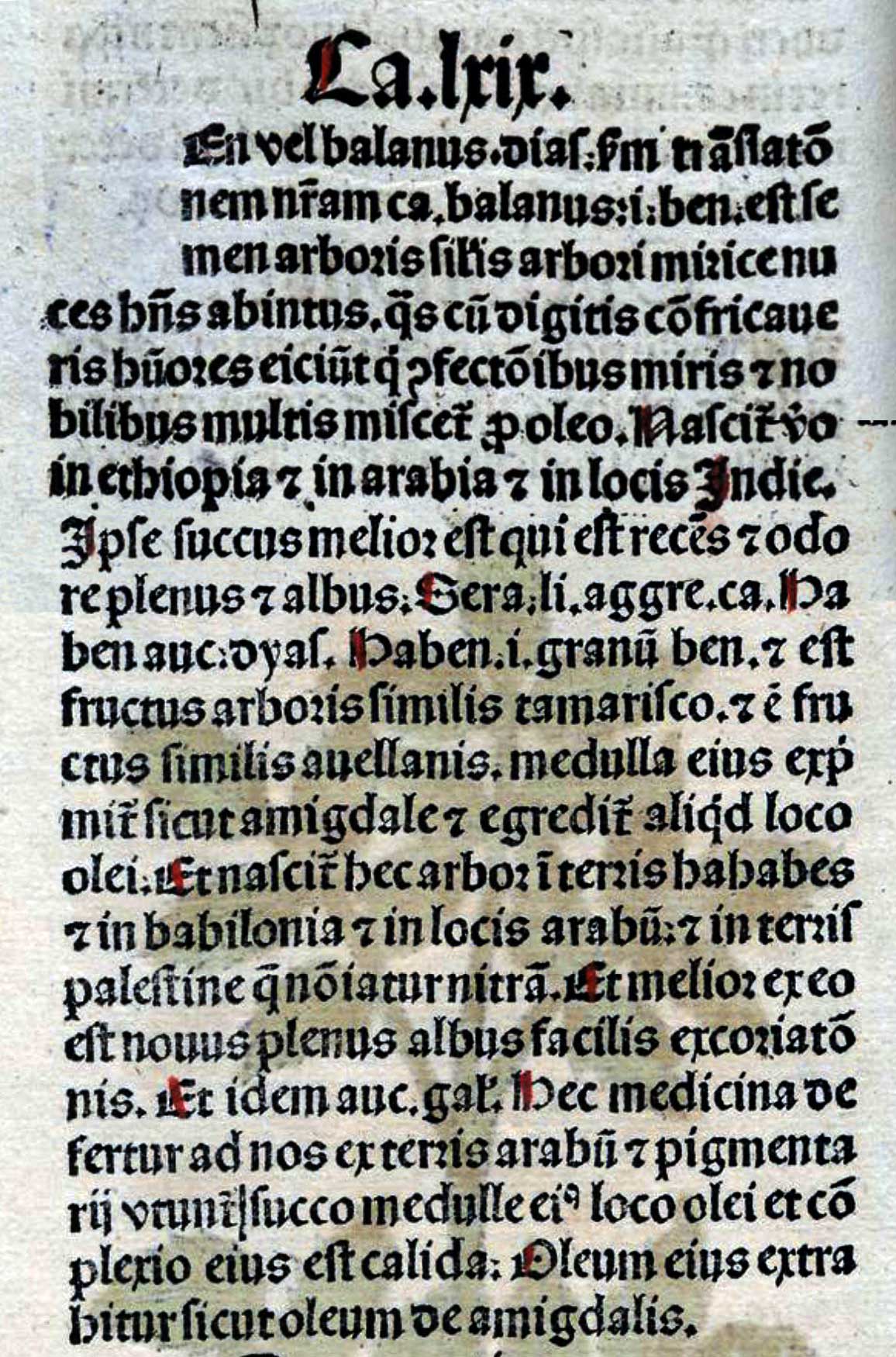 ---
Moringa oleifera Lam.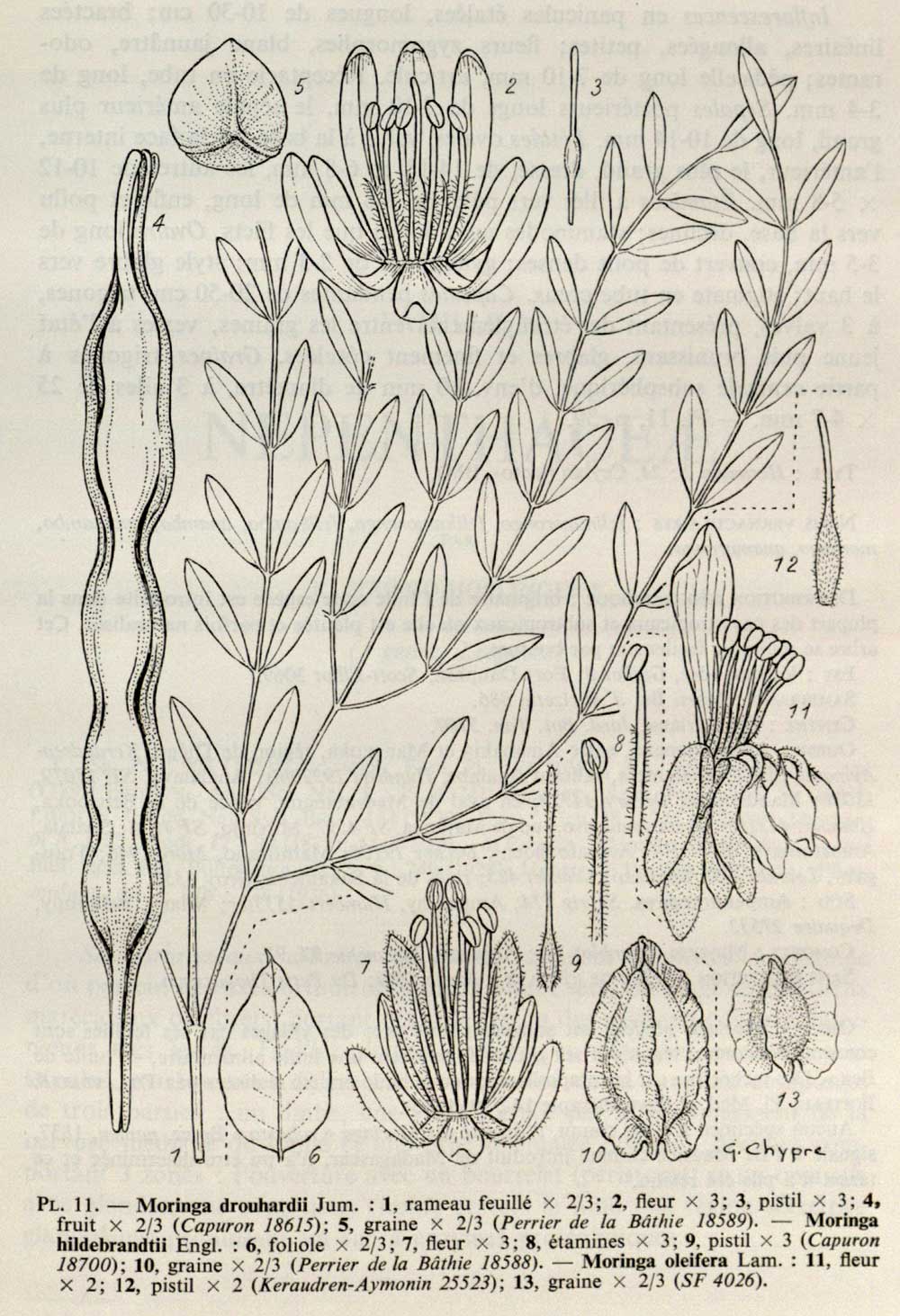 Moringa oleifera Lam.
vernacular name: horseradish tree
---
mirobolans
Du grec μυροξαλανοζ, unguentaria glans; mot composé de μυρον, ungentum liquidum, et ξαλανοζ, glans. En effet, comme le dit Martial:
Hoc ex unguento constat et ex balano.
Rabelais, François (ca. 1483–1553),
Œuvres de Rabelais (Edition Variorum). Tome Cinquième
. Charles Esmangart (1736–1793), editor. Paris: Chez Dalibon, 1823. p. 271.
Google Books
---
Myrobolans
Cf. ii. 14.
Rabelais, François (ca. 1483–1553),
The Five Books and Minor Writings. Volume 1: Books I-III
. William Francis Smith (1842–1919), translator. London: Alexader P. Watt, 1893.
Internet Archive
---
myrobalans
Mirobolanz (Platearius), myrobalan, mirobolan (Antid. Nicholas), Mirabolain (Hortus sanit., 1500). — «Myrobalanum Troglodytis et Thebaïdi et Arabiae… commune est, nascens unguento, quo item indicatur et glandem esse arboris, heliotropio… simili folio», Pline, XII, 46. Fée veut y reconnaître le Morgina oleifera, Lmk. (M. pterygosperma, Gærtn.) des Indes orientales. Il parait plus probable de rapporter le myrobolan des Anciens, avec de Candolle et Planchon, à Moringa aptera, Gærtn. Quant aux myrobalans de la pharmacopée moderne, inconnus aux Anciens, et introduits dans la thérapeutique par les Arabes, ce sont des drupes de diverses esp. du G. Terminalia (Combrétacée) de l'Inde, et des fruits de l'Emblica officinalis, Gærtn. (Euphorbiacée). (Paul Delaunay)
Rabelais, François (ca. 1483–1553),
Oeuvres. Édition critique. Tome Cinquieme: Tiers Livre
. Abel Lefranc (1863-1952), editor. Paris: Librairie Ancienne Honoré Champion, 1931. p. 357.
Internet Archive
---
Les aultres de leurs formes
Encore une fois, tout cela se retrouve dans le petit livre de Charles Estienne, De latinis nominibus.
Rabelais, François (ca. 1483–1553), Le Tiers Livre. Edition critique. Michael A. Screech (b. 1926), editor. Paris-Genève: Librarie Droz, 1964.
---
Les aultres de leurs formes
Toutes ces informations sont dans le livre d'Estienne. L'étymologie de «serpoullet» (du lat. serpere) est indiquée par Pline, XX, 22 («herper» : ramper?). Calepin signale celle de myrobolan, «quam Dioscorides Βάλανον μυρεψικήν appellat, hoc est glandem unguentariam»; de là la précision terminale de Rabelais. Voir aussi Manardi, dans ses annotations sur les Simples de Mésué, à l'article «De ben».
Rabelais, François (ca. 1483–1553), Le Tiers Livre. Edition critique. Jean Céard, editor. Librarie Général Français, 1995. p. 456.
---
myrobalan
myrobalan. [adopted from French myrobolan or its source Latin myrobalanum, adopted from Greek murobalanoj(1) perhaps the ben-nut, (2) in modern Greek, emblic, formed on muro-n unguent, balsam + balanoj acorn, date, ben-nut. Known colloquially amongst dyers as m'rabs.]
The astringent plum-like fruit of species of Terminalia (N.O. Combretaceæ), e.g. T. Bellerica, T. Chebula, T. citrina: formerly used medicinally, but now chiefly in dyeing, tanning, and ink-making.
1530 Jehan Palsgrrave Leclarcissement de la langue françoyse. 245/2 Mirabolon a frute, mirabolan.
1533 Sir Thomas Elyot The castel of helth (1541) 68 Myrabolones, callyd Kebuli. C.
1540 in Vicary's Anat. (1888) 226 Putt therto of mirobolane cytrine pouldered, one vnce.
1562 Bullein Bulwarke, Bk. Simples (1579) 62 Who so vseth to eate often of Myrobalans being condite, shall not seeme olde, sayth Mesue.
1610 Ben Jonson The Alchemist. iv. ii, Shee melts Like a Myrobalane.
1611 Randle Cotgrave, A dictionarie of the French and English tongues, Myrobalan citrin, the yellow, or Citron Myrobalan.
1626 Francis Bacon Sylva sylvarum; or a naturall historie §644 There be Fruits, that are Sweet before they be Ripe; As Myrabolanes.
1712 tr. Pomet's Hist. Drugs I. 141 The Indian Myrobalans are small long Fruit, of the Size of a Child's Finger End.
attributive, as myrobalan tree; myrobalan ben, date, the ben-nut; myrobalan plum
1555 Eden Decades (Arb.) 100 A greate multitude of certeine beastes.. creping as thicke as antes aboute the myrobolane trees.
1598 Florio, Citrino,… a kinde of mirabolane plum.
1601 Philemon Holland, translator Pliny's History of the world, commonly called the Natural historie xii. xxii. II. 163 Of the Myrabolan Date.
---