---
Notes
Dipsacus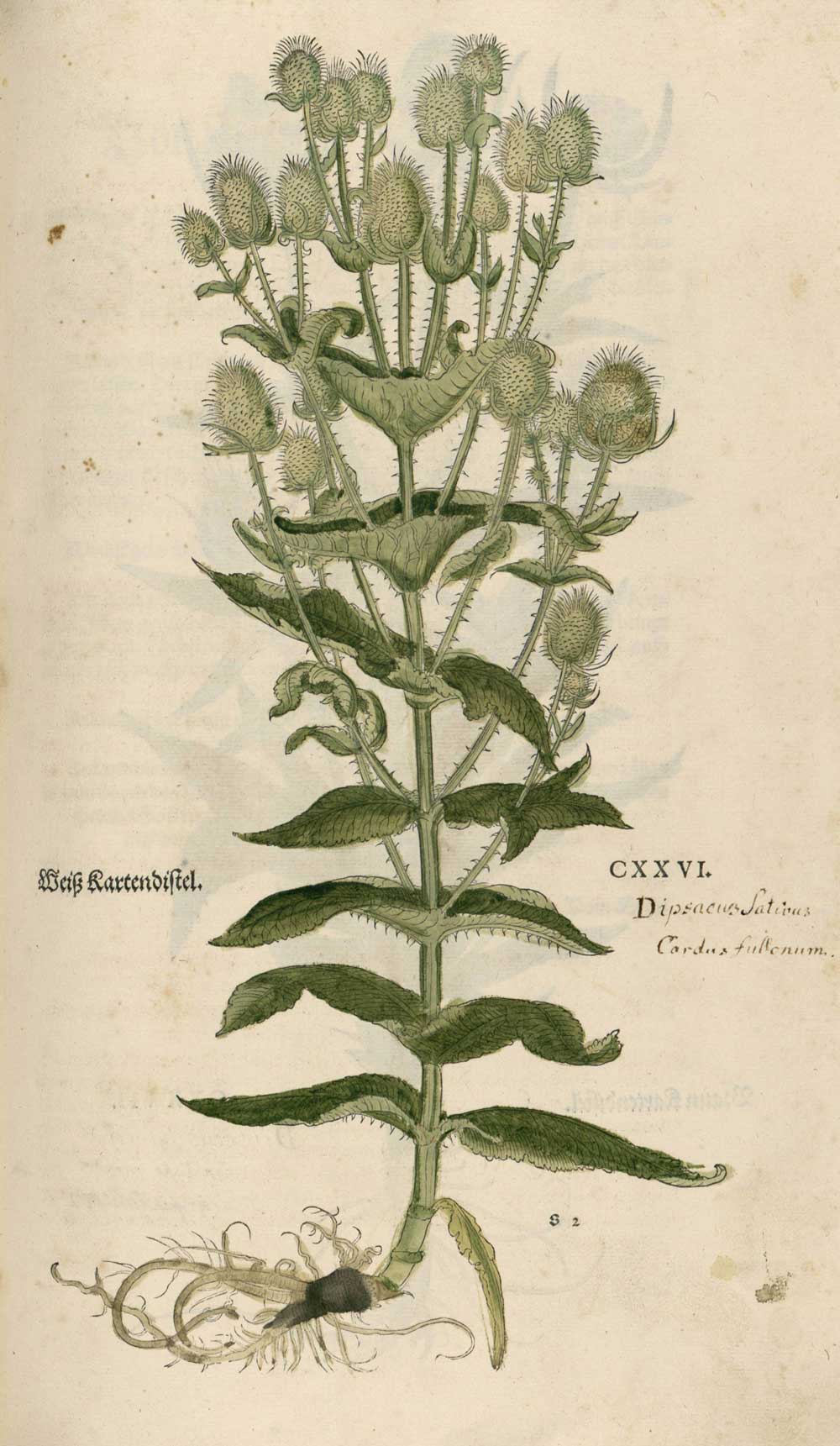 Dipsacus fullonum L.
Fuller's Teasel, teasel, wild teasel
---
Venus' Tub
Venus' Tub, or Venus' Basin (Dipsacus sylvestris), because the 'connate' leaves form a basin.
Rabelais, François (ca. 1483–1553),
The Five Books and Minor Writings. Volume 1: Books I-III
. William Francis Smith (1842–1919), translator. London: Alexader P. Watt, 1893.
Internet Archive
---
la cuve de Venus
«Labrum venereum vocant in flumine nascentem», dit Pline, XXV, 108. Cette plante n'est point aquatique; c'est le διψαχὸζ de Dioscoride, autrement dit pour Fée le chardon à foulon, Dipsacus fullonum, L. Sainéan (H.N.R., 123) préfere y voir le D. sylvestris, Mill. Dans ces deux espèces, les feuilles, opposées et connées, forment à leur base une sorte de cuvette où s'amasse l'eau des pluies. (Cabaret des oiseaux, Lavoir de Vénus.) (Paul Delaunay)
Rabelais, François (ca. 1483–1553),
Oeuvres. Édition critique. Tome Cinquieme: Tiers Livre
. Abel Lefranc (1863-1952), editor. Paris: Librairie Ancienne Honoré Champion, 1931. p. 356.
Internet Archive
---
cuve de Venus
Labrum Venerium vocant in flumine nascentem. est ei vermiculus qui circa dentes fricatur aut cavis dentium cera includitur. cavendum ne avulsa herba terram tangat.
A plant that grows in rivers they call the bath of Venus. In it is a worm which is rubbed round the teeth or plugged with wax into the hollow of a tooth. Care must be taken that the plant does not touch the ground after being pulled up.
Pliny the Elder (23–79 AD),
The Natural History. Volume 7: Books 24–27
. William Henry Samuel Jones (1876–1963), translator. Cambridge, Massachusetts: Harvard University Press, 1956. 25.108.
Loeb Classical Library
---