---
Notes
Effemereon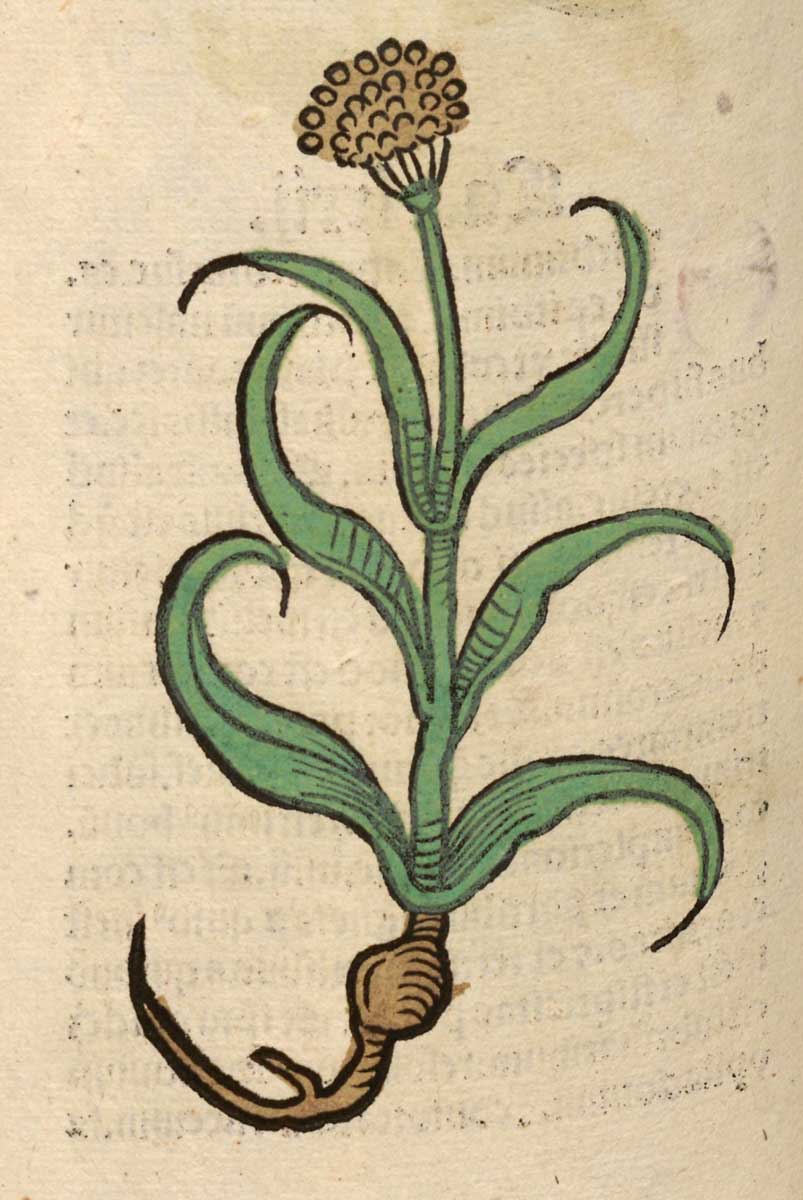 ---
Effemereon (text)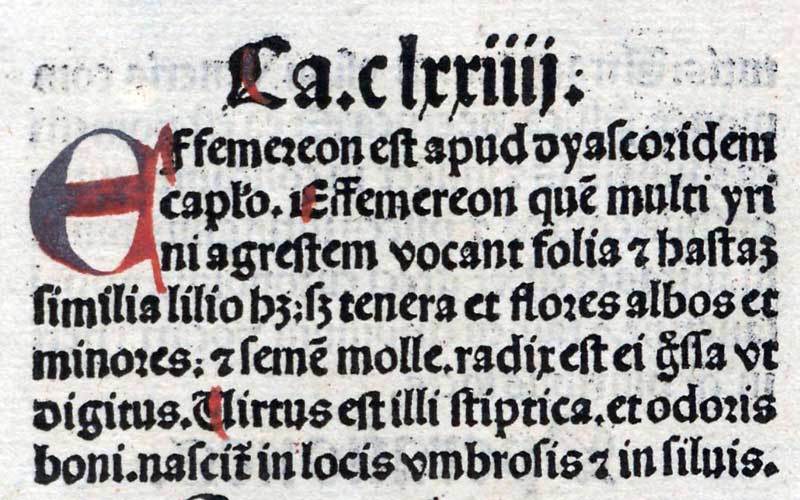 ---
Crocus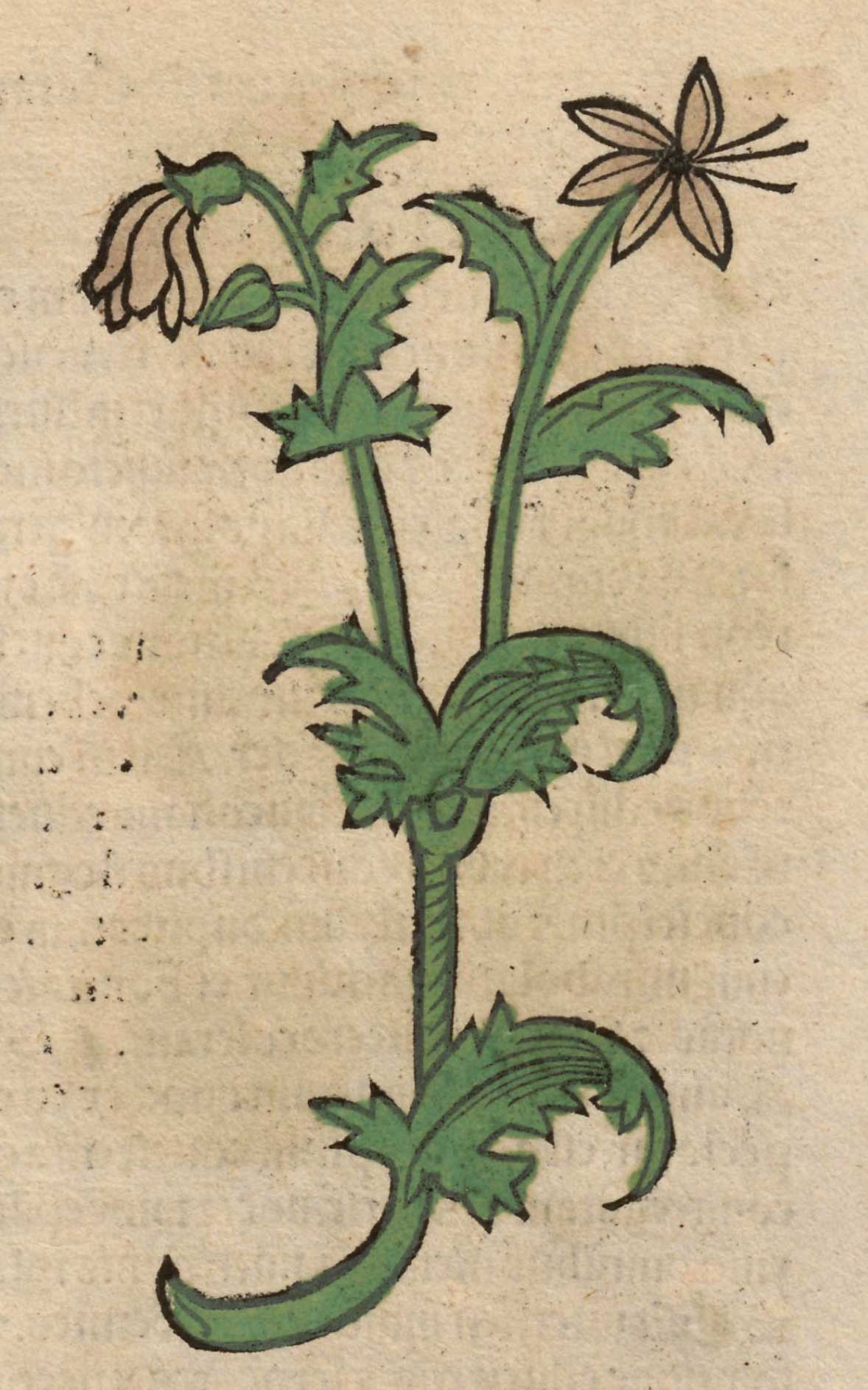 ---
Crocus (text)

---
Colchici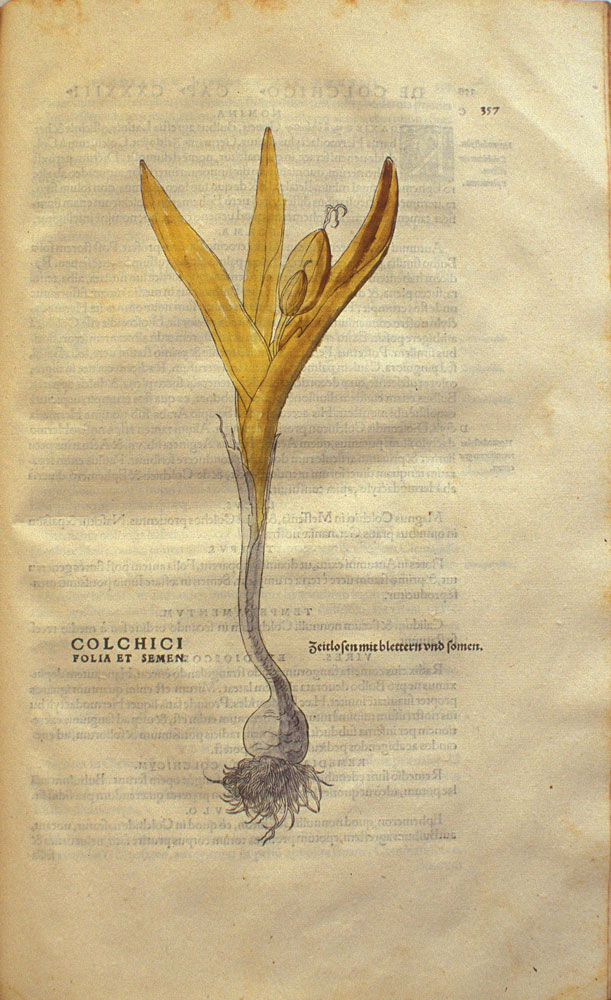 Colchici
folia et semen
Zeitlosen mit blettern und somen
Taxon: Colchicum autumnale L.
English: meadow saffron
Fuchs, Leonhart (1501 – 1566),
De historia stirpium commentarii insignes…
. Basil: In Officina Isingriniana, 1542. p. 357.
Smithsonian Library
---
Ephemerum
Pliny xxv. 13, § 107.
Rabelais, François (ca. 1483–1553),
The Five Books and Minor Writings. Volume 1: Books I-III
. William Francis Smith (1842–1919), translator. London: Alexader P. Watt, 1893.
Internet Archive
---
Ephemerum
Ephemeron folia habet lilii, sed minora; caulem parem, florem caeruleum, semen supervacuum, radicem unam digitali crassitudine, dentibus praecipuam concisam in aceto decoctamque ut tepido colluantur. et ipsa etiam radix sistit, cavis exesi inprimitur. chelidoniae radix ex aceto trita continetur ore, erosis veratrum nigrum inprimitur, mobiles utrolibet decocto in aceto firmantur.
Ephemeron has the leaves of a lily, but smaller, a stem of the same length, a blue flower, a seed of no value, and a single root of the thickness of a thumb, a sovereign remedy for the teeth if it is cut up into pieces in vinegar, boiled down, and used warm as a mouth wash. And the root also by itself arrests decay if forced into the hollow of a decayed tooth. Root of chelidonia is crushed in vinegar and kept in the mouth, dark hellebore is plugged into decayed teeth, and loose teeth are strengthened by either of these boiled down in vinegar
Pliny the Elder (23–79 AD),
The Natural History. Volume 7: Books 24–27
. William Henry Samuel Jones (1876–1963), translator. Cambridge, Massachusetts: Harvard University Press, 1956. 25.107.
Loeb Classical Library
---
ephemerum
Plante décrit par Pline, XXV, 107: « Ephemeron folia habet lilii, sed monora, caulem parem, florem cæruleum. » Cette description a donné lieu à une foule d'hypothéses: Fée pense à Convallaria verticillata, L. Il y a un autre ephemeron ainsi nommé parce que eodem die possit occidere, décrit par Théophraste (H. P. IX, 16), chantee par Nicandre:
Si quisquam infestos Medeæ Colchidis ignes
Incautus gustarit ephemeron, ille repente
Uritur…
(Nic. Alexipharmaca)
mentionné par Dioscoride (IX, 84), prescrit, au cinquième siècle, sous le nom d'hermodacte par le byzantin Jacques Psychriste, et qui est le colchique: « Colchicon, alii ephemeron, Romani bulbum agrestem, exitu autumni florem fundit croceo similem », dit Ruellius, De nat. stirp. libri tres, Paris, S. de colines, 1536, in-f°, l. III, ch. 115, p. 832. « Ephemerum, que quelquesuns nomment Colchicon ou bulbe sauvage. » Paré, l. XXI, des venins, ch. 43. C'est Colchicum autumnale, L. — Le colchicum minus de Pena et Lobel est C. arenarium, Wald. et Kit. Le colchique renferme un alcaloïde trés actif, la colchicine. (Paul Delaunay)
Rabelais, François (ca. 1483–1553),
Oeuvres. Édition critique. Tome Cinquieme: Tiers Livre
. Abel Lefranc (1863-1952), editor. Paris: Librairie Ancienne Honoré Champion, 1931. p. 351.
Internet Archive
---
ephemerum
thus ephemerum, perhaps colchicum (meadow saffron, autumn crocus, which, used pharmaceutically, is narcotic, diuretic, cathartic and excellent for rheumatism)…
Rabelais, François (ca. 1483–1553), Complete works of Rabelais. Jacques LeClercq (1891–1971), translator. New York: Modern Library, 1936.
---
nommés pas leurs vertus et operations
Sauf pour le lichen, tous les détails sont dans De latinis nominibus («Alysson … dicitur (ut ait Galenus) quod mirifice morsus a cane rabido curet. [gk] enim rabiem significat. Ephemerium… quo die sumptum fuerit (ut nominis ipsa ratio ostendit) intermit. Bechion autem appellatum est, quod [gk], id es tusses … juvet. Nasturtium, cresson alenois … dicitur a torquendis naribus. Hyoscame, faba suis, vulgo hannebane, … dicitur … quot pastu ejus convellantur sues ». R. a mal lu ses notes, faisant de hanebanes une plante différente de l'hyoscame.
Rabelais, François (ca. 1483–1553), Le Tiers Livre. Edition critique. Michael A. Screech (b. 1926), editor. Paris-Genève: Librarie Droz, 1964.
---