---
Notes
Scicados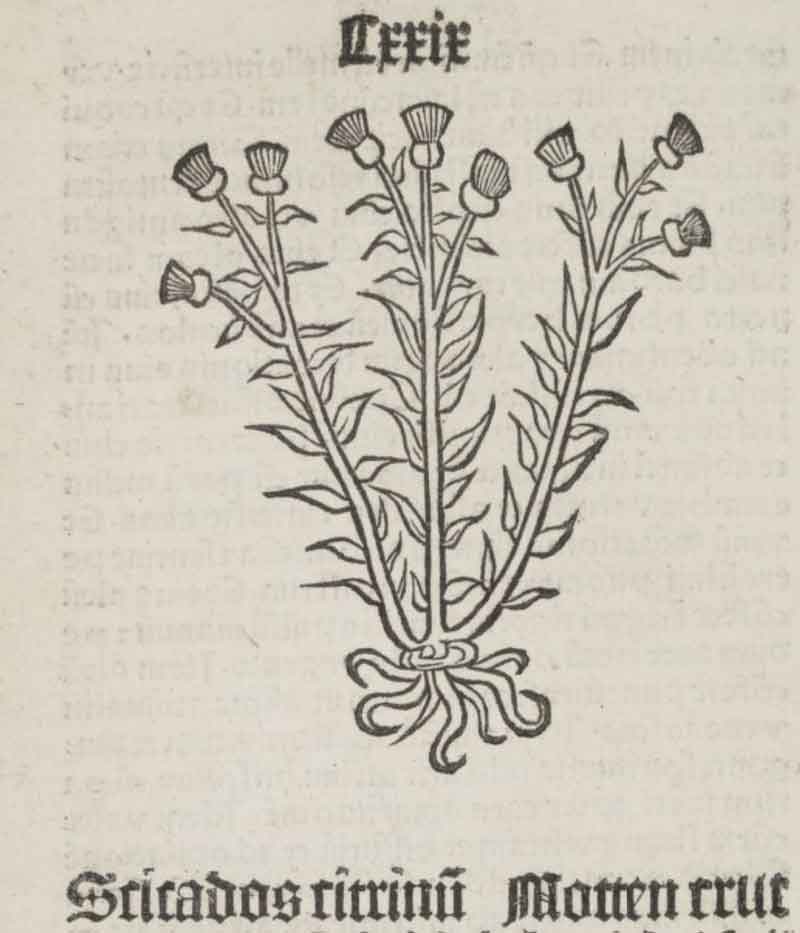 ---
Lavendula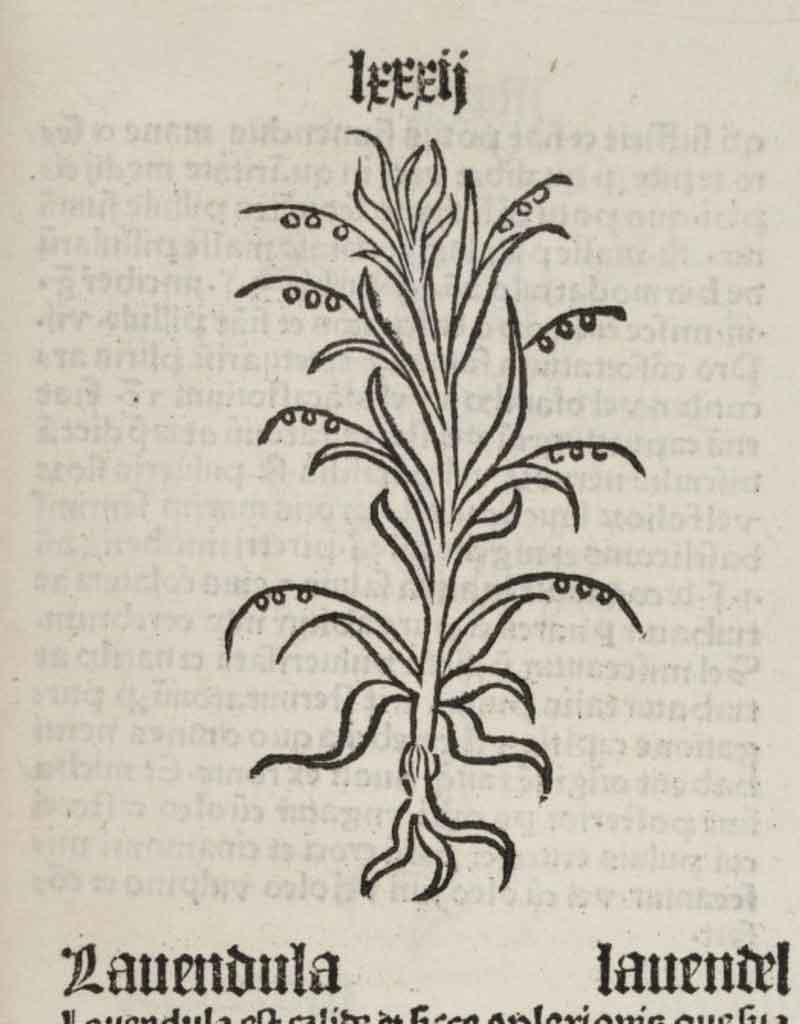 Plate 82
---
Lavendula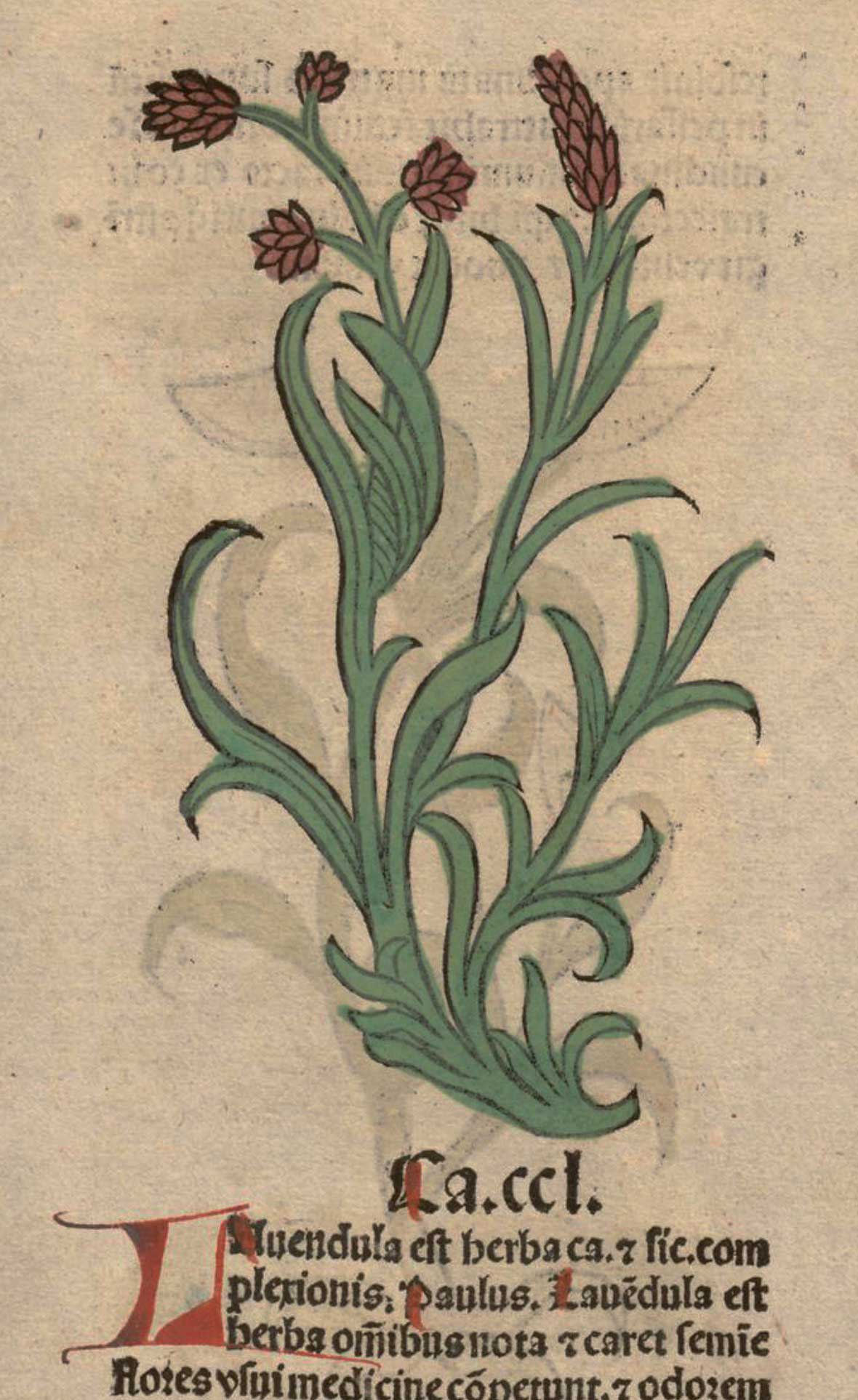 ---
Lavandula stœchas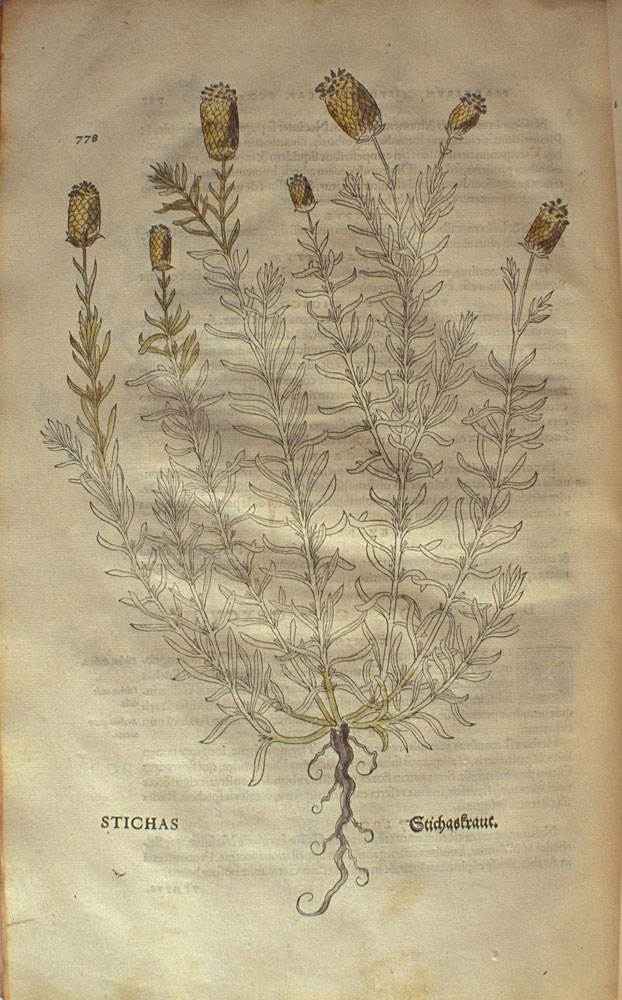 Stichas
Stichaskraut
Taxon: Lavandula stoechas L.
Ancient Greek:stoichas
English:French lavender
---
Stoechades
Stoechas in insulis tantum eiusdem nominis gignitur, odorata herba coma hysopi, amara gustu. menses ciet potu, pectoris dolores levat. antidotis quoque miscetur.
Stoechas grows only in the islands of the same name, a fragrant plant with the foliage of hyssop [Dioscorides says thyme, III 26: ὁμοίαν ἔχουσα θύμῳ κόμην, but ὕσσωπος occurs a few words later] and a bitter taste. Taken in drink it is an emmenagogue, and relieves pains in the chest. It is also an ingredient of antidotes.
---
Stoechados
Stoechados. French Lavender, Steckadoe, Stickadove, Cassidonie, Cast-me-downe.
---
Stœchades
Stœchades] Voiez Pline, l. 27 chap 12. Ce sont les Isles d'Hiéres.
---
Stœchas
Parcequ'il prend le titre de caloyer des îles d'Hières au titre du livre III et du livre IV.
---
isles Hieres
Rabelais prend le titre de Caloyer des îles d'Hières, en tête des livres III et IV du Pantagruel.
---
caloyer
Moine grec, religieuse grecque, de l'ordre de Saint-Basile. Termes grecs signifiant beau, honorable, et vieillard.
---
Stoechas
A kind of lavender (Pliny xxvii. 12 § 107). My islands, etc. On the title-page of the Third Book Rabelais calls himself Calloier des Isles Hières.
---
caloyer
CALOYER [ÉTYM. Emprunté du grec mod beau et vieillard. XIVe S. Calogere, Caumont, dans GODEF. Suppl. 1512. Caloyer, Thénaud, Voy. d'outre-mer, dans DELB. Rec.] Religieux, religieuse de l'ordre de Saint-Basile, dans l'Église grecque.
---
isles Hieres
Quelle allusion se cache sous l'appellation, prise par Rabelais, de « calloier des isles Hieres », nommées ailleurs « mes isles Hieres, anticquement dictez Stœchades ». On n'a pu, jusqu'ici, rien découvrir de précis à cet sujet. Faut-il supposer un voyage accompli par l'auteur durant la période de sa vie, restée si obscure, qui va de 1543 à 1545, ou ne voir, sous ce titre, qu'un simple souvenir du temps où ses séjours dans le Sud-Est ont pu l'amener à visiter ces îles, chère au botaniste ? Peut-être le nom Aureæ Insulæ qui leur fut octroyé à l'époque de la Renaissance, l'a-t-il conduit se représenter, par antiphrase, comme un religieux maître de ces belles solitudes. Un hasard heureux pourra seul procurer la solution de cette petite énigme.
---
Stœchades
Des îles Stœchades, auj. îles d'Hyères, Σνοτχάζ (Dioscoride, III, 31). « Stœchas in insulis tantum ejusdem nominis gignitur odorata herba », dit Pline, XXVII, 107. C'est Lavendula stœchas, L. (Labiée). Rabelais dit « mes îles Hieres » parce qu'il prise le titre de Calloier des îles Hyères. (Paul Delaunay)
---
mes isles Hières
Cf. la page de titre du TL,
---
Les Iles d'Hyères
On the title page of the editions of the Tiers Livre published in 1546 and 1547 (New Rabelais Bibliography numbers 28 to 32), Rabelais assumes the epithet, "Docteur en Medicine and Calloier des Isles Hieres." In the edition published in 1552 (NRB 36, on which this commentary is based), Calloier is omitted.
---
isles Hières
En 1546, l'auteur était Calloïer des Isles Hieres (var. b, p. 339).
---
le nom des regions…
Toutes ces informations sur les plantes dont le nom est d'origine géographique sont dans le livre d'Estienne, sauf sur la rhubarbe, pour laquelle Rabelais suit sans doute Ruellius, De Natura stirpium (1536), III, 2 (mêmes renseignements dans B. Chasseneuz, Catalogus gloria mindi, XII, 90). Sur «Stœchas» (Pline, XXVII, 12), le «Calloïer des Isles Hieres» (ou Stéchades), comme signe Rabelais in 1546, ne pouvait oublier cette plante; mais c'est aussi un façon de rappeler que toutes ces pages l'ont pour auteur.
---
stoechas
stoechas. Also stechas, stichas. See also stechados, stickadove. [Latin, adopted from Greek stoixa. According to Pliny the plant was so called because imported from the Stoechades islands (Greek Stoixadej, literally `standing in a row', formed on stoixoj row), now Les Iles d'Hyères.]
The plant French Lavender, Lavandula stoechas.
---
caloyer
Religieux grec de l'ordre de Saint-Basile. 1509 caloyer (J. Le Maire, Œuvres, III, 371, Stecher, ibid.). Empr. au gr. mod. kalogeros (g se prononçant y) proprement « bon vieillard » gr. καλο ́ς « beau » (en gr. class.) puis « parfait » (en gr. post-class.) et γε ́ρων « vieillard »; cf. le m. fr. calogere, 1418 (Caum., Voy. d'oultr., p. 45 ds Gdf. Compl.)
---
Caloyer
Caloyer, moine grec de la règle de saint Basile. Par extens., chef, prince.
---