Original French: Triptoleme enuoyé par Ceres pour es hommes monſtrer le froment
Modern French: Triptolème envoyé par Cerès pour es hommes monstrer le froment
---
---
Notes
Demeter, Triptolemus, Persephone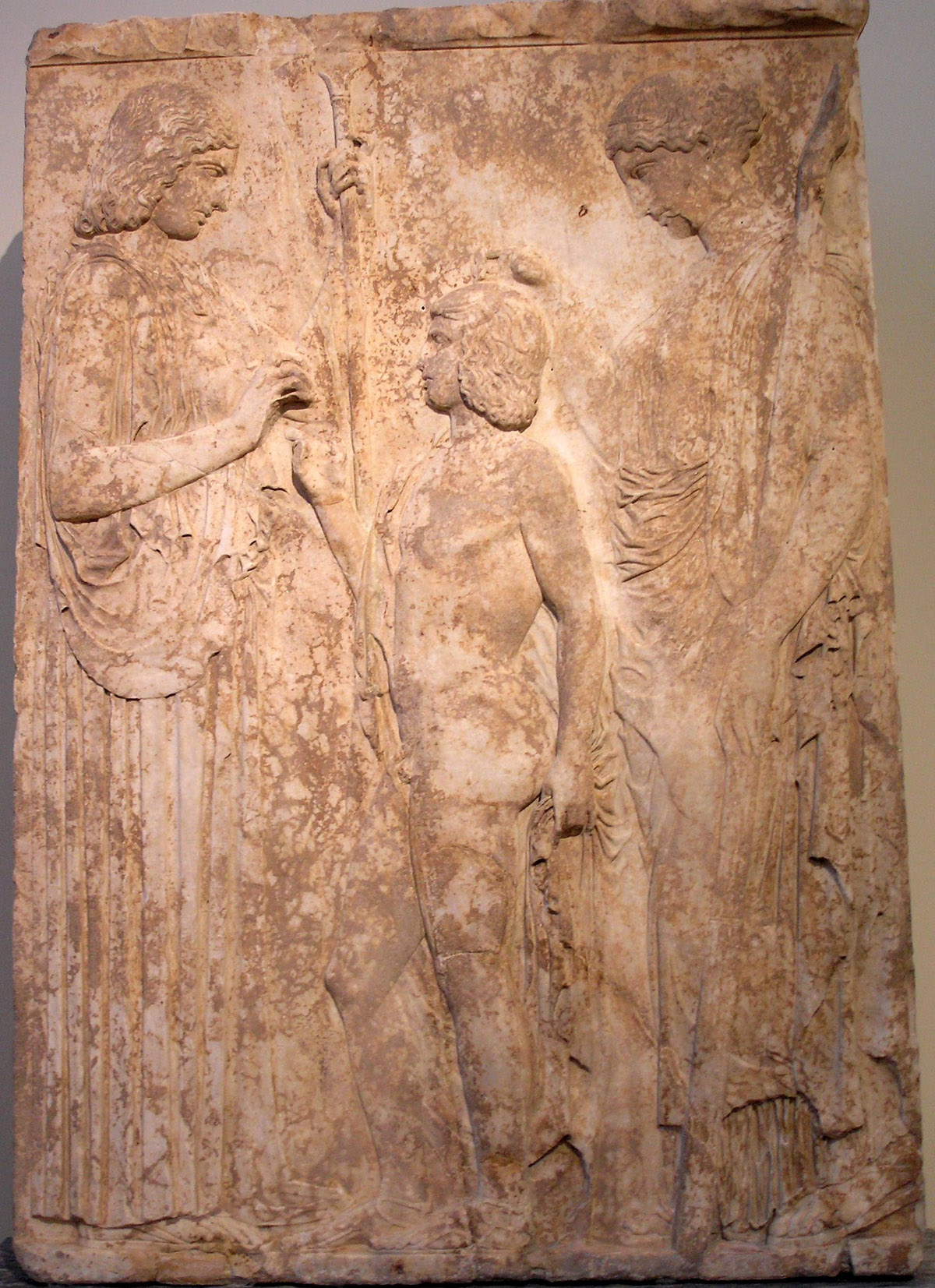 Relief votif en marbre pentélique trouvé à Éleusis, dédié au sanctuaire de Déméter et de Korè. Il représente les deux déesses éleusiniennes dans une scène du rituel des mystères. À gauche, Déméter, vêtue du péplos et tenant un sceptre dans la main gauche, offre des épis de blé à Triptolème, fils du roi éleusinien Keloos, pour qu'il les donne à l'humanité. À droite, Perséphone, vêtue d'un chiton et d'un manteau, tient une torche, et bénit Triptolème de la main droite. La magnificence de l'image et son échelle monumentale indiquent qu'il ne s'agissait peut-être pas d'un simple relief votif mais plutôt d'un relief cultuel. Circa 440 BC.
---
Minerva, Athena
favens, oleaeque Minerva
inventrix, uncique puer monstrator aratri,
et teneram ab radice ferens, Silvane, cupressum;
dique deaeque omnes, studium quibus arva tueri,
quique novas alitis non ullo semine fruges,
quique satis largum caelo demittitis imbrem.
Come, Minerva, inventress of the olive; you, too, youth [Triptolemus, son of Celeus, king of Eleusis, and favourite of Demeter], who showed to man the crooked plough, and you, Silvanus, with a young uprooted cypress in your hand; and gods and goddesses all, whose love guards our fields—both you who nurse the young fruits, springing up unsown, and you who on the seedlings send down from heaven plenteous rain!
—–
Virgil (70 – 19 BC),
Eclogues. Georgics. Aeneid: Books 1-6
. H. Rushton Fairclough, translator. Cambridge, Massachusetts: Harvard University Press, 1916.
Georgic
1.16, p. 99.
Loeb Classical Library
---