Original French: Gentiane, de Gentius roy de Sclauonie.
Modern French: Gentiane, de Gentius roy de Sclavonie.
---
---
Notes
Genciana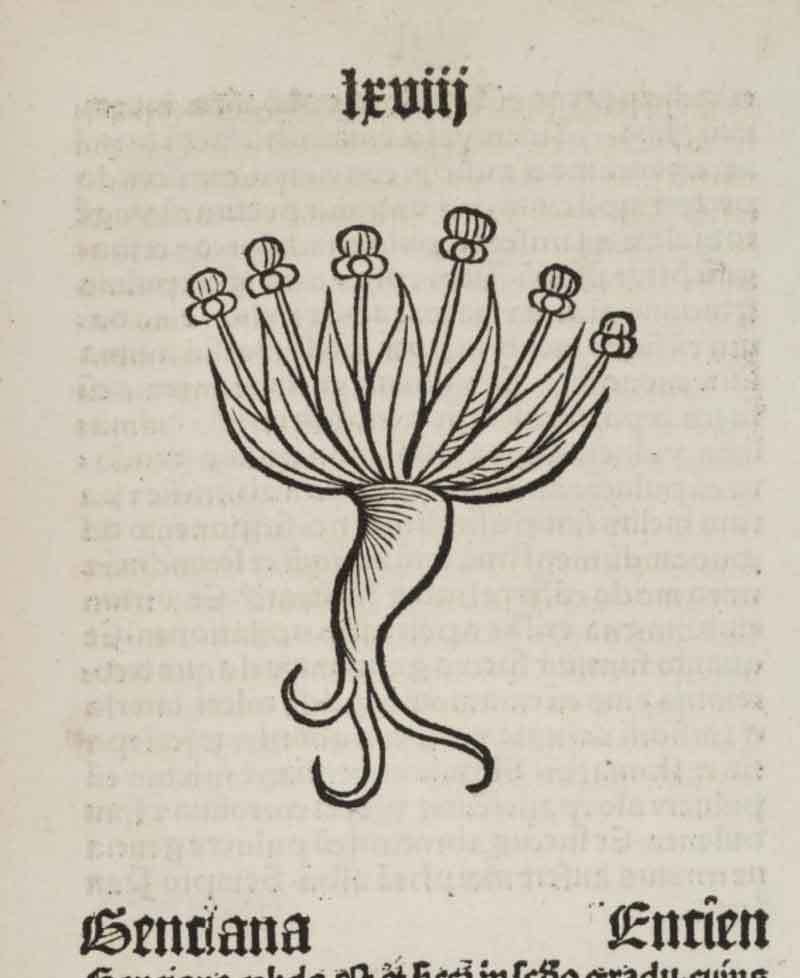 Schöffer, Peter (ca. 1425–ca. 1502.),
[R]ogatu plurimo[rum] inopu[m] num[m]o[rum] egentiu[m] appotecas refuta[n]tiu[m] occasione illa, q[uia] necessaria ibide[m] ad corp[us] egru[m] specta[n]tia su[n]t cara simplicia et composita
. Mainz: 1484. Plate 68.
Botanicus
---
Genciana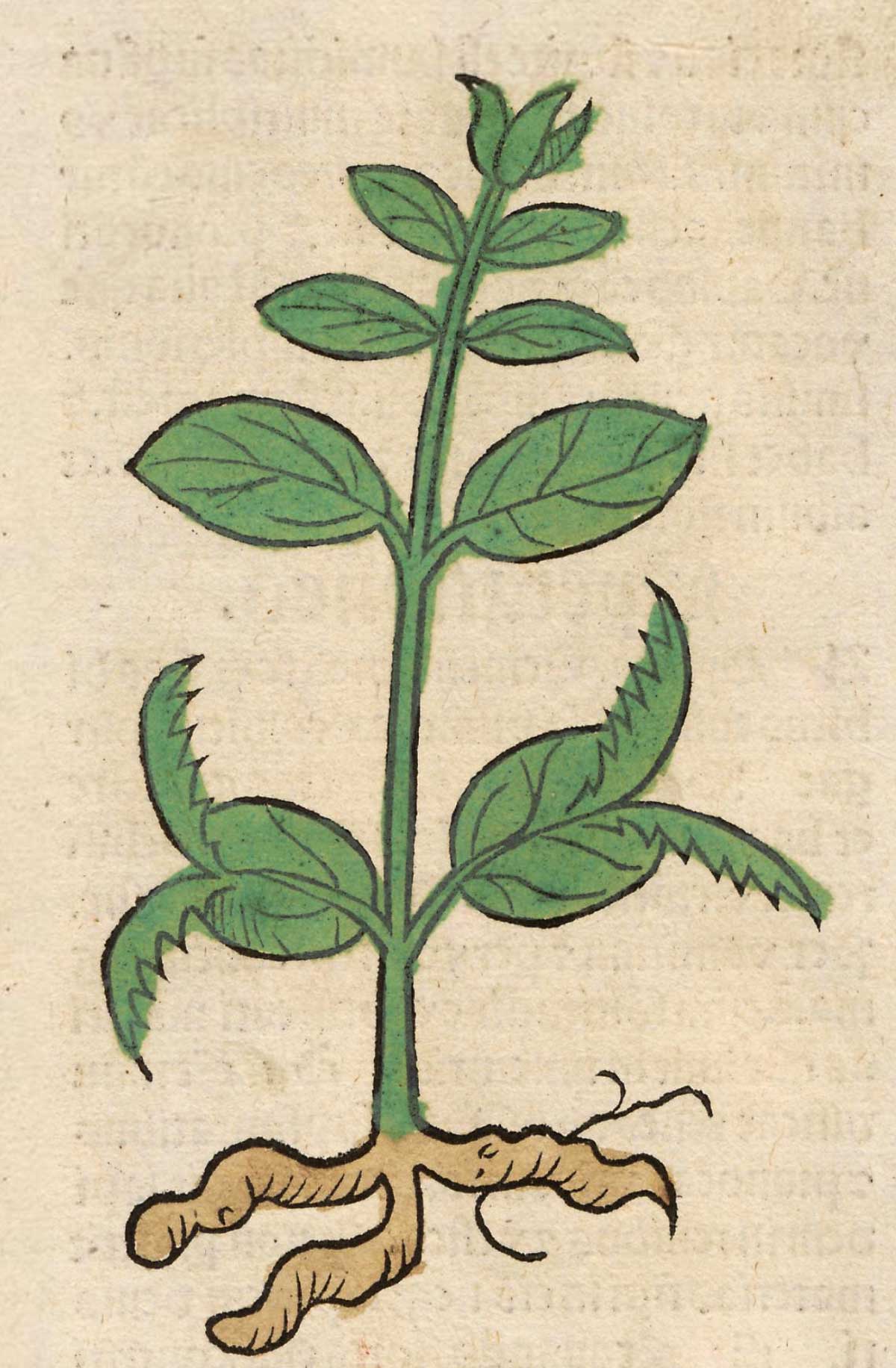 ---
Genciana (text)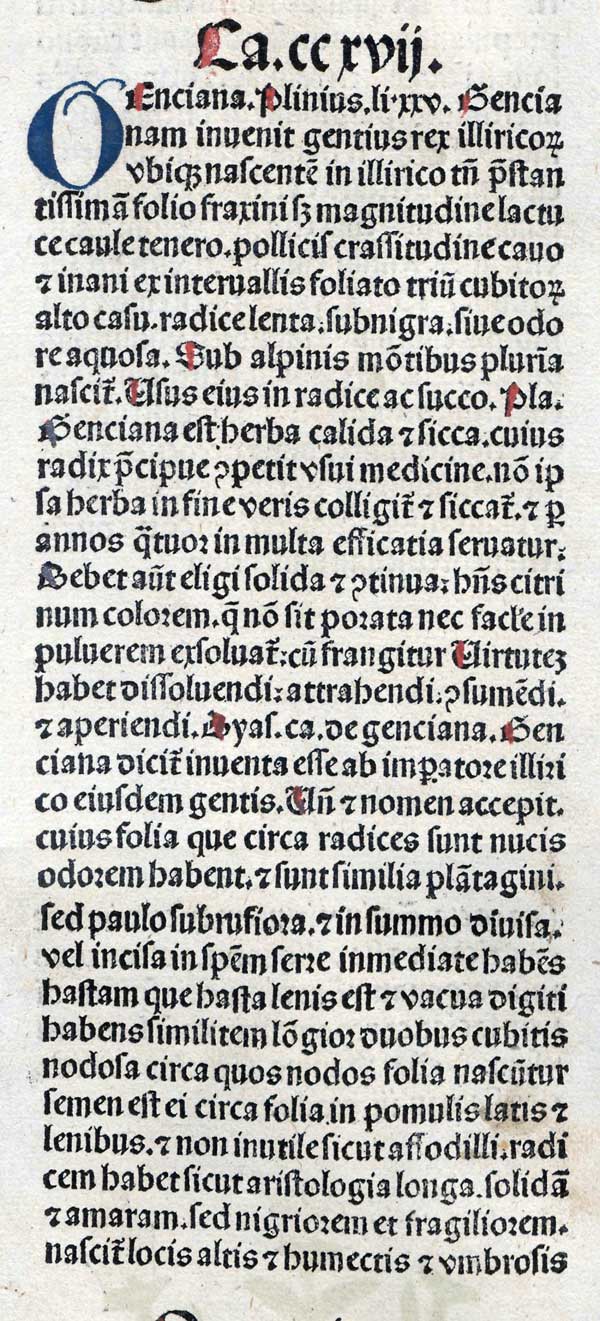 ---
Gentiana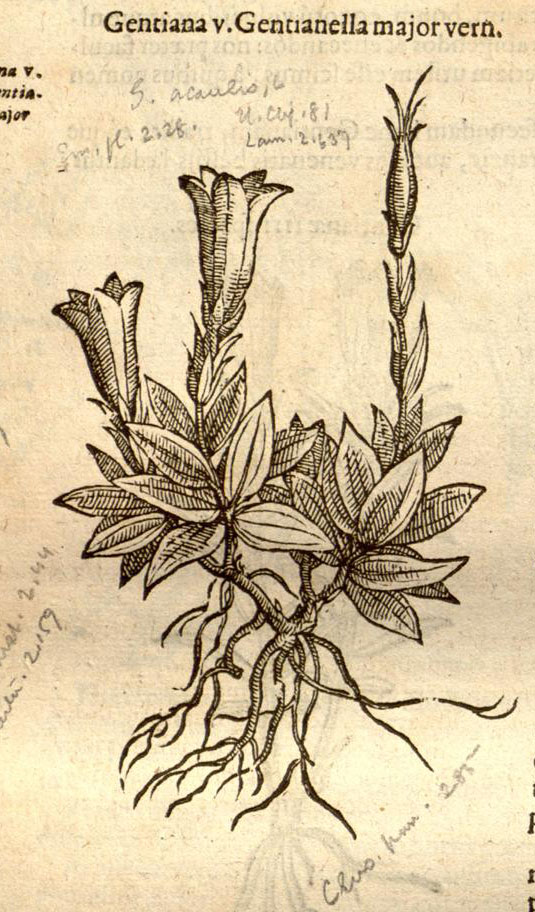 Gentiana acaulis L.
Gentiana V Gentianella major verna
Clusius, Carolus (1526-1609),
Rariorum plantarum historia vol. 1
. Antverpiae: Joannem Moretum, 1601. fasicle 3, p. 314.
Plantillustrations.org
---
Gentiana
Pliny xxv. 7, § 34.
Rabelais, François (ca. 1483–1553),
The Five Books and Minor Writings. Volume 1: Books I-III
. William Francis Smith (1842–1919), translator. London: Alexader P. Watt, 1893.
Internet Archive
---
Gentian
Gentianam invenit Gentius rex Illyriorum, ubique nascentem, in Illyrico tamen praestantissimam, folio fraxini, sed magnitudine lactucae, caule tenero pollicis crassitudine, cavo et inani, ex intervallis foliato, trium aliquando cubitorum, radice lenta, subnigra, sine odore, aquosis montibus subalpinis plurima. usus in radice et suco. radicis natura est excalfactoria, sed praegnantibus non bibenda.
It was a king of the Illyrians named Gentius who discovered gentian, which, though it grows everywhere, is most excellent when it grows in Illyria. The leaf is like that of the ash but of the size of a lettuce leaf; the stem is tender and of the thickness of a thumb, hollow and empty, with leaves at intervals, sometimes three cubits in height, and growing from a pliant root, which is darkish and without smell. It grows abundantly on watery slopes near the foot of the Alps. The parts used are the root and the juice. The nature of the root is warming, but it should not be taken in drink by women with child.
Pliny the Elder (23–79 AD),
The Natural History. Volume 7: Books 24–27
. William Henry Samuel Jones (1876–1963), translator. Cambridge, Massachusetts: Harvard University Press, 1956. 25.034.
Loeb Classical Library
---
gentiane
Gentiana, genre de la famille des gentianées, renfermant de nombreuses espèces. « Gentianam invenit Gentius rex Illyriorum. » Pline XXV, 34. Gentiana lutea, L., dit Fée.
Rabelais, François (ca. 1483–1553),
Oeuvres. Édition critique. Tome Cinquieme: Tiers Livre
. Abel Lefranc (1863-1952), editor. Paris: Librairie Ancienne Honoré Champion, 1931. p. 348.
Internet Archive
---
Gentiane, de Gentius roy de Sclavonie
Roi d'Illyrie (Pline, XXV, xxxiv).
Rabelais, François (ca. 1483–1553), Œuvres complètes. Mireille Huchon, editor. Paris: Gallimard, 1994. p. 503, n. 13.
---
Slav
Slav. Forms: Sclaue, Sclave, Slave, Slav.
[In early use adaptation of medieval Latin Sclavus (recorded from c. 800), corresponding to late Greek Skla´boj (c 580): compare older German Sklave, Sclav(e, Schlav(e, Middle High German Schlaff. The later forms in Sl- correspond to modern German and French Slave, medieval Latin Slavus (951), and are closer to the Old Slavic and Russian forms.]
A person belonging by race to a large group of peoples inhabiting eastern Europe and comprising the Russians, Bulgarians, Serbo-Croats, Slovenes, Poles, Czechs, Slovaks, etc.
1387 John de Trevisa Higden (Rolls) IV. 417 Cirillus, apostel of þe Sclaves.
1387 John de Trevisa Higden VI. 249 He chastede þe Saxons and þe Sclaves.
1398 John de Trevisa Bartholomeus De proprietatibus rerus viii. xxii. (Tollem. MS.), Þe contre and londe of sclaues.
---