Original French: Euphorbium, de Euphorbus Medicin du roy Iuba:
Modern French: Euphorbium, de Euphorbus Medicin du roy Juba:
---
---
Notes
Euforbium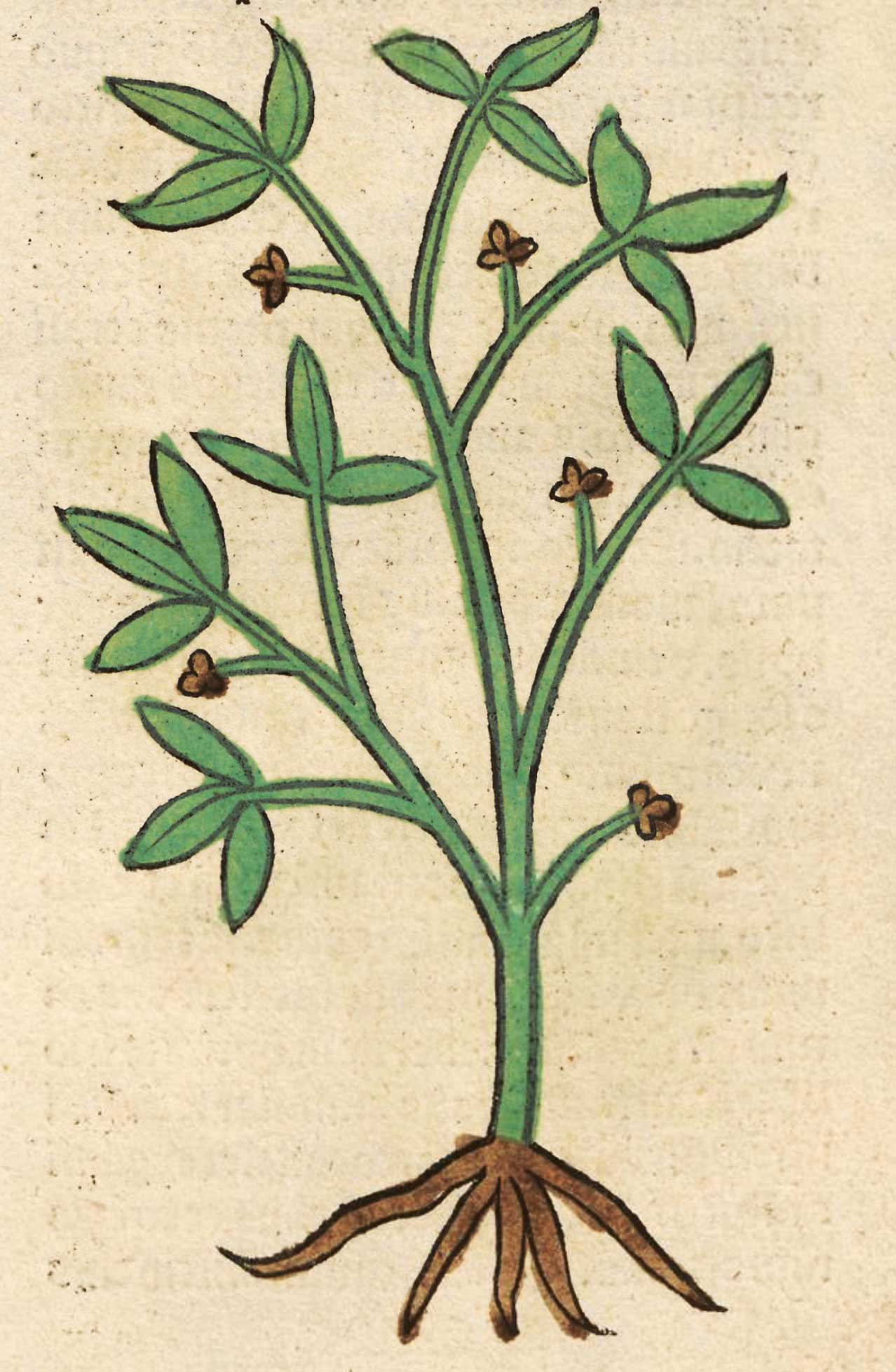 ---
Euforbium (text)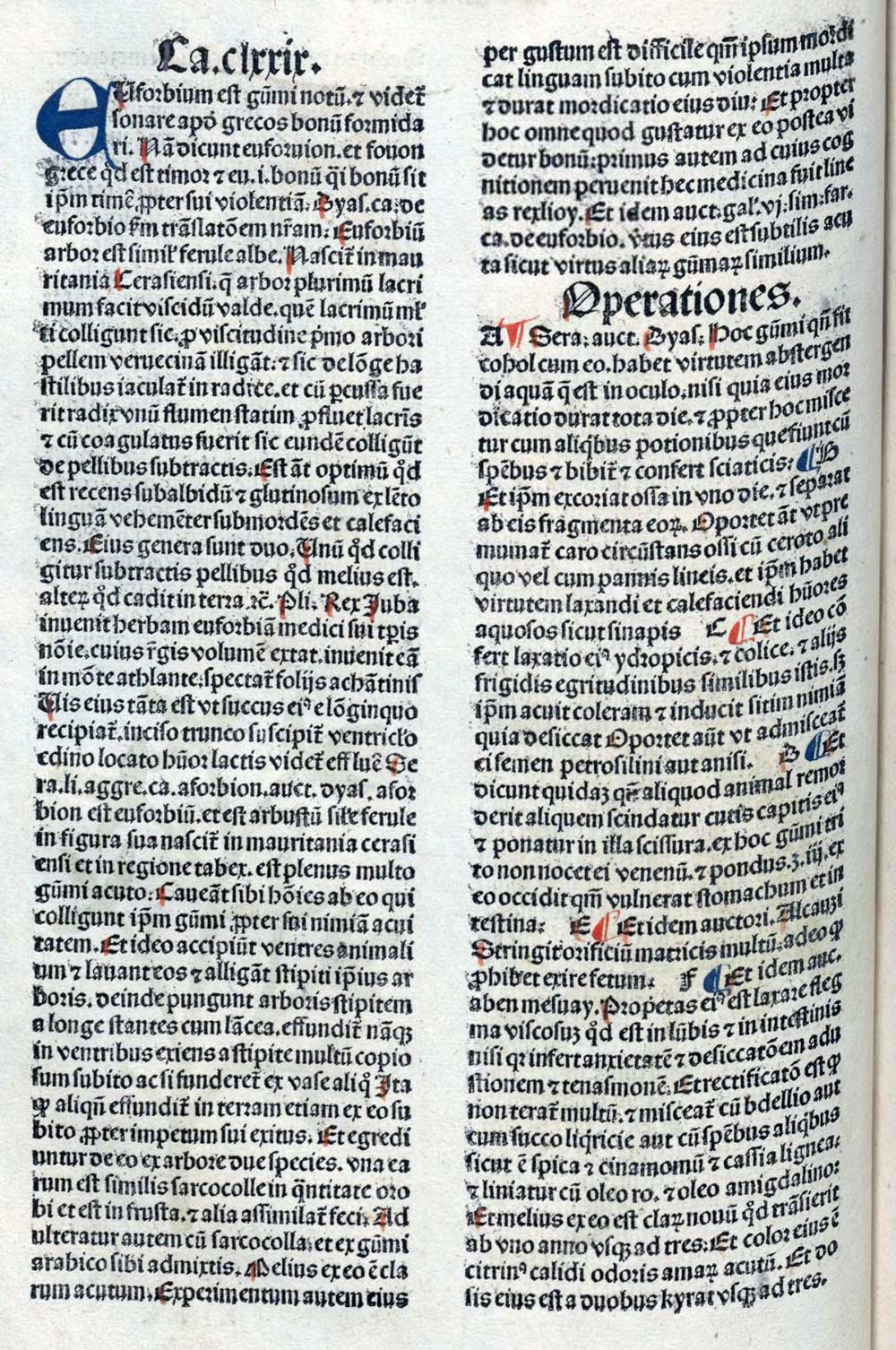 ---
Euphorbia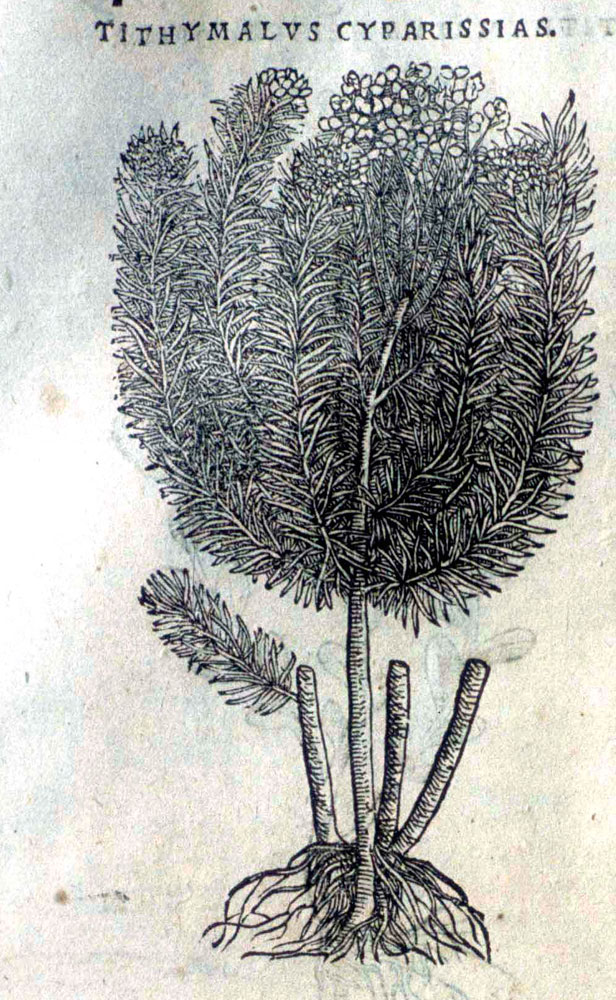 tithymalus cyparissias
Euphorbia cyparissias L.
Cypres spurge
Laguna, Andres (ca. 1511 – 1559),
Annotationes in Dioscoridem Anazarbeum … iuxta vetustissimorum codicum fidem elaboratae.
. Lyon: Apud Gulielmum Rovillium, 1554. p. 480.
Smithsonian Libraries
---
Euphorbia
Spurge. Pliny xxv. 7, § 38.
Rabelais, François (ca. 1483–1553),
The Five Books and Minor Writings. Volume 1: Books I-III
. William Francis Smith (1842–1919), translator. London: Alexader P. Watt, 1893.
Internet Archive
---
euphorbia
« Invenit et partum nostrorum ætate rex Juba, quam appellavit euphorbiam, medici sui nomine ». Pline, XXV, 38. C'est Euphorbia (Diacanthium) officinarum, L. (Paul Delaunay)
Rabelais, François (ca. 1483–1553),
Oeuvres. Édition critique. Tome Cinquieme: Tiers Livre
. Abel Lefranc (1863-1952), editor. Paris: Librairie Ancienne Honoré Champion, 1931. p. 347.
Internet Archive
---
euphorbia
Invenit et patrum nostrorum aetate rex Iuba quam appellavit euphorbeam medici sui nomine. frater is fuit Musae a quo divum Augustum conservatum indicavimus. iidem fratres instituere a balineis frigida multa corpora adstringere. antea non erat mos nisi calida tantum lavari, sicut apud Homerum etiam invenimus. sed Iubae volumen quoque extat de ea herba et clarum praeconium. invenit eam in monte Atlante, specie thyrsi, foliis acanthinis. vis tanta est ut e longinquo sucus excipiatur incisa conto; subitur excipulis ventriculo haedino. umor lactis videtur defluens siccatus cum coiit, turis effigiem habet. qui colligunt clarius vident. contra serpentes medetur, quacumque parte percussa vertice inciso et medicamento addito ibi. Gaetuli qui legunt taedio lacte adulterant, sed discernitur igni, id enim quod sincerum non est fastidiendum odorem habet. multum infra hunc sucum est qui in Gallia fit ex herba chamelaea granum cocci ferente. fractus hammoniaco similis est, etiam levi gustu os accensum diu detinens et magis ex intervallo, donec fauces quoque siccet.
In the age too of our fathers King Juba [Juba is probably the son of the Juba who committed suicide after Thapsus. He was brought to Rome by Caesar and carefully educated] discovered a plant to which he gave the name euphorbea, calling it after his own physician Euphorbus. This man was the brother of the Musa we have mentioned as the saviour of the life of the late Emperor Augustus. It was these brothers who first adopted the plan of bracing the body by copious douches of cold water after the bath. Before this the custom was to bathe in hot water only, as we find that it is also in Homer. But the treatise also of Juba on this plant is still extant, and it makes a splendid testimonial. He discovered it on Mount Atlas: it has the appearance of a thyrsus and the leaves of the acanthus. Its potency is so great that the juice, obtained by incision with a pole, is gathered from a distance; it is caught in receivers made of kids' stomachs placed underneath. Fluid and like milk as it drops down, when it has dried and congealed it has all the features of frankincense. The collectors find their vision improved. It is employed as treatment for snake-bite. In whatever part of the body the bite may be, an incision is made in the top of the skull and the medicament inserted there. The Gaetulians who gather the juice adulterate it out of weary disgust by adding milk, but fire is a test of genuineness, for that which is adulterated emits a nauseating smell. Far inferior to the Atlas juice is that which in Gaul comes from the ground-olive, which bears a red berry like kermes. Broken it resembles hammoniacum, and even a slight taste leaves for a long time a burning sensation in the mouth; after a while this increases until it dries up even the throat.
Pliny the Elder (23–79 AD),
The Natural History. Volume 7: Books 24–27
. William Henry Samuel Jones (1876–1963), translator. Cambridge, Massachusetts: Harvard University Press, 1956. 25.038.
Loeb Classical Library
---
euphorbia
euphorbia (which furnish castor oil and croton oil) named for Euphorbus, Greek physician to King Juba of Numidia, in the days of the Cæsars.
Rabelais, François (ca. 1483–1553), Complete works of Rabelais. Jacques LeClercq (1891–1971), translator. New York: Modern Library, 1936.
---
Juba
Roi de Numidie (Pline, xxv, xxxviii).
Rabelais, François (ca. 1483–1553), Œuvres complètes. Mireille Huchon, editor. Paris: Gallimard, 1994. p. 503.
---
Euphorbus the physician
Euphorbus was the Greek physician of Juba II (50 BC – AD 23), king of Numidia. He wrote that a succulent plant, similar to the Euphorbia, was a powerful laxative. In 12 BC, Juba named this plant after his physician Euphorbus in response to Augustus dedicating a statue to Antonius Musa, Augustus's own personal physician and Euphorbus' brother.
---
euphorbium
Euphorbium. Also euf-, eufforbium. [adopted from Latin euphorbeum = euphorbea.]
=Euphorbia. Obsolete
1607 Sylvester Du Bartas ii. iv. ii. (1605-7) iii. 67 His Shield… freng'd about with sprigs of Scammonie, And of Euphorbium, forged cunningly.
1626 Bacon Sylva (1631) §639 Euphorbium also hath a Milke… not very white, which is of a great Acrimony.
A gum resin obtained from certain succulent species of Euphorbia. It is an extremely acrid substance, formerly used as an emetic and purgative. The powder causes violent sneezing.
C. 1400 Lanfranc's Cirurg. (MS. A) 43 To drie bodies he muste be medlid wiþ a litil euforbium [printed enforbium].
C. 1530 Hickscorner in Hazl. Dodsley I. 178 He… spake To a prentice for a penny-worth of euphorbium.
1653 Urquhart Rabelais ii. xvi, Another [pocket] he had all full of Euphorbium very finely pulverised… shaking it [his handkerchief] hard at their nose [he] made them sneeze for foure hours without ceasing.
---
Euphorbia
Euphorbia. Also euforbia. [adopted from Latin euphorbea, formed on Euphorbus, the name of a physician to Juba king of Mauritania.]
The Latin and botanical name of the Spurge genus (N.O. Euphorbiaceæ), comprising many species, which vary from a herbaceous plant in temperate regions, to a tree-like growth in warm climates. They are marked by two almost constant characteristics, the secretion of a viscid milky juice, and the peculiar inflorescence of having a number of stamens round a stalked and three-celled ovary.
1398 John de Trevisa Bartholomeus De proprietatibus rerus xv. xciii. (1495) 524 In Mauritanea groweth an herbe callyd Euforbia… the whyte juys therof is wonderly praysyd in clerenesse of sight.
1601 Philemon Holland, translator Pliny's History of the world, commonly called the Natural historie II. 222 Iuba king of Mauritania, found out the herb Euphorbia, which he so called after the name of his own Physitian Euphorbus.
---
juba
juba [Latin juba mane, foliage of trees]
1688 R. Holme Armoury ii. 100/1 Rice..beareth a seed in a sparsed juba, or tuft.
1706 Phillips, Juba, the Main of a Horse..; among Herbalists a soft loose Beard which hangs at the end of the Husks of some Plants that are of the nature of Corn particularly in Millet.
---