Among plants in some way similar to Pantagruelion, referred to throughout Chapter 49.
The leaves of eupatorium are said to have a shape similar to those of Pantagruelion.
Rabelais also mentions eupatoria in Chapter 50, among the plants named from those who first invented, knew, demonstrated, cultivated, domesticated, or appropriated them.
---
Notes
Eupatorium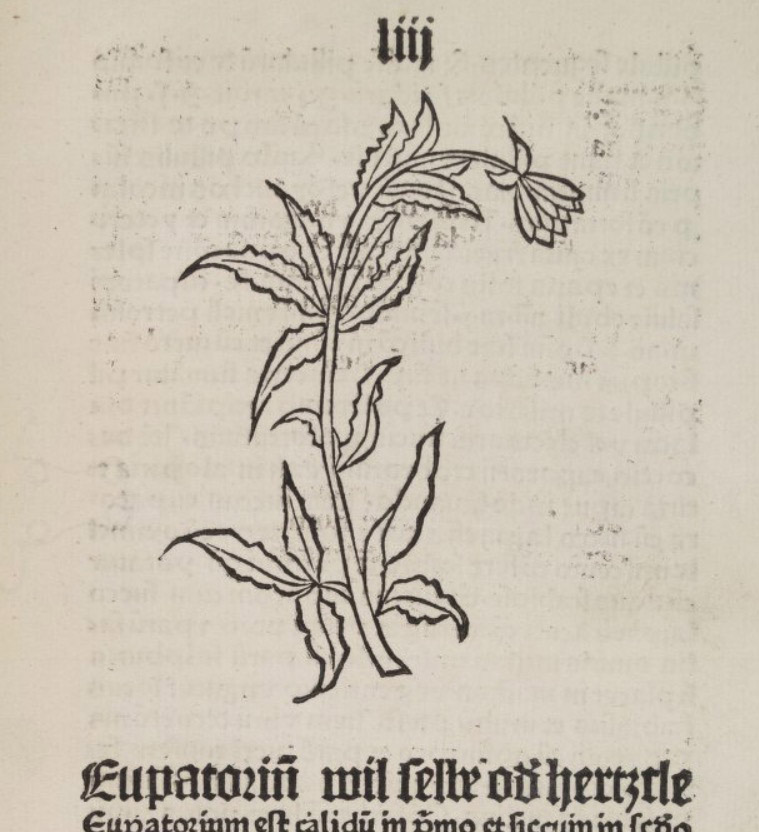 Schöffer, Peter (ca. 1425–ca. 1502),
[R]ogatu plurimo[rum] inopu[m] num[m]o[rum] egentiu[m] appotecas refuta[n]tiu[m] occasione illa, q[uia] necessaria ibide[m] ad corp[us] egru[m] specta[n]tia su[n]t cara simplicia et composita
. Mainz: 1484. Plate 53.
Botanicus
---
Eupatorium (text)

---
Eupatorium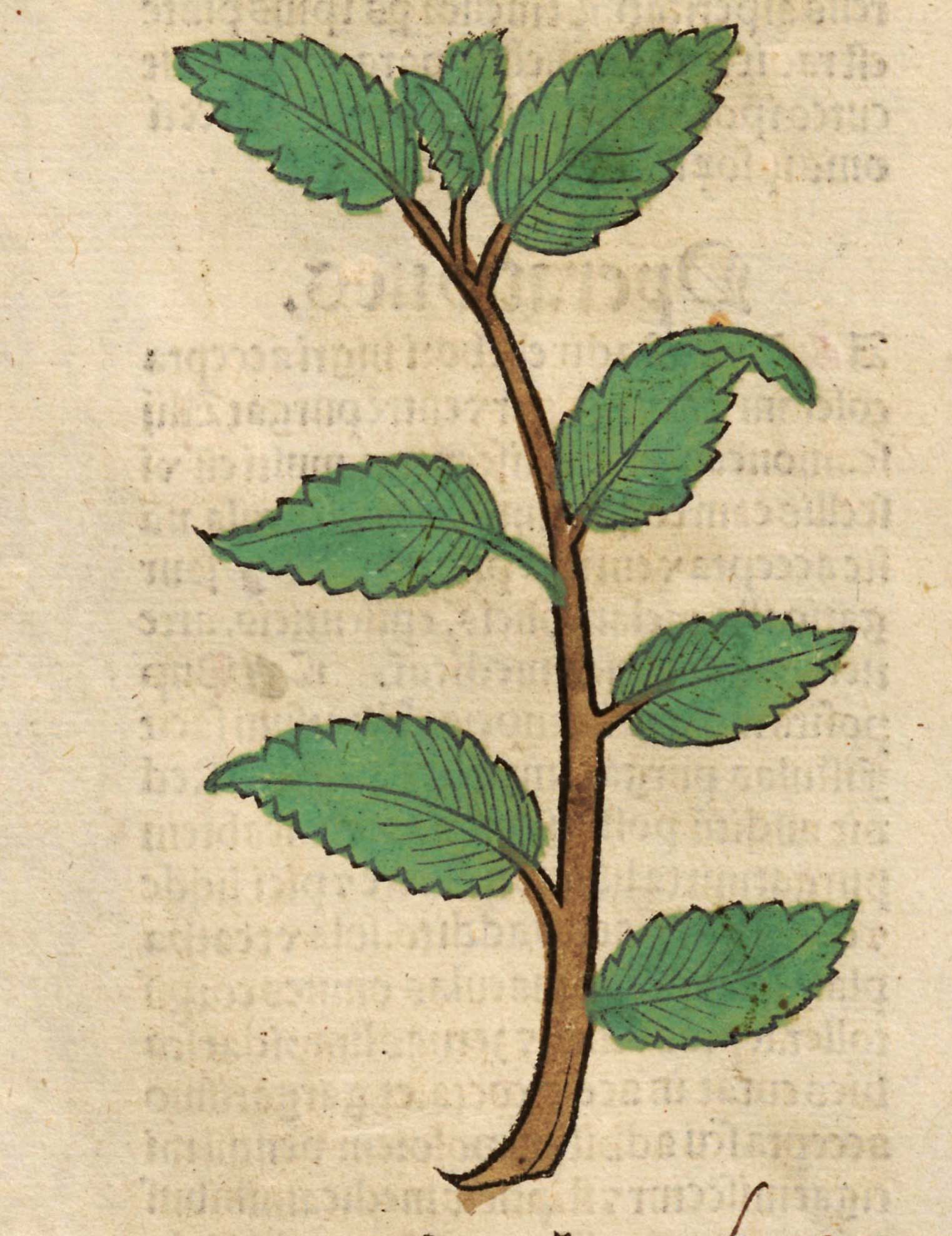 ---
Canapis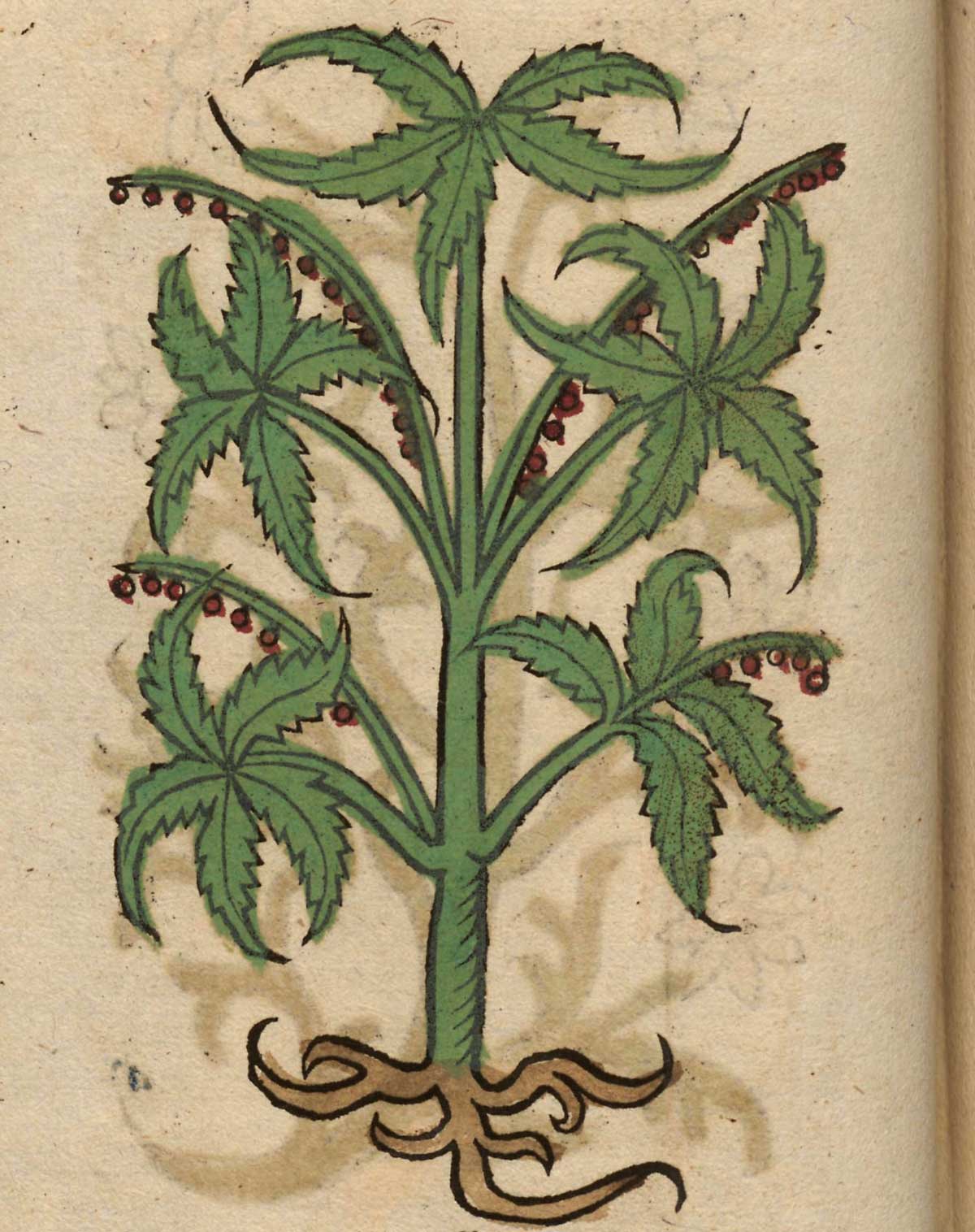 Seems more similar to eupatorium than to cannabis.
---
Eupatorium cannabinum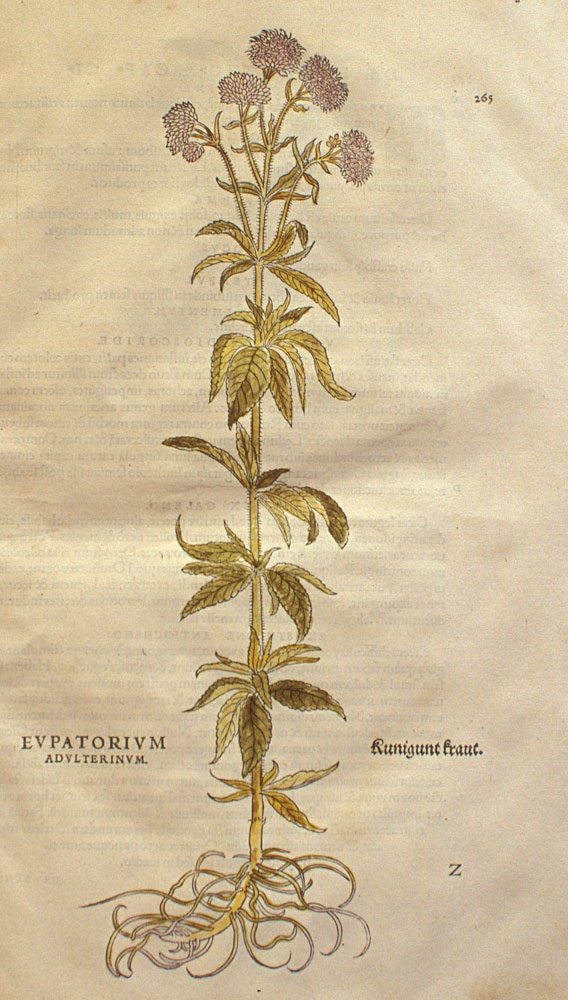 Plate caption: Eupatorium adulterinum
Kunigunt kraut
Eupatorium cannabinum L.
English: hemp agrimony
French: eupatoire
German: Wasserdostkraut
Fuchs, Leonhart (1501–1566),
De historia stirpium commentarii insignes…
. Basil: In Officina Isingriniana, 1542.
Archive.org
---
eupatorium
Eupatoria quoque regiam auctoritatem habet, caulis lignosi, nigricantis, hirsuti, cubitalis et aliquando amplioris, foliis per intervalla quinquefolii aut cannabis per extremitates incisis quinquepertito, nigris et ipsis plumosisque, radice supervacua. semen dysintericis in vino potum auxiliatur unice.
Eupatoria [Eupator was a surname of Mithridates VI, King of Pontus. See § 62 and XXXIII. § 151.] too enjoys the prestige of a royal discoverer. It has a ligneous stem, dark, hairy, and a cubit or sometimes more in height; the leaves, arranged at intervals, are like those of cinquefoil or hemp, and have five indentations along the edge; they too are dark and feathery. The root is useless, but the seed taken in wine is a sovereign remedy in cases of dysentery.
Pliny the Elder (23–79 AD),
The Natural History. Volume 7: Books 24–27
. William Henry Samuel Jones (1876–1963), translator. Cambridge, Massachusetts: Harvard University Press, 1956. 25.029.
Loeb Classical Library
---
1544
Cannabis, Du chanvre. Cannabis erratica similis est Eupatorio.
Estienne, Charles (1504–1564),
De Latinis et Graecis nominibus arborum, fruticum, herbarum, piscium & avium liber : ex Aristotele, Theophrasto, Dioscoride, Galeno, Nicandro, Athenaeo, Oppiano, Aeliano, Plinio, Hermolao Barbaro, et Joanne Ruellio : cum Gallica eorum nominum appellatione
. Paris: 1544. p. 20.
Bibliothèque nationale de France
---
eupatoire
Read Eupatorium or Eupatoria, Eupator was not the Herb itself, but the King from whom it had its name.
Rabelais, François (1483?–1553), The Works of Francis Rabelais, M.D. The Third Book. Now carefully revised, and compared throughout with the late new edition of M. Le du Chat. John Ozell (d. 1743), editor. London: J. Brindley, 1737. p. 338.
---
eupatoire
Sorte d'herbe médicale.
Rabelais, François (1483?–1553),
Le Rabelais moderne, ou les Œuvres de Rabelais mises à la portée de la plupart des lecteurs
. François-Marie de Marsy (1714-1763), editor. Amsterdam: J.-F. Bernard, 1752. p. 143.
Google Books
---
chanvre
CHANVRE, s. m. (Hist. nat.) cannabis, genre de plante à fleurs sans pétales, composée de plusieurs étamines soûtenues sur un calice, & stérile, comme l'a observé Cæsalpin. Les embryons sont sur les plants qui ne portent point de fleurs; iis deviennent des capsules qui renferment une semence arrondie. Tournefort, Inst. rei herb.
On connoît deux sortes de chanvre, le sauvage, & le domestique.
Le sauvage, cannabis erratica, paludosa, sylvestris, Ad. Lobel. est un genre de plante dont les feuilles sont assez semblables à celles du chanvre domestique, hormis qu'elles sont plus petites. plus noires, & plus rudes; du reste cette plante ressemble à la guimauve, quant à ses tiges, sa graine, & sa racine.
Le chanvre domestique dont il s'agit ici, est caractérisé par nos Botanistes de la maniere suivante.
Ses feuilles disposées en main ouverte naissent opposées les unes aux autres: ses fleurs n'ont point de pétales visibles; la plante est mâle & femelle.
On la distingue donc en deux especes, en mâle & en femelle; ou en féconde qui porte des fruits, & en stérile qui n'a que des fleurs; l'une & l'autre viennent de la même graine,
Le chanvre à fruit, cannabis fructifera Offic. cannabis sativa, Park. C.B.P. 320. Hist. oxon. 3. 433. Rau, hist. 1. 158. synop. 53. Boerh. Ind. A. 2. 104. Tournef. inst. 535. Buxb. 53. cannabis mas. J. B. 3. P. 2. 447. Ger. emac. 708. cannabina facunda, Dod. pempt 535.
Le chanvre à fleurs, cannabis florigera, Offic, cannabis erratica, C. B. P. 320. 1. R. H. 535, cannabis famina, J.B. 32. 447. cannab. sterilis, Dod. pemp. 535.
---
eupatoire
L'eupatoire d'Avicenne, Eupatorium cannabinum L., (Composée), a des feuilles composées, à 3-5 lobes lancéoles-acuminées, dentés, assez semblables à celles du chanvre. (Paul Delaunay)
Rabelais, François (1483?–1553),
Oeuvres. Édition critique. Tome Cinquieme: Tiers Livre
. Abel Lefranc (1863-1952), editor. Paris: Librairie Ancienne Honoré Champion, 1931. p. 340.
Internet Archive
---
Gravelroot
Gravelroot
Botanical: Eupatorium purpureum (LINN.)
Family: N.O. Compositae
Synonyms: Trumpet-weed. Gravelweed. Joe-pye Weed. Jopi Weed. Queen-of-the-Meadow Root. Purple Boneset. Eupatorium purpureum, trifoliatum, and maculatum. Eupatorium verticillatum. Eupatorium ternifolium. Hempweed.
Grieve, Sophie Emma Magdalene (1858–1941),
A Modern Herbal
. 1931.
Botanical.com
---
euaptoire
L'eupatoire a des feuilles semblables à celles du chanvre.
Rabelais, François (1483?–1553), Œuvres complètes. Mireille Huchon, editor. Paris: Gallimard, 1994. p. 501, n. 8.
---
Eupatoire
Les feuilles de l'eupatoire ressemblent à celles du chanvre. De là le classement prêté ensuite aux «herbires», aux botanistes.
Rabelais, François (1483?–1553), Le Tiers Livre. Edition critique. Jean Céard, editor. Librarie Général Français, 1995. p. 446.
---
Eupatorium
Eupatorium [modern Latin, adopted from Greek eupatorion, Agrimonia Eupatorium, so called from Mithridates Eupator, king of Pontus, who first used it.]
A genus of the order Compositæ, abundant in America; only one species, E. cannabinum, Hemp Agrimony, being British.
[1578 Henry Lyte, tr. Dodoens' Niewe herball or historie of plantes i. xxxix. 57 Agrimonie is called… in Latine Eupatorium, and Hepatorium: in shoppes Agrimonia. ]
1578 Lyte Dodoens i. xl. 59 The male Bastarde Agrimonie, is called in Shoppes Eupatorium
---