---
Notes
Letter of Gargantua to Pantagruel
Comment Pantagruel estant à Paris receupt lettres de son pere Gargantua, et la copie d'icelles.
Et quant à la congnoissance des faitz de nature, Ie veulx que tu t'y adonne curieusement, qu'il n'y ait mer, ryviere, ny fontaine, dont tu ne congnoisse les poissons, tous les oyseaulx de l'air, tous les arbres arbustes & fructices des forestz, toutes les herbes de la terre, tous les metaulx cachez au ventre des abysmes, les pierreries de tout orient & midy, riens ne te soit incongneu. Puis songneusement revisite les livres des medecins, Grecs, Arabes, & Latins, sans contemner les Thalmudistes & Cabalistes, & par frequentes anatomyes acquiers toy parfaicte congnoissance de l'aultre monde, qui est l'homme. Et par quelques heures du iour comme à visiter les sainctes lettres. Premierement en Grec le nouveau testament et Epistres des apostres, & puis en Hebrieu le vieulx testament.
…
François Rabelais [ca. 1483–1553]
Pantagruel
Chapter 8
Lyon: Claude Nourry, 1532
Athena
---
Theophrastus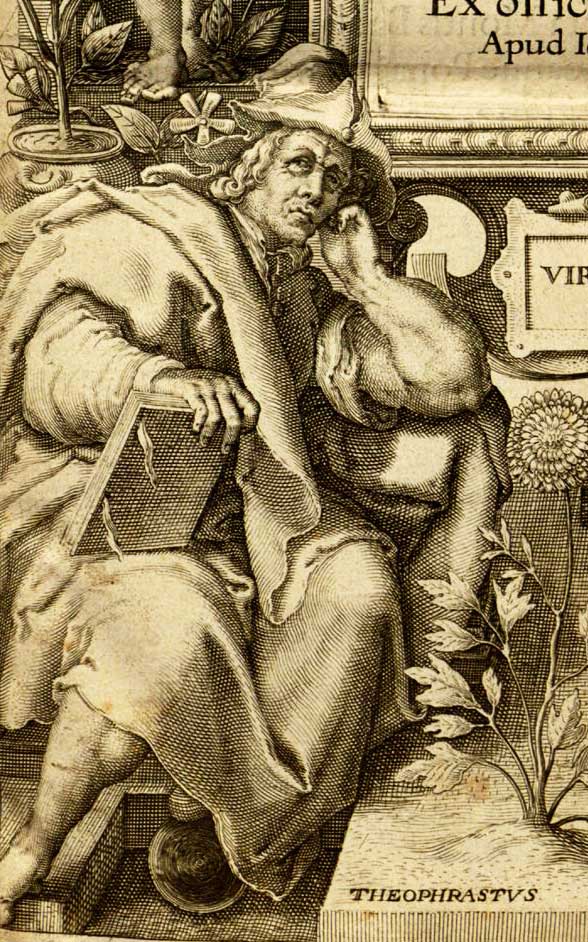 Carolus Clusius [1526-1609]
Rariorum plantarum historia vol. 1
Title page
Antverpiae: Joannem Moretum, 1601
Plantillustrations.org
---
Theophrastus
Theophrastus (c. 371 – c. 287 BC), a Greek native of Eresos in Lesbos, was the successor to Aristotle in the Peripatetic school. He came to Athens at a young age and initially studied in Plato's school. After Plato's death, he attached himself to Aristotle. Aristotle bequeathed to Theophrastus his writings and designated him as his successor at the Lyceum. Theophrastus presided over the Peripatetic school for 36 years, during which time the school flourished greatly. He is often considered the father of botany for his works on plants.
---