---
Notes
Olonne-sur-mer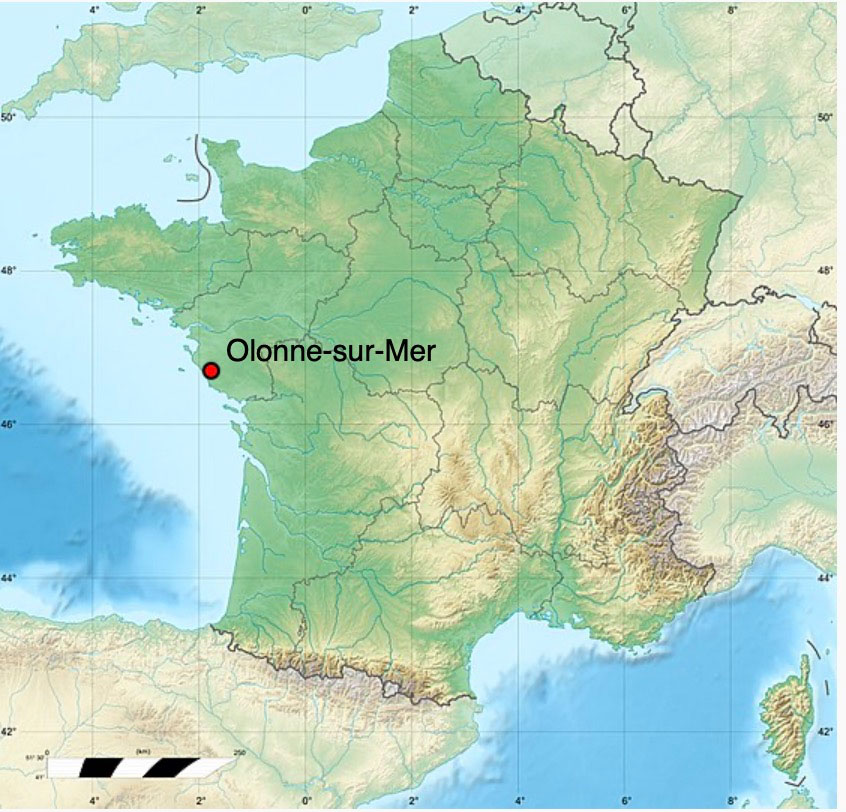 ---
Le port des Sables D'Olone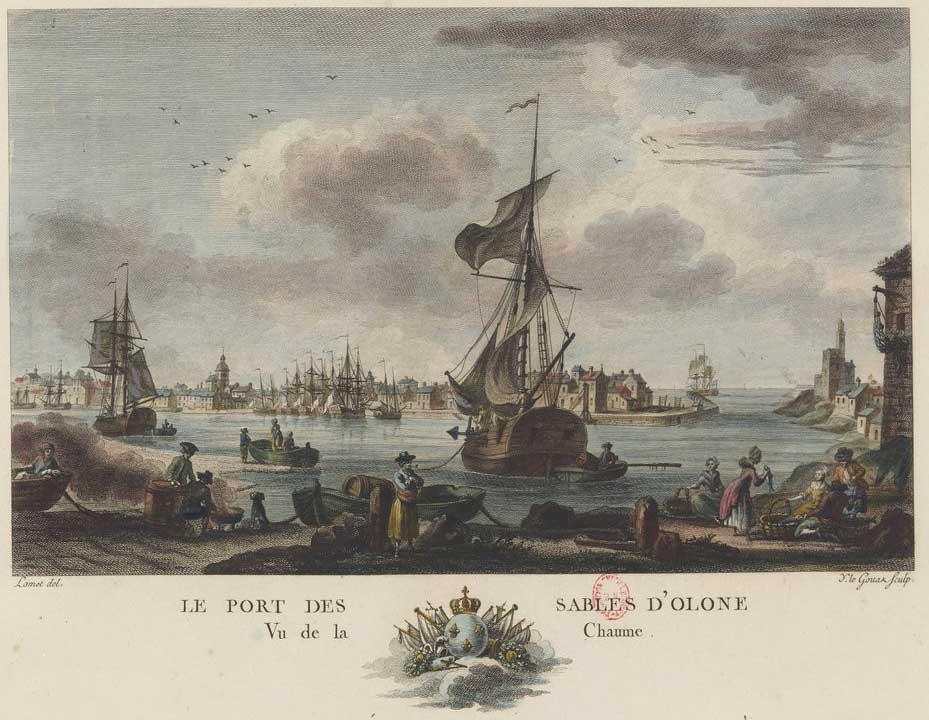 Le port des Sables D'Olone. Vu de la Chaume
Ozanne, Nicolas-Marie (1728-1811),
Nouvelles vues perspectives des ports de France. dessinées pour le Roi par M. Ozanne…
. Yves-Marie Le Gouaz (Graveur), 1742-1816. Paris: Le Gouaz, 1776.
Bibliothèque nationale de France
---
Cannabis (hemp) in Pliny
There remain the garden plants of the fennel-giant class, for instance fennel, which snakes are very fond of, as we have said, and which when dried is useful for seasoning a great many dishes, and thapsia, which closely resembles it, of which we have spoken among foreign bushes, and then hemp, which is exceedingly useful for ropes. Hemp is sown when the spring west wind sets in; the closer it grows the thinner its stalks are. Its seed when ripe is stripped off after the autumn equinox and dried in the sun or wind or by the smoke of a fire. The hemp plant itself is plucked after the vintage, and peeling and cleaning it is a task done by candle light. The best is that of Arab-Hissar, which is specially used for making hunting-nets. Three classes of hemp are produced at that place: that nearest to the bark or the pith is considered of inferior value, while that from the middle, the Greek name for which is 'middles', is most highly esteemed. The second best hemp comes from Mylasa. As regards height, the hemp of Rosea in the Sabine territory grows as tall as a fruit-tree.
Pliny the Elder (23–79 AD),
The Natural History. Volume 5: Books 17–19
. Harris Rackham (1868–1944), translator. Cambridge, Massachusetts: Harvard University Press, 1950. 19.56.
Loeb Classical Library
---
Olone
xvi. Comment Gargantua fut envoyé à Paris, et de l'enorme iument que l'emporta, & comment elle deffist les mousches bovines de la Beauce.
…
Vous ne l'avez pas telle, vo' aultres paillards de plat pays, Et fut amenée par mer en troys carracques & un brigantin, iusques au port de Olone en Thalmondoys. Lors que Grantgousier la veit, Voicy (dist il) bien le cas pour porter mon filz à Paris. Or cza de par dieu, tout va bien.
Rabelais, François (1494?–1553),
La Vie Inestimable du Grand Gargantua, Pere de Pantagruel, iadis composée par l'abstracteur de quinte essence
. Lyon: François Juste, 1534. Ch. xvi.
Athena
---
Olone
Bourg du Poitou qui est environné de marais où la mer se répand dans les hautes marées, et par conséquent de salines. Ce n'est donc pas sans motif qu'il nomme ce bourg préférablement à tout autre lieu, comme abondant en pantagruélion, si déja on y avoit fait usage de cette herbe pour réprimer les révoltes que la gabelle a pu y occasioner dès 1541. Voyez le commentaire historique du chapitre II du livre II. Mais il se pourroit qu'il fît plutôt ici allusion à la grande jument de Gargantua, qui fit amenée par mer au port d'Olone, et delà à Paris (voyez le chapitre xvi du livre I), c'est-à-dire à Diane de Poitiers. Cette maîtresse persécutoit les réformés, tant pour assouvir son avarice que parceque la duchesse d'Étampes les favorisoit. «Plusieurs personnes, dit Fra-Paolo, furent pareillement brûlées en France pour la religion, au grand déplaisir de gens de bien, qui savoient que la recherche rigoureuse de ces misérables ne se faisoit pas par un motif de piété, mais pour rassasier l'avarice énorme de la duchesse de Valentinois, maîtresse du roi, à qui il avoit donné toutes les confiscations de ceux qui seroient suppliciés pour cause d'hérésie.» Il n'y a en effet, comme le remarque Amelot de la Houssaye dans sa préface, qu'à lire les histories de France pour savoir si Fra-Paolo ne dit pas vrai (quand il assure que les gens désinteressés regardoient avec indignation les exécutions fréquentes qui se faisoient en France, au sujet de la religion, sous Henri II), et si la persécution que Henri faisoit aux réformés venoit d'un zèle de religion ou d'une complaisance aveugle pour la duchesse de Valentinois sa maîtresse, qui les haïssoit à mort, en haine de la duchesse d'Étampes, qui les soutenoit.»
Rabelais, François (1494?–1553),
Œuvres de Rabelais (Edition Variorum). Tome Cinquième
. Charles Esmangart (1736–1793), editor. Paris: Chez Dalibon, 1823. p. 259.
Google Books
---
Olone
En Poitou.
Rabelais, François (1494?–1553), Œuvres de F. Rabelais. Nouvelle edition augmentée de plusieurs extraits des chroniques admirables du puissant roi Gargantua… et accompagnée de notes explicatives…. L. Jacob (pseud. of Paul Lacroix) (1806–1884), editor. Paris: Charpentier, 1840. p. 305.
---
Olonne
Olonne (i. 16) a seaport in Poitou surrounded by marshes and salt-works.
Rabelais, François (1494?–1553),
The Five Books and Minor Writings. Volume 1: Books I-III
. William Francis Smith (1842–1919), translator. London: Alexader P. Watt, 1893.
Internet Archive
---
Olone
How Gargantua was sent to Paris, and of the huge Mare that he rode on, and how she destroyed the Ox-flies of la Beauce
…
You have none such, you Rustics of the low Countries. And she was brought by Sea in three Caracks and a Brigantine, as far as the harbour of Olonne in Thalmondais. When Grandgousier saw her he said : "Ha ! here is just the Thing to carry my Son to Paris ! Ha ! Perdy ! all will go well
Rabelais, François (1494?–1553),
The Five Books and Minor Writings. Volume 1: Books I-III
. William Francis Smith (1842–1919), translator. London: Alexader P. Watt, 1893. Gargantua xvi.
Internet Archive
---
Sables-d'Olonnes
Sables-d'Olonnes (les), chef-lieux d'arrondissement (Vendée).
[Le chef-lieu d'arrondissement, dit ville de sous-préfecture et communément sous-préfecture, est la ville où siège le sous-préfet de l'arrondissement. L'arrondissement est une circonscription administrative déconcentrée de l'État français.]
« Et fut amenée par mer en troys carraques et un brigantin jusques au port de Olone en Thalmondoys. » Gargantua, Chapter 16, Comment Gargantua fut envoyé à Paris et de l'énorme jument qui le porta…
« Le bon traictement qu'ilz feirent ès Barbares de Spagnola qui avoient pillé, depopulé et saccaigé les fins maritimes de Olone et Thalmondois. » Gargantua, Chapter 50, La contion que feist Gargantua ès vaiuncus.
«Terrouoir doulx, uligineuls, leger, humide san froydure, comme est Olone. » Third Book, Chapter 49, …De l'herbe nommée Pantagruélion.
« Suyvre au plus près le parallele de la dicte Indie… de maniere… que l'eussent en pareille elevation comme il est au port d'Olone. » Fourth Book, Chapter 1, Comment Pantagruel monta sus mer…
« On n'y veit… force sables en Olone. » Pronostication 6. De l'estat d'aucuns pays.
Le port des Sables-d'Olonne, ou plutôt des Olonnes, puis-qu'il est situé entre les Sables et la Chaume d'Olonne, avait au XVIe siècle une importance qu'il a conservée jusqu'au XVIIIe. « Ce port, dit Bruzen de la Martinière, peur recevoir les plus gross vaisseaux de l'Océan et même une armée navale entière… On y voit quelquefois plus de cinquante navires qui viennent de l'Amerique où se fait la peche de la morue. »
Les fréquentes allusions que Rabelais fait à Olonne laissent penser qu'il connaissait très bien ce port du Bas-Poitou, à proximité de Fontenay et de Maillezais. C'est peut-être là qu'il puisa les premiers éléments de cette érudition navale dont il fait un assez complaisant étalange au chapitre de la tempête.
L'auteur de Pantagruel fait encore preuve d'une parfait connaissance du pays lorsqu'il parle de son « terrour doux, uligineux, léger, humide sans froidure, » éminemment favorable à la culture du pantagruélion, c'est-à-dire du chanvre. Quant à sa prophétie ironique d'une abondance de sables à Olonne, le nom moderne du port des Sables suffit à expliquer la plaisanterie. Toute la côte de Bas-Poitou, depuis l'îls de Noirmoutiers jusqu'à l'ambouchure du Lay, est inégalement garnie de dunes moins hautes et moins dangereuses que celles de Saintonge, mais assez mouvants pour constituer un danger permanent pour les prairies et le sol arable avoisinant.
Reste la descente des Espagnols sur le territoire d'Olonne; mais nous avouons n'en avoir retrouvé aucune trace. Maty-Laveaux renvoie à Belleforst, fol. 427 v°, passage qui ne concerne nullement l'événement rappelé par Rabelais.
Iconographie: Description d'Ollonne (portulan hollandais du XVIIe siècle, Cabinet des Estampes, Va 410). — Vue du port d'Olonne dans la série des portes de France d'Ozanne.
[Portulan chart: Portolan or portulan charts are navigational maps based on compass directions and estimated distances observed by the pilots at sea. They were first made in the 13th century in Italy, and later in Spain and Portugal, with later 15th and 16th century charts noted for their cartographic accuracy. With the advent of widespread competition among seagoing nations during the Age of Discovery, Portugal and Spain considered such maps to be state secrets. The English and Dutch, relative newcomers, found the description of Atlantic and Indian coastlines extremely valuable for their raiding, and later trading, ships. The word portolan comes from the Italian adjective portolano, meaning "related to ports or harbors" or "a collection of sailing directions".]
Talmondais (le), pays de Talmond (Vendée). Referred to in Gargantua, Chapters16 and 50, Fifth Book, Chapter 48.
Le Talmondais tirait son nom de la petite ville de Talmond (Vendée), qui en occupait à peu près le centre. Il comprenait le Brandois, les Olonnes, le Talmondais proprement dit et le Curzonnais. Son territoire était borné au nord par le Jaunay, à l'ouest par l'Océan, à l'est par l'Yon, au sud par le Lay et la baie de l'Aiguillon.
Clouzot, Henri (1865–1941), "Topographie rabelaisienne." In
Revue des études Rabelaisiennes. Tome 2
. Paris: Honoré Champion, 1904. pp. 247-48.
Bibliothèque nationale de France
---
Olone
Olonne. Adjourd'hui les Sables d'Olonne, ch.-l. arr.
Rabelais, François (1494?–1553),
Oeuvres. Édition critique. Tome Cinquieme: Tiers Livre
. Abel Lefranc (1863-1952), editor. Paris: Librairie Ancienne Honoré Champion, 1931. p. 339.
Internet Archive
---
Olone
Pline XIX, 175.
Rabelais, François (1494?–1553), Le Tiers Livre. Edition critique. Michael Andrew Screech (1926-2018), editor. Paris-Genève: Librarie Droz, 1964.
---
Olonne-sur-Mer
La Renaissance vit apparaître le Protestantisme et en réaction la Contre-Réforme. Le couvent des Cordeliers d'Olonne attira dans ce cadre des prédicateurs catholiques comme Jean Porthaire. François Rabelais, secrétaire de l'évêque de Maillezais fit de nombreuses tournées parmi les communautés religieuses du Bas-Poitou notamment à Olonne, où il est probable qu'il séjourna. Les Guerres de Religion virent des destructions à Olonne, située aux portes du bastion protestant de la Chaume.
---
The soil around Olonne
The observation on the soil around Sables d'Olonne, a seaport in the Poitou, is undoubtably a personal one. The herb [as hangman's noose] was used in supressing the revolt that la gabelle occasioned there in 1541.
[The gabelle was a very unpopular tax on salt in France that was established during the mid-14th century and lasted, with brief lapses and revisions, until 1946. The term gabelle is derived from the Italian gabella (a duty), itself originating from the Arabic word qabala (to receive).
In France, the gabelle was originally an indirect tax that was applied to agricultural and industrial commodities, such as bed sheets, wheat, spices, and wine. However, from the 14th century onward, the gabelle was limited and solely referred to the French crown's taxation of salt.
Because the gabelle affected all French citizens (for use in cooking, for preserving food, for making cheese and for raising livestock) and propagated extreme regional disparities in salt prices, the salt tax stood as one of the most hated and grossly unequal forms of revenue generation in the country's history.]
Unknown.
---