---
Notes
myrtus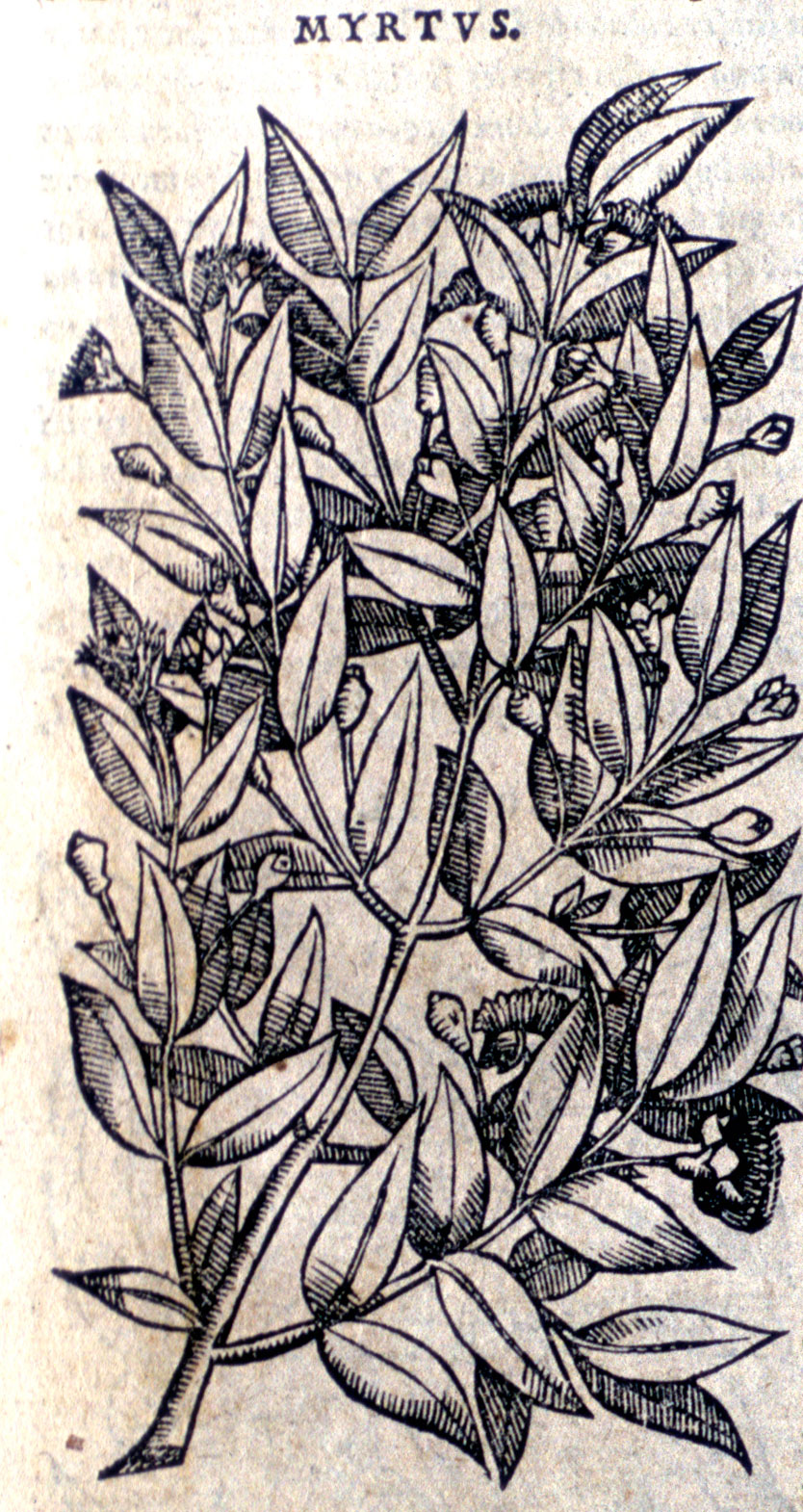 Myrtus communis
Andres Laguna [ca. 1511 – 1559]
Annotationes in Dioscoridem Anazarbeum … iuxta vetustissimorum codicum fidem elaboratae.
Lyon: Apud Gulielmum Rovillium, 1554
Smithsonian Libraries
---
Myrrh
Smith translates as "Myrrh, from Myrsine" and cites Ovid Met. x. 298-514.
François Rabelais [ca. 1483–1553]
Gargantua and Pantagruel
William Francis Smith [1842–1919], translator
London, 1893
---
myrte, de myrsine
Le Myrtus des Anciens est notre M. communis L. (Myrtacée.) — M. Sainéan (H.N.R., 120) pense que cette Myrsine est Myrrha fille de Cinyre, roi de Chypre (Ovide, Mét., X, 298 et sqq.) qui fut changée en un arbre à myrrhe, que Rableais aurait confondu avec le myrte. (Paul Delaunay)
François Rabelais [ca. 1483–1553]
Oeuvres. Tome Cinquieme: Tiers Livre
p. 353
Abel Lefranc [1863-1952], editor
Paris: Librairie Ancienne Honoré Champion, 1931
Archive.org
---
myrtle
Thus myrtle and myrrh tree after Myrsina or Myrrha, who was so changed because of her incestuous love of Cyniras, King of Cyprus, her father…
François Rabelais [ca. 1483–1553]
Complete works of Rabelais
Jacques LeClercq [1891–1971], translator
New York: Modern Library, 1936
---
myrte, de Myrsine
Le myrtus est consacré à Vénus non pas à Myrsine. R. pense-t-il à Myrrha, métamorphosée en arbre à myrrhe? (EC).
François Rabelais [ca. 1483–1553]
Le Tiers Livre
Michael A. Screech [b. 1926], editor
Paris-Genève: Librarie Droz, 1964
---
Myrte
Confusion possible entre le myrte, consacré à Vénus et l'arbre à myrrhe.
François Rabelais [ca. 1483–1553]
Le Tiers Livre
p. 565
Pierre Michel, editor
Paris: Gallimard, 1966
---
Myrte
Le myrte est appelé en grec μνφτίνη et μνφφΐνη, à cause de Myrsine, jeune Athénienne, renommée pour sa beauté et sa force, et tuée par un jeune homme qu'elle avai devancé à la lutte et à la course. La légende est rapportée par les glossateurs de Dioscorides (I, corol. 157); voir Œuvres complètes, éd. Demerson, n. 34, p. 537.
François Rabelais [ca. 1483–1553]
Œuvres complètes
p. 504, n. 23
Mireille Huchon, editor
Paris: Gallimard, 1994
---
myrtle
myrtle. Forms: mirtille, -ylle, mirt-, myrtel(l, -ylle, mirtle, mertle, mert-, mirt-, myrtil(l, myrtle. [adopted from Old French mirt-, myrtille, myrtle-berry, adaptation of popular Latin myrtilla, –us, diminutive of Latin myrta, myrtus myrt.]
The fruit or berry of the myrtle tree. Obsolete
C. 1400 Lanfranc's Science of cirurgie 53 Poudre of mirtillis.
1526 Gt. Herbal cclxvii. (1529) P ij b, Mirte is a lytell tre so called, the whiche tre bereth a fruyte that is named Myrtylles.
1578 Henry Lyte, tr. Dodoens' Niewe herball or historie of plantes 462 Barley giuen with Mirtels, or wine,… stoppeth the running of the belly.
1657 Coles Adam in E. lxxi. 135 Being boyled in red Wine with Pomegranat Rinds, and Myrtills, it stayeth the Lask.
A plant of the genus Myrtus (N.O. Myrtaceæ), esp. M. communis, the Common Myrtle, a shrub growing abundantly in Southern Europe, having shiny evergreen leaves and white sweet-scented flowers, and now used chiefly in perfumery. The myrtle was held sacred to Venus and is used as an emblem of love.
1562 William Turner A new herball, the seconde parte ii. 60 b, Dioscorides maketh ii. sortes of sowen or set myrtel trees… But other writers make yet mo kyndes of Myrtilles.
1590 Mary Herbert, Countess Pembroke The tragedie of Antonie 68 Since then the Baies so well thy forehead knewe To Venus mirtles yeelded haue their place.
1611 Bible Isaiah xli. 19, I will plant in the wildernes..the Myrtle, and the Oyle tree.
1639 S. Du Verger tr. Camus' Admir. Events 14 The palmes of my valour, and mirtles of my incomparable love.
1667 John Milton Paradise Lost iv. 262 The fringed Bank with Myrtle crownd.
---