Among plants in some way similar to Pantagruelion, referred to throughout Chapter 49.
Gentian has a concave stalk, as does Pantagruelion.
---
Notes
Genciana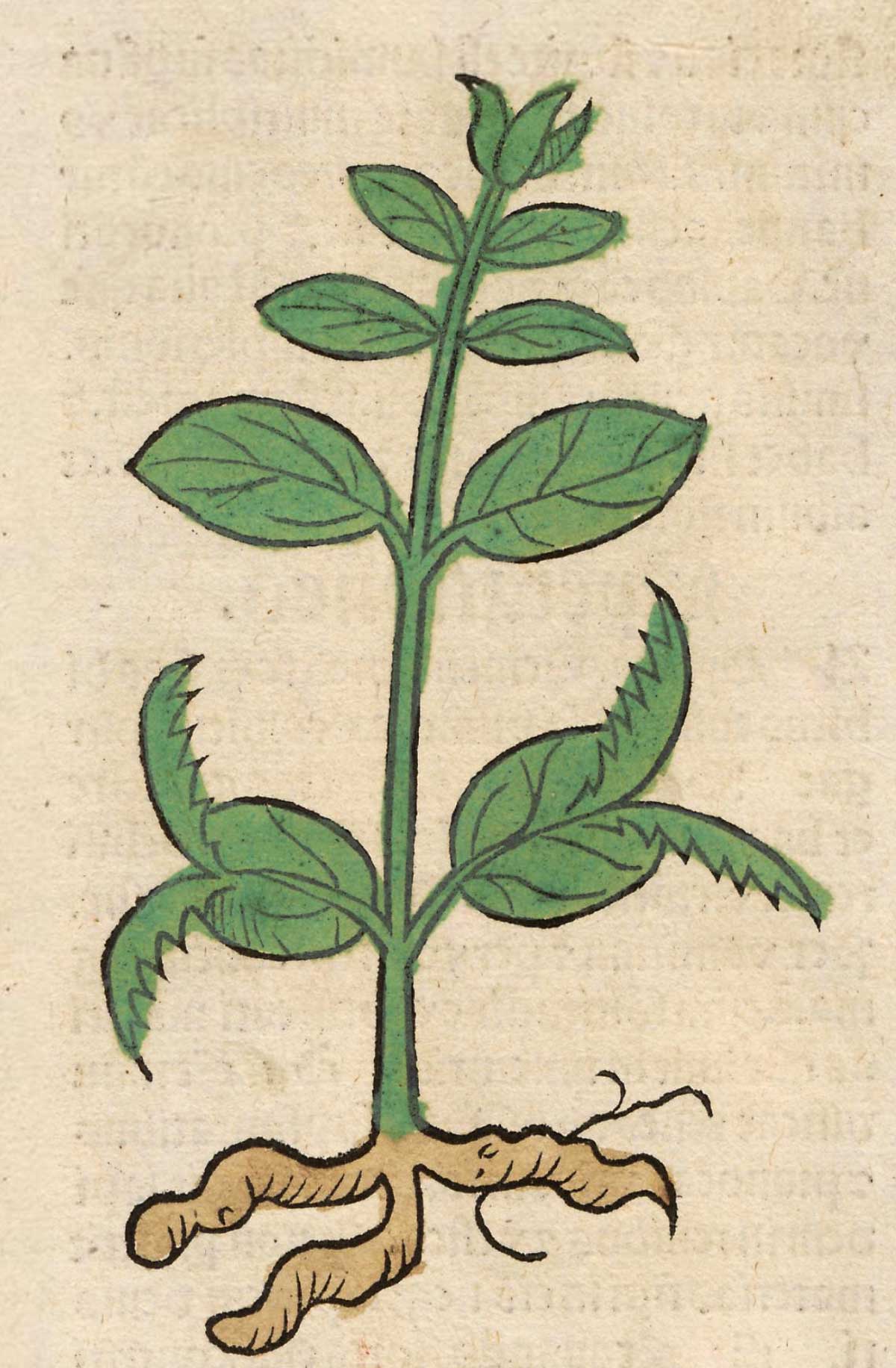 ---
Genciana (text)
---
Gentiana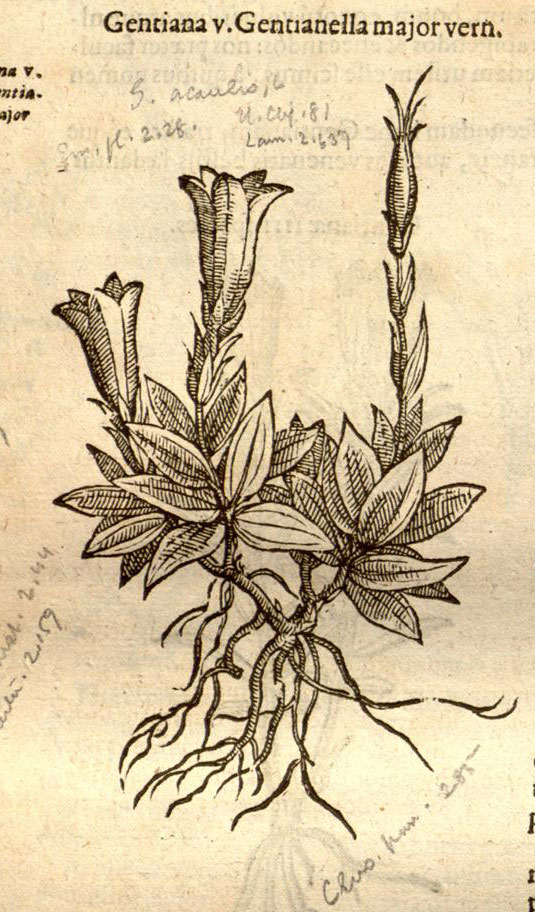 Gentiana acaulis L.
Gentiana V Gentianella major verna
Clusius, Carolus (1526-1609),
Rariorum plantarum historia vol. 1
. Antverpiae: Joannem Moretum, 1601. fasicle 3, p. 314.
Plantillustrations.org
---
gentiane
gentian. Forms: jencian, gencyan , gencian, gentiane, gentian. [adaptation of Latin gentiana, so called (according to Pliny) after Gentius, king of Illyria.]
Any plant belonging to the genus Gentiana (compare felwort); esp. G. lutea, the officinal gentian which yields the gentian-root of the pharmacopoeia.
C. 1000 [see felwort].
1382 [see gentian-tree in 2].
C. 1400 Lanfranc's Cirurg. 61 Take þe pouder of crabbis brent vj parties, gencian iij parties… make poudre.
1516 Life St. Bridget in Myrr. our Ladye p. lii, Gencian whiche is a moch bytter erbe she helde contynually in hir mouth.
1597 John Gerard (or Gerarde) The herball, or general historie of plants ii. cv. (1633) 432 There be divers sorts of Gentians or Felwoorts.
1671 Salmon Syn. Med. iii. xxii. 402 Gentian, the root resists poyson and Plague.
1801 Southey Thalaba iv. xxiv, The herbs so fair to eye Were Senna, and the Gentian's blossom blue.
1830 Lindley Natural Syst. Botany 216 The intense bitterness of the Gentian is a characteristic of the whole order.
attributive, as in gentian-blue, -flower, -root, -tree, -violet, -water, -wine; gentian-bitter, the tonic principle extracted from gentian root; gentian-worts, Lindley's name for the N.O. Gentianaceæ.
1382 John Wyclif Jer. xvii. 6 It shal ben as iencian trees [Latin myricæ] in desert.
1865 Baring-Gould Werewolves vii. 85 Sand-hills… patched with gentian-blue.
1530 Palsgr. 224/2 Gencyan rote, gentian.
A. 1700 B. E. Dict. Cant. Crew, Gentian-wine, Drank for a Whet before Dinner.
---