Saint-Malo, on the Brittany coast, is the port from which Verrazano sailed for the Carolinas and Newfoundland in 1524, and from which Jacques Cartier, "the man from Saint-Malo," sailed for the St. Lawrence in 1534 and 1535. They say the town is named after Saint-Maclou, a Welsh monk who fled to the granite islet in the sixth century, and who was probably the first Bishop of Aleph. The islet is joined to the mainland by an ancient causeway bridging an inner harbor.
---
Notes
Saint-Malo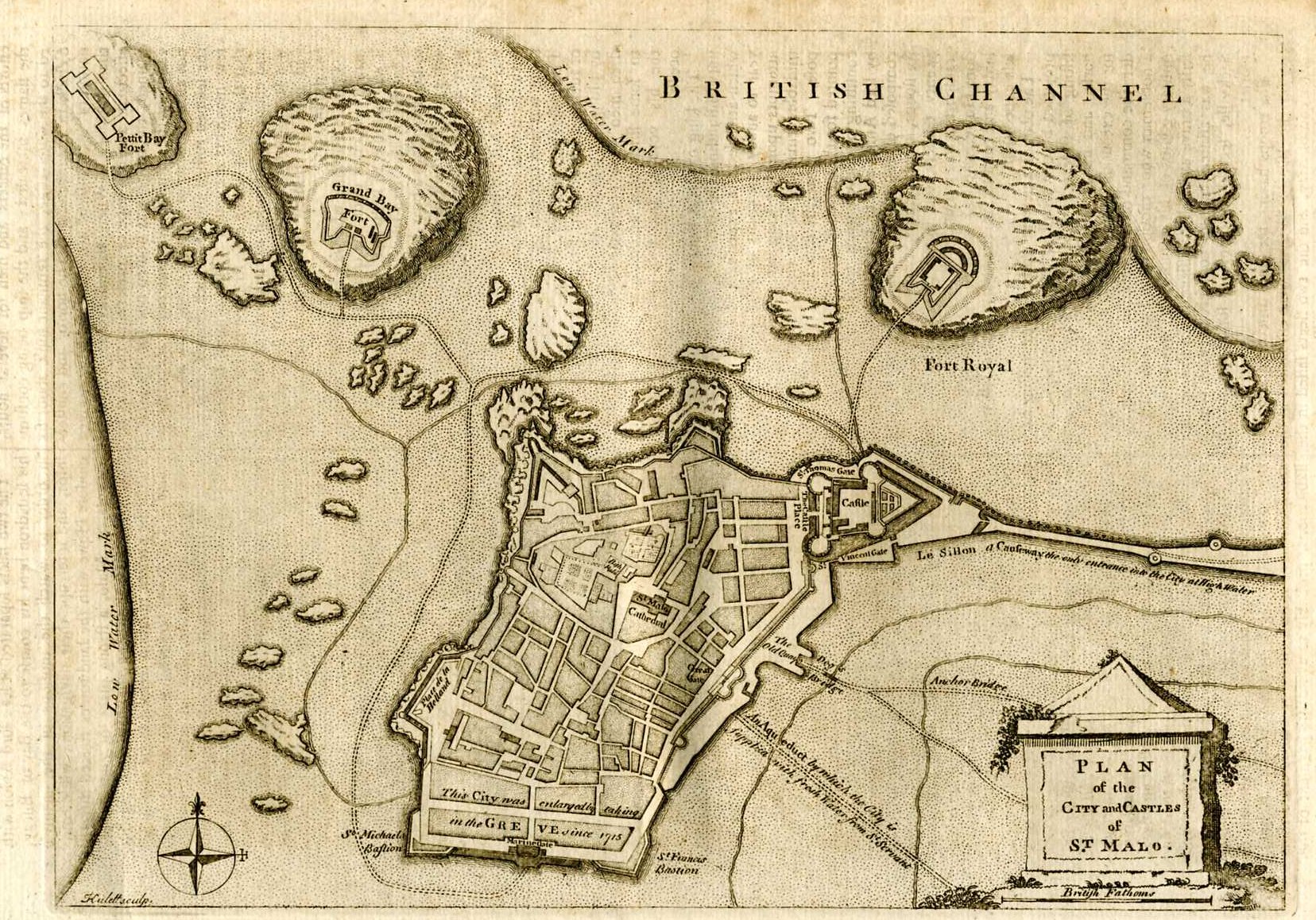 ---
St. Malo
A well-known seaport in N. Brittany.
François Rabelais [ca. 1483–1553]
Gargantua and Pantagruel
William Francis Smith [1842–1919], translator
London, 1893
---
Saint-Malo
Le bon géant et sa cour s'embarquent à Thalasse, tout proche Saint-Malo. Or Saint-Malo est le port d'où partit et où rentra Jacques Cartier, qui, de 1534 à 1542, releva le cours du Saint-Laurent et la carte de Terre-Neuve. On disait encore au dix-septième siècle, à Saint-Malo, que Rabelais avait appris de ce navigateur les termes de la marine et du pilotage, et M. Abel Lefranc croit que le pilote Xénomanes, qui conduit la flotte pantagruéline, n'est autre que ce même Jacques Cartier ou tout autre, puisque Rabelais ne lui a donné aucune caractère particulier, aucune physionomie propre. Il ne faut pas non plus suivre trop attentivement sur la carte l'itinéraire de Pantagruel, qui ne fait escale que dans des îles allégoriques de tont le voyage est surtout satirique.
Anatole France [1844–1924]
Rabelais
p. 167
Paris: Calmann-Lévy, 1928
Gallica
---
Sammalo
Saint-Malo, chef-l arr. (Ille-et-Vilaine).
François Rabelais [ca. 1483–1553]
Oeuvres. Tome Cinquieme: Tiers Livre
p. 338
Abel Lefranc [1863-1952], editor
Paris: Librairie Ancienne Honoré Champion, 1931
Archive.org
---
Saint-Malo
Rien n'est plus normal que l'embarquement de Pantagruel près de Saint-Malo, qui fut le point de départ de plusieurs des grandes entreprises maritimes du temps et vit naître le célèbre explorateur Jacques Cartier. C'est là qui ce hardi marin prit la mer pour aller découvrir, en trois voyages successifs, la plus notable partie des côtes du golfe de Saint-Laurent et enfin le Canada. Rabelais n'a pas choisi sans intention le port breton, ou de moins un lieu que en est tout voisin, pour y faire commencer la navigation dont le récit va remplir les quatrième et cinquième livres de son roman. Déjà Saint-Malo et les « isles Ogygies » avaient été évoques au cours du chapitre XXIV du Tiers Livre. Il est très possible que ces diverses mentions attestent, dans les deux cas, le souvenir d'un séjour fait par Rabelais à Saint-Malo un peu avant la composition de son ouvrage, séjour que l'affirmation formulée par l'historien malouin Jacques Doremet rend par ailleurs assez vraisemblable.
François Rabelais [ca. 1483–1553]
Oeuvres. Tome Cinquieme: Tiers Livre
Introduction, p. xcvi
Abel Lefranc [1863-1952], editor
Paris: Librairie Ancienne Honoré Champion, 1931
Archive.org
---
Saint-Malo
In the summer or early autumn of 1545 Rabelais returned to the project which he had announced 13 years before of conducting Pantagruel on a long sea-voyage. During this interval the interest of Frenchmen in maritime adventure had been sensibly quickened by the discovery of Canada. For it was the achievement of their own countryman, Jacques Cartier, the Briton pilot. On his first voyage (1534), starting from Saint-Malo, he had sailed through the strait of Belle Isle between Newfoundland and Labrador, and had reached, though without being aware of it, the mouth of the St Lawrence.
Arthur Tilley
Rabelais and Geographical Discovery
, The Modern Language Review, Vol 3, No 3, pp. 209-217
1908
JSTOR
---
Sammalo
"Fools! They know not how much more the half is than the whole, nor what great advantage there is in mallow and asphodel, " said Hesiod. "Abstain from mallows," Pythagoras hammered into the faithful, because mallow was the messenger of pity sent by the gods to humans.
"Mallow that is sown is more fit to be eaten than that which is wilde, but it is bad for the stomach and good for the belly," said Dioscorides, and the author of Five Wheys to Cut the Cheese said, "This wort, which one nameth hock leaf, is produced everywhere in cultivated places." Malva sylvestris cleanses the bowels, has hairy stems and leaves, and deeply-cleft reddish-purple flowers. But the mallow of Theophrastus is Labetera arborea., Gerard calls it called Hollyhocke, Rosa ultra-marina, or outlandish Rose. To the Greeks it was known as Malache agria, Malache Kepaia and Hortensis. Pythagoras called it Anthema, Zorastres Diadesma, the Egyptians Chocorten, the Magi Carpae lien, and others Muris cauda.
---